Five Questions with Gonzalo Gutierrez: Polk State Winter Haven SGA President Hopes to Support First-Generation Students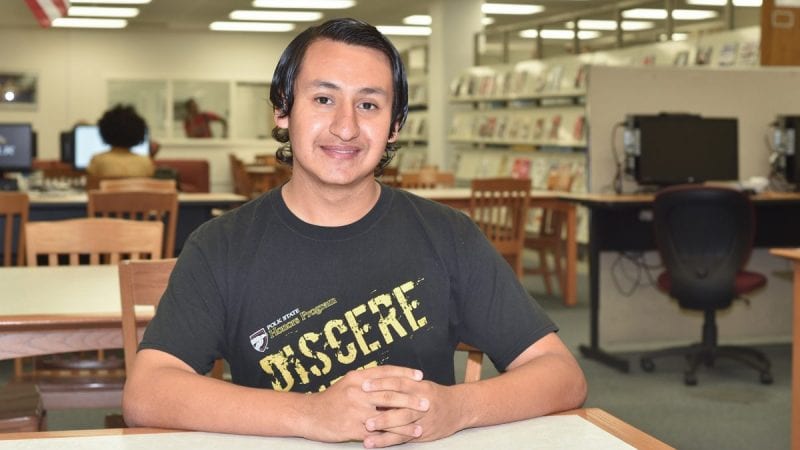 Gonzalo Gutierrez is a first-generation Mexican-American student with big dreams — one of which he just realized by being elected president of the Polk State Winter Haven Student Government Association.
Gutierrez began at Polk State in 2013, as a student at Polk State Chain of Lakes Collegiate High School. Two years later, he graduated with both his high school diploma and Associate in Arts degree. Now, he is studying toward his Bachelor of Applied Science in Supervision and Management degree, with a concentration in Business Administration. After graduating from Polk State, he plans to pursue a master's degree and ultimately open his own business selling nutritional supplements.
While serving as SGA president is a new role for Gutierrez, he feels well prepared for office, having previously served as president of the Winter Haven Honors Program Student Council, and in leadership capacities for Relay for Life and the College's Free to Be Me club.
The SGA is the official representative of Polk State College students. The SGA acts as a liaison between students and administrators, organizes campus activities, and represents students in organizations and legislative issues on statewide and national levels. Officers are elected during the spring semester and serve one-year terms. The SGA officers may be contacted via SGA@polk.edu.
Here, News@Polk introduces the Winter Haven student body's highest officer.
What does the word leadership mean to you?
To me, leadership means that a group of people work together to accomplish a goal.
What advice would you give a student looking to be a leader at Polk State?
Get involved in organizations as much as you possibly can. Network, meet as many people as you possibly can. From this you can gain many opportunities. From this networking, build a team. A team to me is a group of people that will push you forward and encourage you at every turn.
What do you have planned for SGA this year?
If I were to have a perfect year as SGA president, I would increase our membership by 10 percent by the year's end. I would breathe a sigh of relief after every event. What I mean by this is I would be able to say that the events were successful and had turned out as planned.
Also, on a more personal note, being a first-generation student has been challenging for me. I got here because a team of people supported me. I feel that a lot of first-generation students do not receive the support I did. It is one of my goals to show support to these students and show them that they can be successful as well.
 Where do you think you would be without Polk State College?
I would probably be working a blue-collar job, but mostly I would be lost. I would be searching for a career that I would not be able to attain because I would not have the education I need to do so.
Now for something fun. Can you tell us something about yourself that your fellow students might not already know?
I love to cook! I observe people in the kitchen, and later  I execute the dish they did on my own.
SGA is one of more than 50 clubs and organizations offered through the College's SALO (Student Activities and Leadership Office).