First International Exchange Students Still Reveling in Adventures Abroad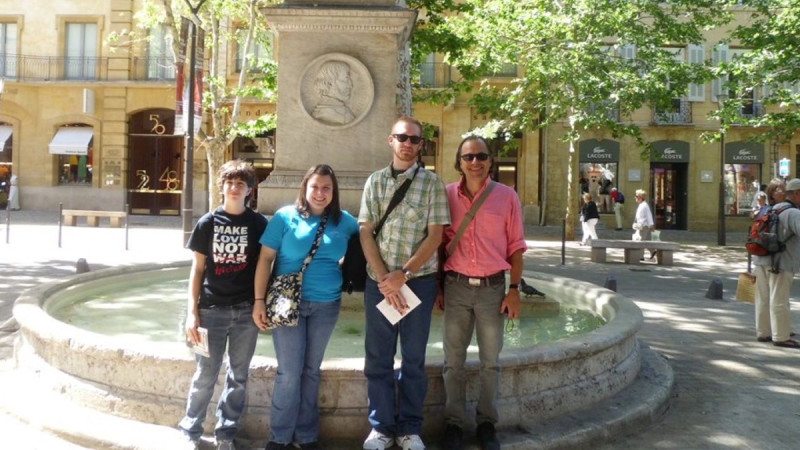 Polk State College's first group of international exchange students has recently returned from France, bringing with them new perspectives, experiences and memories sure to last a lifetime.
"In one word, it was awesome," said student Darian Byrd.
In what was dubbed the Polk State-Polytech Marseille International Ambassador Leadership Exchange trip, Byrd and three other Polk State students, accompanied by French and Humanities Professor John Barberet, spent June 2-10 in Marseille and Paris, where they honed their language skills and experienced French culture.
Students from Polytech Marseille, a French university, designed the trip's itinerary, which included hiking the Calanques, a 12-mile stretch of towering limestone rocks; a visit to Iles du Frioul, a collection of four islands off the coast of Marseille once used for a fort; and exploring the nearby city of Aix-en-Provence. After their full week in Marseille, the Polk State students headed to Paris, where they visited Notre Dame and the Eiffel Tower, among other sites.
All along the way, they conversed in French and observed the differences between American and French cultures.
Student Nathan Herbig said the trip was eye-opening in ways big and small.
"I learned that France is really on the cutting edge in a lot of things, especially how they use energy. Just taking the train into Polytech from Marseille, we could see wind turbines and nuclear power plants," he said.
Herbig also said that the French place a heavy emphasis on education and work-life balance, traits about the culture he admires.
On a lighter note, Herbig's time in France has led him to a greater appreciation of American conveniences.
"They don't believe in restrooms or drinking fountains. To find a public restroom, you had to find an American restaurant, like McDonald's, and the only free water was in the toilet," he said.
Fellow traveler Adam Bent said he enjoyed being able to put the two semesters of French he's taken under Barberet to practical use.
"Being immersed, you pick it up right away," he said. "I got home and I was still saying, 'Bonjour,' and I had to remind myself that I was back in the states."
Chloe Hickey, a student at Polk State Lakeland Collegiate High, had never previously been outside the United States, so even walking down the street in Marseille was a learning experience.
"The streets are tiny, everything is tiny. The cars are really compact, and people walk everywhere," she said.
The cuisine, Hickey added, was a constant adventure during the trip.
"I didn't always know what we were ordering, but it was good," she said.
Though their trip to France is now complete, the students are still communicating with their new French friends using Facebook and Skype, getting more practice with the French language with every message and chat.
The Polk State students are now looking forward to October, when their new friends from Marseille will come to Polk County to experience American culture. Among the stops the Polk State students are considering for that trip are Bok Tower Gardens, Circle B Bar Reserve and Polk State sporting events.
The trip to Marseille and partnership with Polytech Marseille is part of an ongoing initiative at the College to connect students with foreign cultures. Similar trips abroad are in development.
"Polk State is making its mark as a global, international place," said Naomi Boyer, AVP for strategic initiatives.
Students interested in studying abroad, or faculty members interested in organizing international trips or participating in the College's Internationalization Committee, should contact Business Administration and Accounting Program Director Sheila Rios at srios@polk.edu.