First Flight Welcomes Students to Polk State College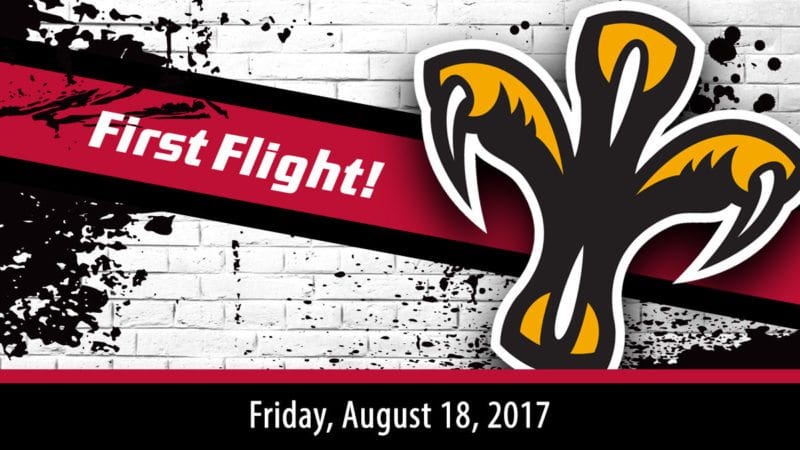 On Friday, August 18, more than 1100 new freshmen attended Polk State's First Flight Convocation, themed The Flavor of College. Incoming students were welcomed by the entire College community, inspired to learn interesting facts and historical information about Polk State, and encouraged to build meaningful relationships with faculty, staff, and other students.
Polk State President Angela Garcia Falconetti welcomed the students gathered —and others watching via live video feed —and offered them the College's full support as they begin their collegiate endeavors.
"I am thrilled to be here," she said. "Why? Because you are here."
Dr. Falconetti celebrated the fact that she, too, was beginning her "First Flight" as the College's fifth President.
"We are starting this journey, together," she exclaimed. "I want to tell you how proud I am that you are here, and that I hope our experiences will be all that we have anticipated."
Dr. Falconetti shared her own story about starting college.
"I know that starting something new can seem overwhelming, but I am just like you," she said. "My family worked hard to provide for us, and they did that through education in the Florida College System. They also inspired us to work hard, even when it was difficult. On my own journey, I had to work three jobs during my undergraduate work. As well, I worked full time during my master's and doctoral programs, and I worked two jobs through a post-doctoral fellowship. I did it, and I know you can too."
She continued, "I encourage you to never give up on this journey. When you feel challenged or frustrated– if you need help, then turn to us–the staff, me, your team, your friends. We are here for you! Let us help! It is why we are here!"
Dr. Falconetti inspired the students to think about their new place at Polk State College.
"You are now official Eagles," she proclaimed. "Let's soar together because, together, we are better and We are Polk."
Following Dr. Falconetti to the stage was Sumer Allen, a Polk State alumna who received her Associate of Arts degree in 2013. After completion, she transferred to the University of Central Florida's Rosen College of Hospitality Management, where she received her Bachelor of Science degree in Event Management, graduating summa cum laude. She currently works as a client solutions manager for Freeman, a global company that capitalizes on events to help international brands, like Microsoft and the NFL, build meaningful relationships with their most important audiences.
Before entering college, Allen wasn't even sure where to start.
"As a first-generation-in-college student, I didn't know anything about the college experience," she stated. "I wasn't sure how or where to apply, who to talk to, or what to do to finance my education. Luckily, I was connected to an advisor at Polk State College who walked me through the process. I was encouraged to get involved, volunteer, and really get to know campus life. This changed my whole perspective on the future."
Indeed, her volunteer efforts with the Polk State Eagleteers led to her love of event planning and management.
"We planned a lot of campus activities and also volunteered at various community events throughout Polk County," she shared. "Through this work, I recognized how much I enjoyed the intricacies of event management. When I shared my thoughts with an advisor, she helped me realize that a career in event planning was possible, and she helped me get a summer internship with the Lakeland Center."
And thus began Allen's career path.
"I loved the internship, and I learned so much," she enthusiastically explained. "I could engage more fully with event details and learned how I could pursue a degree at the University of Central Florida."
However, without resources, friends, or really any knowledge of a large-scale university, Allen found herself second-guessing her decision.
"I got to UCF and took a class," she explained. "Two hours after that class I was questioning whether this really was the career path for me. But, I stuck with it, and became inspired by my professors and the special speakers that I was introduced to."
Among those speakers was an executive from Freeman, who encouraged Allen to reach out to the company to determine if there might be any internship opportunities available. Although Allen soon learned there were none, she refused to be discouraged. Never one to shy away from a challenge, she began to peruse the Freeman website for part-time opportunities.
"I was relentless," she stated. "I checked the website regularly, and soon I was hired part time with the potential for full-time employment."
Her hard work and determination came to fruition and today she serves the company that inspired her to continue her academic pursuits.
"Never give up," she exclaimed. "This is your day to start with a clean slate. You may not know what you want to do, but there are people and resources for you. Find them, and make sure they learn your name."
She concluded, "These years are an important time of discovery in your life. You will face disappointment and challenges, but use them, learn from them. Once you figure out your path, stay focused and keep going."
Student Government Association Presidents Felicity Ruiz (Lakeland Campus) and Gonzalo Gutierrez (Winter Haven Campus) served as emcees for the day's events. They welcomed freshmen and encouraged them to get involved, make new friends, and get to know the whole Polk State College community. They also inspired the students to overcome their challenges and find inspiration through their new Polk State connections.
After the convocation ceremony, students were invited to participate in the Flavors of College Tour, a 45-minute campus tour. During the tour, students visited three buildings and learned little-known facts about each location. As well, students were treated to the "flavors" of pizza, wings, and sliders at each stop.
The day culminated with the President's Ice Cream Social, in which freshmen had an opportunity to meet Dr. Falconetti, as well as visit with faculty and staff members. At the Ice Cream Social, Dr. Falconetti presented scholarships to Guadalupe Lara and Paula Korb, who take classes in Lakeland, and Tyrese Taylor and Miranda Secundino, who take classes in Winter Haven.
The students expressed their shock and excitement after receiving their scholarships.
"It is just my mom and I, and this scholarship will be such a blessing to us," Lara said "What a way to start the semester."
"I was taken aback when my name was announced as a winner," she said. "I was provided a scholarship through the Polk State Foundation for this semester and I plan to use this scholarship for next semester, which will help tremendously. My brother won a full scholarship through the Foundation so I am excited to help my family with our college expenses."
"I was really excited to attend First Flight, where I connected with friends from Lake Region High School," he said. "Winning this scholarship was a huge surprise, and I can't express how much it will help my family financially."
"My brother received a full scholarship to Polk State," she explained. "I am so very excited that now I can also lessen the financial load on the family. My dreams of becoming an accountant are now so much closer to becoming true."
Polk State began holding the First Flight Convocation in 2014 to help new freshmen transition to college life. First Flight begins the official First-Year Experience activities for all new students entering Polk State College.
More information about the Polk State First-Year Experience is available at polk.edu/first-year-experience.