Father of Bullying Victim Implores Polk State Students to Be "Upstanders" and Remember "They Are Loved Beyond Belief"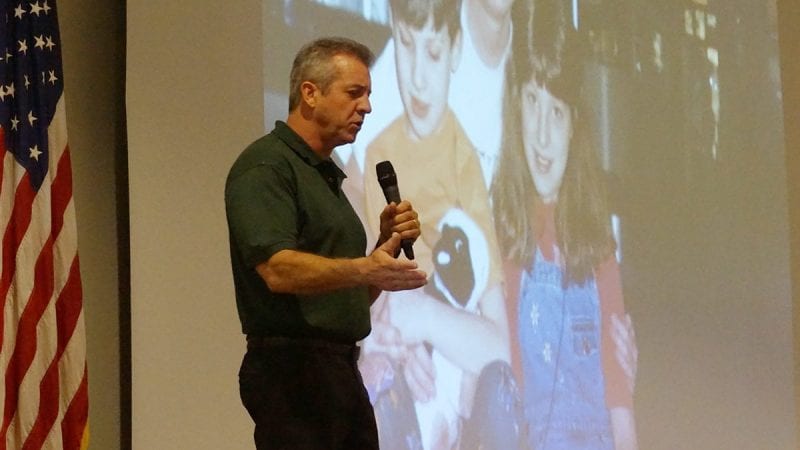 Despite more than 300 high school students being gathered in one room last week, there was no giggling or gossiping or huddling around cell phone screens.
There were also hardly any dry eyes.
On Friday, Polk State Lakeland Collegiate High School hosted John Halligan, whose son Ryan committed suicide in 2003 after enduring years of bullying. Halligan, who spearheaded the passage of the Vermont Bully Prevention Bill in 2004 in memory of Ryan, has spoken at schools across the country, and appeared on "Primetime"  with Diane Sawyer,  "PBS Frontline," and "Oprah."
"We're required by the state to do bullying awareness training every year," said Principal Rick Jeffries. "Instead of me or one of our faculty or staff members getting up there and doing a presentation, we wanted to give the students something they'll remember because impact of bullying is both profound and preventable."
Halligan began his hour-long talk with a slideshow of photos from Ryan's childhood — birthdays, first days of school, summer vacations at the beach — and this simple objective:
"My intent today is to get you to think differently about bullying and how we treat each other," Halligan said.
For the next hour, Halligan recounted Ryan's story, from the day he was born to the day he took his own life when he was in the eighth grade.
"Ryan was born one week before Christmas. My wife and I thought life was perfect. We had everyone over to celebrate that year," said Halligan, from the stage of the LTB auditorium.
"And over time, my son grew to be the most adorable little guy."
By the time he was 2, however, Halligan and his wife, Kelly, noticed Ryan wasn't reaching the developmental milestones for his age. He was delayed both in terms of his speech and his motor skills, and they sought occupational therapy to help him get on track.
Ryan eventually caught up with other kids his age, but there was an awkwardness about him that remained, and by the fifth grade, it made him the target of his classmates' ridicule, Halligan said.
"There was one boy and his friends who would pick on Ryan for his academic troubles," Halligan said. "Also, my son wasn't athletic, and he got bullied for that."
At first, Halligan and Kelly encouraged Ryan to brush off the bully's words.
"We told him to ignore it and walk away and that eventually the bully would get bored," Halligan said.
By the time Ryan was in the seventh grade, the Halligans thought the bullying was behind them, until one night in December 2002.
"I came home and found Ryan at the kitchen table with his head down," Halligan said.
"He told me he hated his school. He asked if we could move or homeschool him. It turned out that the kid was bullying Ryan and Ryan had had enough."
Halligan and his wife wanted to talk to the principal or the bully's parents. Ryan begged them not to.
"He said, 'What I really want is for you to teach me how to fight so I can defend myself,'" Halligan said.
For months, Halligan and Ryan studied a self-defense program. Ryan gained confidence. One day, took the bully on and he held his own ground.
"Toward the end of the seventh grade, Ryan said he was friends with the bully," Halligan said, recalling his disbelief. "Ryan told me not to worry, that he was old enough to choose his own friends. We backed off."
During the summer between the seventh and eighth grades, Ryan spent endless hours online, instant messaging his friends and classmates. His parents encouraged him to go outside or do other things with his time. Ryan told them not to worry; he was just keeping in touch with his buddies.
Halligan relented, but insisted Ryan share his password.
A few months later, that password would help Halligan understand the events leading up to Ryan's suicide.
"I was on a business trip and my phone rang at 6 a.m.," Halligan said. "It was my wife and she was crying and she said, 'You have to come home. Our son is dead. Ryan killed himself.
"The whole way home I stared out the airplane window, tears running down my face, and just asked, 'Why? Why? Why?'"
Halligan "tore his house apart" looking for a suicide note from Ryan, but found none. Instead, he found a yearbook, in which Ryan had drawn a crown over the picture of his best friend but "mean words" over the picture of the bully.
Still searching for answers, Halligan logged on to his son's computer.
"That's when his classmates started telling me the story," Halligan said.
In the months leading up to his death, the bully who had long tormented Ryan spread a rumor that he was gay. Ryan, during that summer spent in front of the computer screen, was trying to set the record straight with his classmates.
With help from one of Ryan's friends, Halligan was able to locate all of Ryan's online conversations.
"It was heartbreaking reading those conversations," Halligan said. "My son was trying to deal with this rumor on his own."
Halligan also discovered that during the same time period, Ryan was conversing with a girl who seemed to like him. Halligan surmised that Ryan thought if he could start a relationship with the pretty, popular girl, no one would believe he was gay.
When school began in the fall, however, the girl rebuffed him, saying she was just pretending to be interested.
Heartbroken and embarrassed, Ryan told the girl, "It's girls like you who make me want to kill myself," Halligan said.
In the wake of Ryan's suicide, the girl became suicidal herself. Halligan and his wife visited her and told her she wasn't to blame.
"I believe that my son died from depression that went undetected and untreated and started with the bullying he'd endured since the fifth grade," Halligan said.
The bully, shockingly, continued to crack jokes about Ryan even after his death. When Halligan learned of this, he went to the boy's house.
"I told him that he had no idea the amount of pain he'd brought into my son's life," Halligan said. "But I told him I refused to believe he was heartless. I told him he was just a dumb 13-year-old trying to act tough. The amazing thing is what happened next. This kid started to cry, to sob, and he said, 'I'm sorry, I'm sorry.'"
The Halligans left Essex Junction, Vt., soon afterward and have no idea where the bully is today, though Halligan hopes that he grew to be a good person who, if he has children, will raise them to be kind to others.
In concluding his remarks to students from Polk State Lakeland Collegiate and Polk State Lakeland Gateway to College High School, Halligan recalled his high school art teacher, who one day came to class visually shaken by the news of a former student's suicide.
"She told us, 'Kids, don't ever forget this. You can always turn an ink blot into a butterfly. You can always turn a mistake into a lesson learned. There is always a way to make a bad situation into something good," Halligan said.
He also implored the students to remember two things: They are loved and they have the power to make others feel loved, too.
"All of you are loved beyond belief, trust me on this one. Don't ever believe that you don't matter or that no one would miss you if you were gone," Halligan said.
Should students become aware of bullying situations, Halligan encouraged them to be "upstanders not bystanders." If one of the bully's friends had spoken up, the bully might have backed down and Ryan might still be alive.
Polk State Lakeland Collegiate High School junior Alexis Briones said she will heed Halligan's words.
"I'll be more aware of my friends. If they feel depressed, I'll do anything to help them," said the Bartow resident.
Added Cuauhtemoc Santiago, a Polk State Lakeland Collegiate senior from Mulberry:
"If I see bullying, I'm going to try to prevent it," he said. "I'm going to speak up."
Polk State College operates three public charter high schools, including Polk State Chain of Lakes Collegiate in Winter Haven, Polk State Lakeland Gateway to College Collegiate, and Polk State Lakeland Collegiate. All three high schools allow students to fulfill requirements for their diplomas while also earning college credits.