Fall Semester Brings New Deadline to Add Classes, Requirement to Declare Transfer Intentions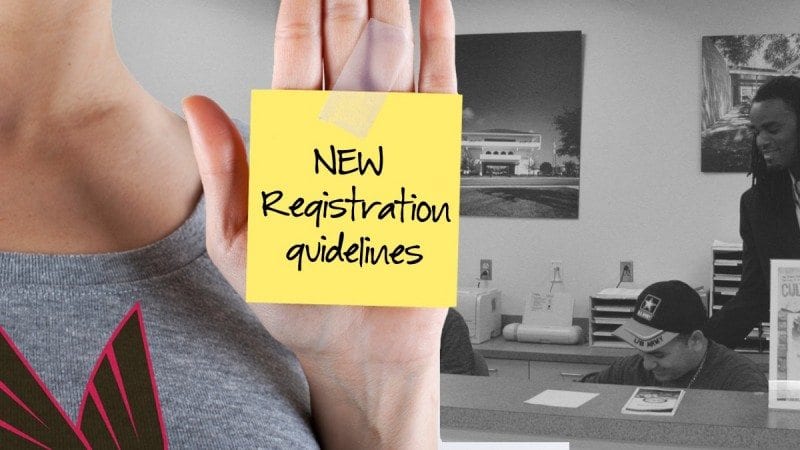 Polk State students should be aware of two important changes to the registration process that go into effect this fall.
The first is a new deadline to add classes.
Fall classes begin Aug. 18. In the past, students had a seven-day window after the start of the semester to add classes to their schedules.
Starting this fall, however, the first day of classes is also the registration deadline.
Kathy Bucklew, director of student enrollment services and registrar, said the new deadline is aimed at increasing student retention.
"The problem was that if students didn't start in a class that first week, they missed so much," said Kathy Bucklew.
"They were spending their first week concentrating on the admission process instead of academics. Just speaking anecdotally, when students miss the first week of a class, they're much more likely to withdraw or drop out. We don't want students to start off behind, get frustrated, and give up. We want them to start strong and reach their goals."
If students haven't registered by Aug. 18, they will have to wait until a later date to start a class. In the case of this fall, 12-week classes begin Sept. 15, and Fastrack classes begin Oct. 15. In both those terms, students must register before the first class meeting.
The College has over the past several years worked to expand the 12-week and Fastrack class options to meet students' needs.
"We know that for some students, the new add deadline is going to be a drastic change," Bucklew said. "That's why students should register now. Don't procrastinate. Apply to the College, fill out your FAFSA (Free Application for Federal Student Aid), take the College orientation, and register for your classes."
Related to the new add deadline is an extended drop window. Students previously had seven days after the start of the 16-week and 12-week sessions to drop classes, but only three days to do so in the Fastrack sessions.
Starting this semester, all students have seven days to make that decision, regardless of the session in which they're enrolled.
"We're giving students more time to determine if they're going to be successful," Bucklew said. "Sometimes, the best way to retain students is to keep them from making a mistake. If a student is struggling in a class, we want them to drop it and meet with an advisor as soon as possible so they can get into the class they need in a later starting session."
Also new for the fall semester is the requirement that Associate in Arts students declare a transfer major and transfer institution by their 12th earned credit hour. The change is in response to recently passed state legislation.
"It's all about saving the students time and money," Bucklew said. "When they declare a transfer major and institution, they receive an outline of all the prerequisites for their intended bachelor's degree. That way, they know exactly what courses they should be taking at the AA level, and they stay on track toward their goal."
Students select their transfer majors and institutions in Passport. If students don't do so by their 12th earned credit hour, they will have a registration hold.
Throughout the registration process, students should regularly check Passport and their institutional email addresses.
Polk State College, an open-access institution, was established in 1964, and serves more than 20,000 students annually. Its offerings include the Associate in Arts, which is parallel and fully transferrable to the State University System, and the Associate in Science, which is designed to lead directly to the workforce. The College also offers bachelor's degrees in Supervision and Management, Nursing, Criminal Justice and, beginning fall 2014, Aerospace. For more information, visit polk.edu.