Falconetti Gets To Know Campuses, Staff By Shadowing Workers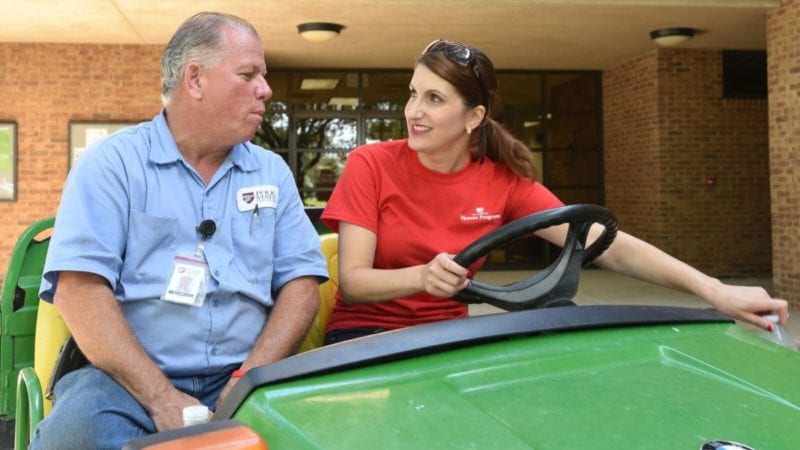 President Angela Garcia Falconetti swapped her dress pants for blue jeans this week to change air filters, go on a snake hunt and drive a John Deere Gator utility vehicle in an effort to let faculty and staff know that everyone is equally important at Polk State College.
Dr. Falconetti shadowed facilities workers at the Winter Haven and Lakeland campuses on Wednesday and Thursday to get a first-hand look at how the grounds and classrooms are maintained after hours.
"I want the campus community to know that whatever our role is on campus, we are all in this for the students," Dr. Falconetti said.
She successfully assembled a whiteboard at Polk State Chain of Lakes Collegiate High School before going on an unsuccessful snake hunt on Wednesday with the help of Adam Weir, a maintenance mechanic at the Winter Haven campus.
Don't worry – the black snake that was reported is harmless, Weir said.
"But when she saw that work order she was ready to get out there and search for it," he added. "She kept saying she was terrified, but she jumped right on it."
Dr. Falconetti learned how the mechanics receive and complete work orders, and toured the campuses and facilities areas.
She even drove a golf cart for the first time.
"Her willingness to come out and get a feel for what we do showed that it's not all about politics for her," Weir said. "For her to be out in the field meant a lot to me."
Bill Eberts, a maintenance mechanic at the Lakeland campus, echoed a similar sentiment Thursday.
He showed Dr. Falconetti how to operate the fume hoods in the science lab and change the air filters in the technology building.
Together, they successfully changed a dozen air filters in one of the campus's 27 units. Each unit has between six and 12 filters that need to be changed every three months.
"Our job is to ensure the safety and comfort of the faculty and students," Elbert said. "I take pride in my work and it is a great experience – an honor – to have the president of the college taking an in-depth look at what goes on in maintenance."
Touring the campuses and seeing them through the mechanics' eyes was an invaluable experience, Dr. Falconetti said.
She was sad when the experience came to an end – partially because she had to hand over the key to the Gator.
But working alongside the mechanics gave her a greater understanding of what goes on behind the scenes to keep the campuses operating.
"These are the people I work for and I want them to know that I appreciate what they do," Dr. Falconetti said.