Faculty fellows develop class projects that will give students understanding of curriculum and community

Polk State College students will observe how people interact with art in public spaces; they will explore changes in societal myths; and they will understand their impact on global issues such as pollution thanks to this year's community-based learning faculty fellows.
Polk State's Community-Based Learning Faculty Fellows Program supports faculty members in integrating projects into their coursework to not only promote community engagement and experiential learning, but to also foster reflection, collaboration, and connection across campuses and the community, which contributes to student success and retention in their courses.
"Community-based learning has exciting benefits for Polk State, including the opportunity for students and faculty to build relationships, and their ability to engage in activities that are beneficial in both the classroom and the greater community," Associate Dean of Academic Affairs Gerene Thompson said. "It allows students to make connections between what they learn in their courses and the world around them, which heightens the relevance of their education."
Polk State's 2018-2019 community-based learning faculty fellows are Professor of French and Humanities John Barberet, Professor of English Rafaela Ellis, Professor of Earth Science KT Moran, and Professor of Visual Arts Holly Scoggins. They have each received a stipend of about $2,400 to make their projects possible.
Barberet, Ellis, and Moran recently participated in a workshop with program leaders and past fellows who serve as mentors to learn more about community-based learning and developing their projects. Scoggins is currently teaching abroad.
"Community-based learning has exciting benefits for Polk State, including the opportunity for students and faculty to build relationships, and their ability to engage in activities that are beneficial in both the classroom and the greater community." — Associate Dean of Academic Affairs Gerene Thompson.
Barberet's students will adopt sculptures in Lakeland's public spaces and will be tasked with talking to people who interact with the art.
"That includes people who are strolling by the art, people who work in businesses near the art, homeless people who may convene around the art, as well as those who maintain the art. In this case, that's the City of Lakeland's Parks and Recreation Department," he explained. "People don't know what to do with art. Do they climb on it? Can they touch it? Should they take a picture of it? The goal is to give students an understanding of the place public art has in our community."
By doing so, Barberet will bring the topics he teaches in his courses closer to home for his students, allowing them to better relate to what they learn.
"They read about art history in a textbook, such as the Renaissance in Italy," he said, "but art in Lakeland – they can see it, they can experience it."
Those first-hand, real-world opportunities are the core of the fellow's community-based learning projects.
Ellis will bring her Honors English students face to face with senior citizens who can speak to the changes they have seen in society during their lifetimes.
"Students will experience American History through the myths of society and how they have changed," Ellis said. "By interviewing seniors, students will be exposed to the wisdom of their elders while also giving the older people the opportunity to share their stories."
Through Volunteers in Service to the Elderly (VISTE), students will be paired with senior citizens they will interview throughout the semester about topics including family models, education and empowerment, progress and technology, money and success, gender, and equality.
"It's important that they understand different groups in society, that different groups have different perspectives, and that those perspectives can change over time," Ellis explained.
Moran also wants to instill a level of understanding in her students – specifically awareness about their individual impact on global issues such as pollution.
Her introduction to oceanography class will collect and analyze water samples from local lakes to discover that pollution is also an issue at home. Moran pointed to the Great Pacific Garbage Patch, which is largest accumulation of plastic in the ocean in the world.
"As a Florida student, a patch in the Pacific may not seem important, but plastics are right here in our lakes," Moran said. "Everything we do affects everything around us."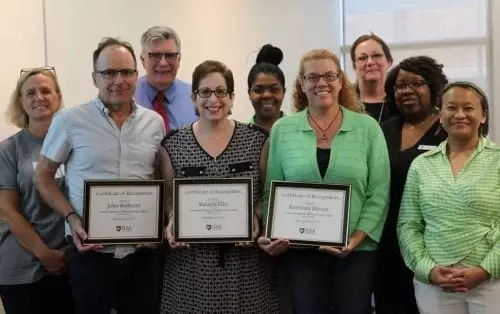 The class will work with the Florida Microplastic Awareness Project, United States Environmental Protection Agency's Total Maximum Daily Loads, and the National Oceanic and Atmospheric Administration (NOAA)'s Marine Debris Program.
"Students will learn field-sampling techniques and work with real samples to collect information that will contribute to state-wide and nation-wide databases," Moran explained. "This is citizen science that will allow students to understand their impact on the environment and how it relates to the bigger picture."
The community-based learning faculty fellows will implement their projects during the 2018-2019 academic year. Once they are completed, they will present the outcomes and serve as mentors to future fellows.
Professor of English Carol Martinson, Professor of College Success Von McGriff, and Professor of Earth Science Natalie Whitcomb joined this year's fellows during their recent workshop to assist in the development of their projects.
Martinson, who was a fellow in the program's inaugural year and worked with VISTE to pair her students with senior citizens, is serving as Ellis's mentor.
"This program has been the most rewarding experience in my 20 plus years of teaching," Martinson exclaimed. "I'm still involved with VISTE and implement community-based learning in my classroom, and it gives me goose bumps to see the amazing things that happen as a result of that."
McGriff, Barberet's mentor, shared a similar experience. She worked with kidsPACK for her community-based learning project to provide food to hungry students.
"I'm not with the arts, but we're both learning from each other," McGriff said of working with Barberet. "No matter the subject area, community-based learning shows a different side of education.
"It shows that learning goes beyond the walls of the classroom," she said. "That has great benefits for our students."