Establishing Leaders in Teacher Education students from Ridge Community High get the Polk State College experience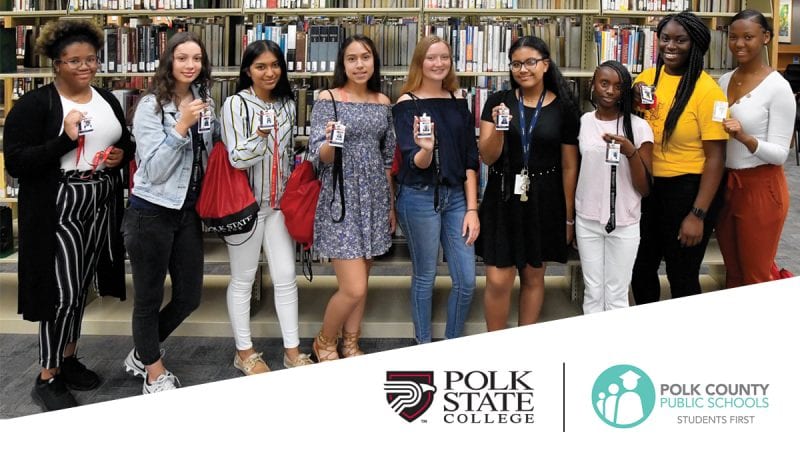 Students in the Establishing Leaders in Teacher Education (ELITE) Program received a firsthand look at their future college campus and the resources already available to them at Polk State College, although they are sophomores at Ridge Community High School.
Ten high schoolers visited the Lakeland Campus, where they met Polk County Public Schools Superintendent Jacqueline Byrd and Polk State President Angela Garcia Falconetti, received their Polk State IDs, and toured the Education baccalaureate program's Steelcase Education Active Learning Classroom.
"I never imagined that the college environment would be like this – welcoming, colorful, and fun," said Emely Salcedo. Polk State and School District officials cheered as Salcedo became the first ELITE student to receive a Polk State ID.
Polk State and Polk County Public Schools announced the ELITE Program in August 2018 as a partnership to fill the local workforce need for teachers by providing a seamless pathway from high school, to college, to employment for aspiring educators.
ELITE allows students at Bartow, Haines City, and Ridge Community high schools to complete teacher preparation courses and Polk State Associate in Arts degrees through dual enrollment at no cost to them. Students will then transition to the Polk State Education baccalaureate program. Upon successful completion of their degrees and ELITE Program requirements, graduates will be guaranteed immediate employment with Polk County Public Schools.
"You will be a student here at Polk State College in no time and I know you're going to work hard – you're bright and you're smart," Byrd shared as she and Falconetti huddled with the students from Ridge Community High. "Then you'll come back to us because we'll hire you and pay you to do that work – that's the exciting part."
Falconetti echoed Byrd's words of encouragement.
"In education, you have the opportunity to have a transformational impact on so many lives," Falconetti added. "It's a rewarding career and it's an important career. Our community needs teachers and we are thrilled that you are a part of the inaugural ELITE class."
Students first visited the Library and the Teaching Learning Computing Center (TLCC), where they received their Polk State IDs and learned about the center's services, including tutoring, testing, and a quiet place to study. ELITE students receive the benefits of traditional dual-enrolled students, including access to campus resources.
The tour culminated with visits to the Early Childhood Education and Steelcase Education Active Learning classrooms, where students were wowed by interactive learning environments that incorporate the latest technology, mobile furniture, and simulated learning centers they would experience in the field.
Polk State Education students Victoria Balderas, Katrina Salisbury, and Austin Stewart shared how their experiences in the College's classrooms have prepared them for the real world.
"We have a lot of resources here at Polk State that, even if you don't have this level of technology or these types of materials in your futures classrooms, you will be equipped with the skills to adapt and figure out how you can utilize what you do have to create a productive learning environment for your students," Salisbury explained.
They had the opportunity to explore the classroom's different technology, including the SMART Board, LEGO robotics kits, and early coding activities.
"We hear from our students that they become secure in their teaching and are confident that they can do this," Polk State Director of Education Patricia Linder said. "We hope that the opportunity for our ELITE students to visit Polk State addressed any insecurities they may have had about college and a career in education, answered their questions, and showed them that they are already a part of the Polk State family."
Ridge Community High sophomore Summer Mayes said the visit did just that.
"The idea of college seemed overwhelming and I was worried I would feel alone," Mayes said, "but it actually seems like a lot of fun here and like there are a lot of people to help us along the way."
The ELITE Program currently has 23 students enrolled across its three high schools. Since it was announced in 2018 and launched in August, ELITE has received state and national recognition for its innovative approach to solving the teacher shortage, including the Chancellor's Best Practice Award and the League for Innovation in the Community College's Innovation of the Year Award. The Innovation of the Year Award recipients will be recognized during the League's 2020 Innovations Conference in March in Seattle.