Enroll for 8-week classes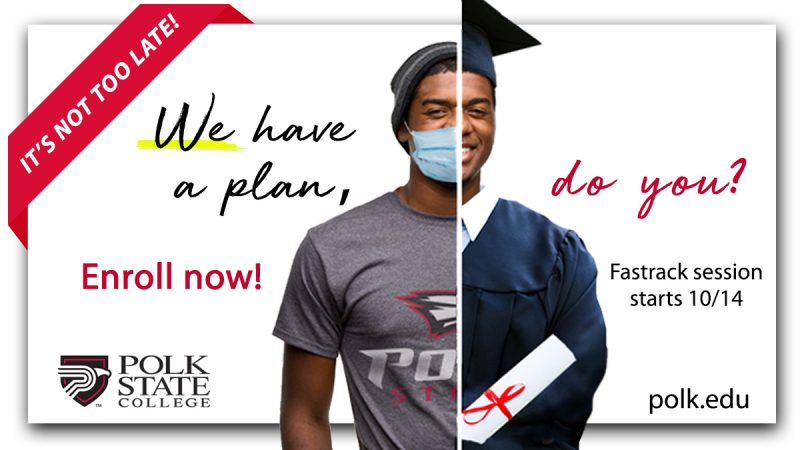 Enrollment continues to take place for the Fall 2020 Semester at Polk State College.
Students can register for eight-week Fastrack 2 classes which will begin on October 14. Students should note that most classes are online for the fall semester.
Students currently enrolled at Polk State may register for classes through their Passport accounts.
Prospective students must submit a free online application to the College at www.polk.edu. More information about the application, orientation, and registration is available online at www.polk.edu/admission-aid/admissionsteps.
Polk State offers a variety of virtual course options, including classes that can be completed on students' own schedules, and classes that happen in real-time with live-streamed lessons, resembling the face-to-face classroom experience in the online learning environment. When signing up for courses in Passport, students should check the course notes to ensure that they understand course formats and how online instruction will take place.
The College also offers a variety of resources in the online environment, including technical support, tutoring and library services, advising, registration, and assistance with financial aid.
Students can visit the Lakeland Technology Building and Winter Haven Administration Building Monday through Friday from 8 a.m. to 5 p.m. to receive assistance with advising, registration, and financial aid, but the College encourages students to access these services remotely and to only come to campus if necessary. Before visiting campus, it is important that students review Be the Solution: Polk State College's Return to Campus Plan and monitor their health. Anyone who is sick or experiencing COVID-19 symptoms is instructed to stay home and call a healthcare provider. When on campus, cloth face coverings are required.
Students and prospective students may email registrar@polk.edu, call 863.297.1000, or use the web chat in the bottom right corner of the polk.edu/admission-aid page for assistance with admission, advising, and registration.
Students may email financialaid@polk.edu, call 863.297.1004, or view the College's online FAFSA tutorial at polk.edu/admission-aid/financial-aid for assistance with financial aid.
Students may also call the Academic Support Line at 863.669.2833 to receive assistance with technology needs.
Throughout the application, registration, and financial aid processes, students should monitor their Polk State emails and accounts for important information about registration and financial aid. Students should also visit www.polk.edu and the College's social media for the latest news and additional resources as they become available.