Eagles Take First Win of State Tournament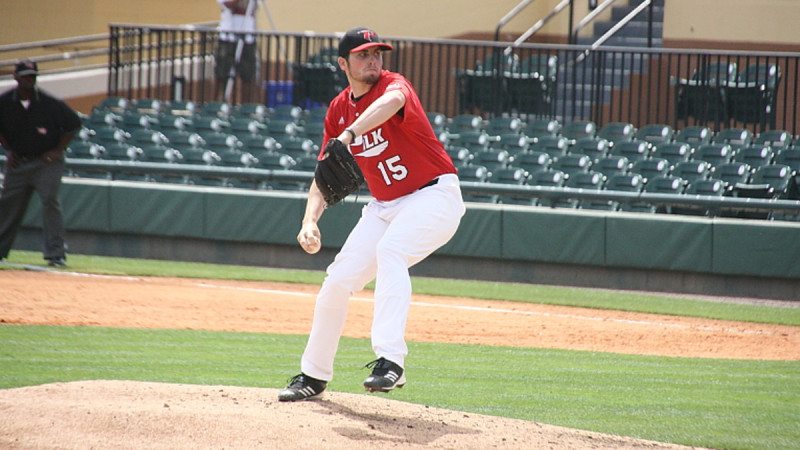 Polk State Baseball has its first win of the state tournament, beating Northwest Florida State on Thursday in a contest that saw pitcher Alec Asher come only one out short of a complete game shutout.
The Eagles pulled ahead of the Raiders during the second inning at Lakeland's Joker Marchant Stadium, after designated hitter Brett Jones singled, scoring Matthew Singletary and Erik Hindmon.
The score remained 2-0 until the bottom of the seventh, when Polk State tacked on two more runs, one by Kyle Chastain and another by Drew Reeves.
With the scoreboard at 4-0 heading into the ninth, a win for the Eagles seemed all but guaranteed.
On the pitching mound, right-handed pitcher Asher was feeling the fatigue of eight innings played under the blazing sun. Relying primarily on his fastball slider, Asher had denied the Raiders at every turn, giving up just two hits.
In the top of the ninth, however, his arm growing more tired with each throw, Asher wavered. He struck out one, gave up hit No. 3 and walked two, which allowed the Raiders to load the bases with two outs on the board.
The Raiders scored on yet another walk from Asher, moving the game to 4-1.
The Eagles huddled.
Asher exited the field to the applause of appreciative Eagles fans, and fellow righty Chris Waltermire took the mound.
"I just treated it like a normal game and played my best," said Asher, the Suncoast Conference Pitcher of the Year.
"I just got tired. It was really hot out there and I couldn't find the strike zone."
With Asher resting in the dugout, the Raiders wasted no time posting two hits against Waltermire, pushing the game to 4-3.
Raiders stood on first and third, with two outs left to play.
Eagles fans, who had watched with confidence to that point, suddenly found themselves leaning forward in their seats, nervously tapping their feet.
Waltermire's turn on the mound was done, short-lived as it was, and in came left-handed pitcher Steven Burnham.
The Eagles won 4-3 on a pop fly to third caught by Singletary.
As his Eagles high-fived in the dugout afterward, Head Coach Al Corbeil reflected on what ended up as a nail-biting victory.
"Our team was able to make plays and capitalize on opportunities. That really helped us," he said. "Alec did really well. His pitches hit the spot really well."
Polk State College will play again on Friday at 4 p.m., taking on the third-ranked team in the tournament, Palm Beach State.
Tickets are available at Joker Marchant Stadium; tournament passes are $25, day passes are $10. Fans may also watch the Eagles live at psblive.com.