Eagles are always willing to lend a hand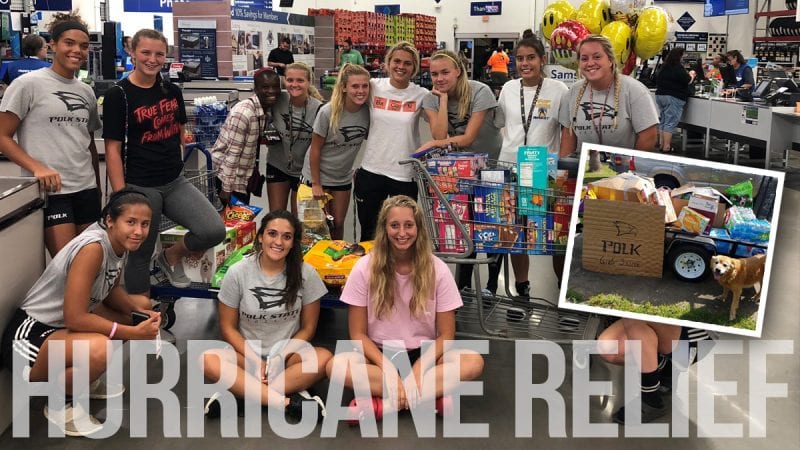 Polk State College students are always willing to help others, especially when disaster hits. Hurricane Michael slammed into the Florida Panhandle on October 10 with sustained winds of 155 miles per hour. It was the first recorded Category 4 storm to hit the area and resulted in 43 deaths and total estimated insured losses of $3.43 billion.
For Polk State Associate in Arts student Celeste Chiles, the storm hit too close to home. Chiles, a first-year student and member of Polk State's Soccer team, grew up in Port St. Joe and still has family there and in Panama City. Her family members didn't evacuate, not realizing until it was too late how powerful the storm would be when it made landfall.
"I was able to stay in contact with them until about noon or 1 p.m. but after that I couldn't get through," Chiles said. "After the storm, I spoke to family in Port St. Joe and knew that everyone there was OK, but I still couldn't locate my mom who had been in Panama City."
Members of the Polk State Soccer team realized that their teammate needed help.
"We work hard in the Soccer program to develop a culture that is about personal development, academics, and then sport," said Women's Soccer Coach Steve Linamen. "It didn't surprise me at all that this group of student athletes didn't hesitate to help out."
They organized a donation drive and Go Fund Me campaign that resulted in nearly $800 from the College and community to be used toward supplies to be taken to Port St. Joe. Linamen drove Chiles and her roommate, Kyah Van Deutekom, to the Panhandle to deliver the supplies to families in need and to locate Chiles' mother. Their visit was a success, with supplies dropped off with Chiles' father in Port St. Joe, and her mother, whose house was destroyed, located safe with neighbors in Panama City.
Since the storm, Chiles has made two trips back to the Panhandle to check on her family. On one trip, she brought friend and fellow teammate Associate in Arts student Xiomara "Xixi" Lewis-Ruggiano. Xixi, who is originally from Palm Bay, had seen the aftermath of hurricanes before, but never like this.
"We visited one of Celeste's family's friends, and their son showed us his bedroom where the whole ceiling was gone. He was really sad that everything was ruined," Lewis-Ruggiano said. "Everyone kept saying that they were OK and blessed to be alive, but we could see that everything wasn't OK."
On the drive home from the Panhandle, Chiles and Lewis-Ruggiano talked about their interest in doing more, perhaps a mission trip to help the families who were continuing to work through recovery efforts, but when they returned to Polk County, Chiles was back in classes, and the idea had fallen off her radar. Rather than let the idea lapse, Lewis-Ruggiano took the initiative and reached out to the Student Activities and Leadership Office (SALO) for help.
"A lot of people want to do mission trips," Lewis-Ruggiano said, "but I thought, why not start here?"
Based on Lewis-Ruggiano's initiative, SALO is sponsoring a toy drive to benefit children in the Panhandle. Individuals are encouraged to donate new, unwrapped toys until December 13. Donations can be dropped at SALO offices at the Polk State JD Alexander Center JDA 200, Winter Haven Campus WST 137, or Lakeland Campus LAC 1131.
Chiles and Lewis-Ruggiano will be driving donations to Port St. Joe during the Winter Break and will work with Chiles' church, First Baptist Church of Port St. Joe, to distribute the toys to families in need.