"Eagle Shuffle" Energizes Student Services Retreat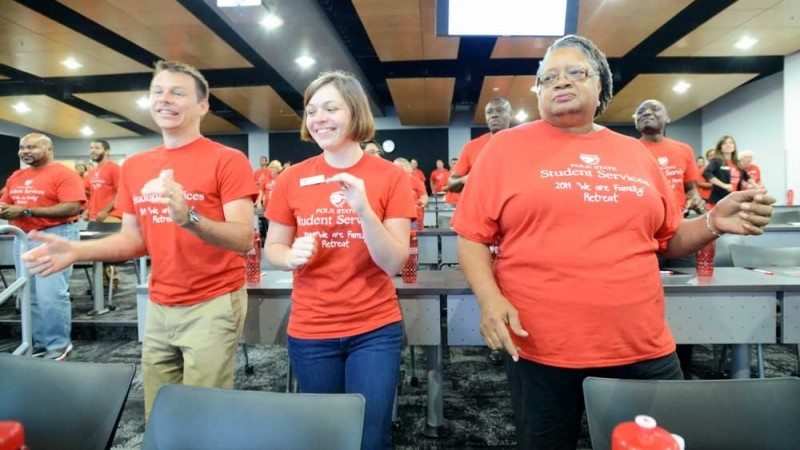 Breaking News Alert: Part electric slide, part chicken dance, the "Eagle Shuffle" is the latest dance sensation sweeping Polk State's Student Services staff.
OK, so that's how this story would begin if this were a ratings-driven news corporation, but this is News@Polk, so let's take a more realistic approach…
Part electric slide, part chicken dance, the "Eagle Shuffle" was debuted at last week's Student Services retreat. It may or may not ever be performed again, but it made people laugh and relax, and that was the whole point.
The retreat took place May 30 at the Polk State Clear Springs Advanced Technology Center. About 100 employees who handle the myriad aspects of "Student Services" — from admissions to student activities — attended. The program included team-building exercises and updates from departments across the College.
"One of my biggest goals in this job is to bring everyone who works under the umbrella of 'Student Services' closer together," said Polk State Vice President of Student Services Reggie Webb, who was hired for his position in January.
"Better internal communication, improved teamwork, the sharing of ideas and experiences to find solutions — all of those things are vital to delivering high-quality services to our students. This retreat was about uniting the Student Services staff behind its common goal — our students."
To reinforce just how "together" Student Services must be, Webb planned the retreat around the theme "We Are Family."
We'll pause here so you can hum a few bars of the Sister Sledge tune … "We are family … I got all my sisters with me …"
Now, back to the retreat and the "Eagle Shuffle."
In keeping with the theme, Webb approached the whole event like a family reunion. Hearty food, games — and dancing — were musts.
"Dancing brings everyone together," he said. "Especially line dancing, because everyone is doing the same motions at the same time."
So the night before the retreat, Webb sashayed around his living room, combining elements of the electric slide, the chicken dance, and the more modern dance craze, the cupid shuffle. He dubbed the resulting shimmy the "Eagle Shuffle."
Webb and a handful of other employees opened the retreat with the dance performed to, what else, "We Are Family." The audience was forced encouraged to join in from their seats.
"It was great. Everyone was laughing and flapping their wings. Everyone was smiling. We got nothing but good comments," Webb said.
Comments such as this one from Jessica Buchanan, coordinator of career development services at Polk State Lakeland:
"It was a great way to open up the session," she said. "It got us moving around, having fun and laughing. The dance made the retreat fun from the start, which helped us focus more. It woke up our brains and got us engaged."
And this one from Yevette Thornton, academic adviser:
"I agree 100 percent that it helped everyone relax and pay better attention. I also liked that Vice President Webb had (Associate Dean of Student Services) Sylvester Little, (Director of Enrollment Services and Registrar) Kathy Bucklew, and (Winter Haven Dean of Student Services) Saul Reyes dance with him," Thornton said.
"We see them in a different light most of the time, so it was nice to see them doing something so human and joyful. It makes them more approachable now when I see them on campus."
Webb said he hopes to have more opportunities to show off his dance moves, but even if the "Eagle Shuffle" proves a flash-in-the-pan hit, it was well worth any risk of injury, public embarrassment, etc.
"We had fun and we learned from one another — that's what matters," Webb said.