Dynamic Duo Spark Polk's Financial Aid Office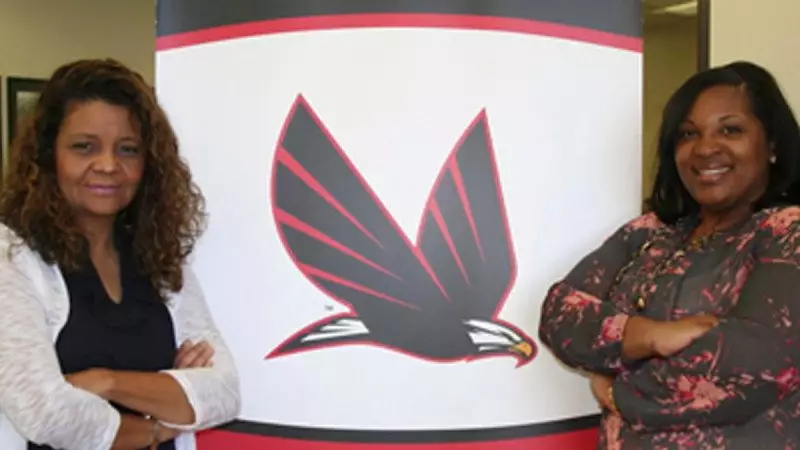 Financial aid is not a topic that evokes excitement in most people.
Thankfully for Polk State, Marcia Conliffe and Tocoa Evariste are not most people.
Recently hired at the College, the two share a palpable passion for helping students reach their educational goals while keeping their finances in check — and they're making daily strides toward improving the financial aid experience for all involved.
"This should not just be a processing office for paperwork," said Conliffe, who joined the College in late 2011 as director of Student Financial Services. "It should be a place where students can come and get the help they need so they can graduate and be successful."
Evariste joined the Polk State staff in March as assistant director of Student Financial Services. It was a reunion for the two, who previously worked together at Florida A&M University.
While at FAMU, Conliffe and Evariste quickly realized their mutual interest in changing the perception of the financial aid process.
"We both like to find ways of doing things better, and we're not afraid to come into a place and say, 'OK, now we're going to try something different,'" Conliffe said.
A prime example of just that: While at FAMU, Evariste began presenting information on financial literacy to freshmen in a required college orientation course. Using online quizzes and other tools, she schooled the students on budgeting, interest and credit ratings, equipping them with the knowledge they needed to make intelligent borrowing decisions in college and beyond.
Conliffe and Evariste plan to use similar methods at Polk State, improving students' overall financial literacy while also helping them to better understand and access the menagerie of financial aid options.
"We want to change the way people look at our office," Evariste said.
Changing the image of Student Financial Services is no small undertaking, but with Conliffe and Evariste in the lead, it is already starting to happen at Polk State. Peter Elliott, vice president of administration and chief financial officer at the College, said Conliffe and Evariste's complementary backgrounds are easing a number of transitions in Student Financial Services.
"Ms. Conliffe brings a wealth of knowledge and experience related to student services, including stops in Disability Services, Veterans Affairs and Financial Aid. Her passion for helping students has raised the level of performance in Student Financial Services," he said.
"Meanwhile, Ms. Evariste brings a well-rounded understanding of federal financial aid processing and experience in large, automated systems. That experience will serve as a baseline for identifying and implementing processing improvements in the Student Financial Services department."
A recent departmental reorganization has created distinct groups of employees in Student Financial Services — one to focus on customer service and one to focus on financial aid processing. The reorganization is part of an overall effort to streamline processes.
The department is also developing tailored information sessions for specific student populations — from freshmen to veterans to minorities — to help students and their families overcome the misconceptions, confusion, and frustration that are so often involved with applying for financial aid.
Student Financial Services is also doing a lot of one-on-one sessions to educate students about the various grants, scholarships and work-study options available.
"People think financial aid is all about Pell Grants," Conliffe said, referring to the federal need-based program. "But there is so much more to it than that."
She gave the example of a student who recently came to her department to get information on taking out a loan.
"He has a 3.7 GPA. He didn't know there are scholarships he can apply for. We're trying as much as possible to steer students to free money before loans," Conliffe said.
Under the watch of Conliffe and Evariste, Student Financial Services is also keeping closer tabs on students to make sure their academic progress keeps pace with their funding resources. It is also taking a more creative approach to helping students pay for their education — for example, this summer, for the first time, students will be able to use their financial aid to cover approved purchases at the Polk State College bookstores.
Also, while Polk State's low tuition and fees mean the majority of graduates — 93 percent in 2009-10 — do not need student loans to pay for their education, Conliffe and Evariste plan personalized sessions with those students who do take out loans. The sessions would help graduates better understand repayment terms and their options should they become unemployed or face other hardships. Currently, student borrowers complete an online exit interview before graduation.
"It's just human behavior to avoid a problem. That's what we don't want," Conliffe said, explaining that when graduates default on student loans it not only damages their personal credit ratings but it also makes it more difficult for the College to offer student loans.
The possibilities for making Student Financial Services a place where students come to talk and work out problems — not just fill out paperwork — are endless. And Conliffe and Evariste are just getting started.
Their work, as they enthusiastically explain, is about people, not paperwork — and it's work that they love tremendously.
"We're not only helping our students. We're helping to educate our staff on the resources we can provide," Evariste said. "We want our students to come to school and be able to graduate — and we're here to help make that happen."