Disability Awareness Month events to focus on mental health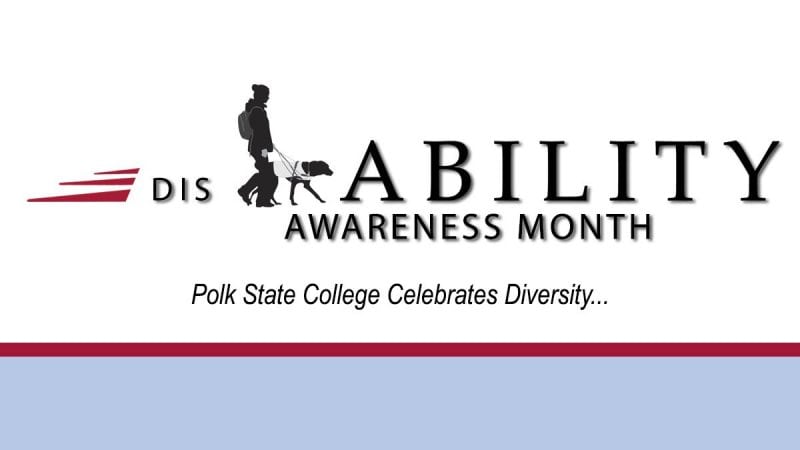 Polk State College's Office of Equity and Diversity will host two Disability Awareness Month events in October with focuses on mental health.
As part of the Courageous Conversation open dialogue series, Lakeland psychologist Dr. Jeanene Robinson Kyles will speak about the state of mental health in society, as well as a connection between an absence of mental health treatment and mass shootings in America.
The presentation, titled "A State of Emergency: The Mental Health Crisis in America – What We Should Know, What We Can Do," will take place on Thursday, Oct. 4, from noon to 1 p.m. on the Lakeland Campus in LAC 1133, the Polk State Lakeland Student Center Dining Hall, and on Thursday, Oct. 11, from noon to 1 p.m. on the Winter Haven Campus in WST 126, the Polk State Winter Haven Student Center.
Students, faculty, and staff are encouraged to RSVP to Isabel Malave by emailing imalave@polk.edu or calling extension 3605. The event is free and includes a light lunch.
"According to the National Alliance on Mental Health, more than 60 million Americans are living with mental illness, but many never receive treatment," Director of the Office of Equity and Diversity Valparisa Baker explained. "We are thrilled to host Dr. Kyles – a local expert in the area of mental health who will give students, faculty, and staff great insight into the importance of access to mental health treatment in our society."
Dr. Kyles has served as the Assistant Director of the University of Central Florida's Counseling Center, the Coordinator for Outreach and Multicultural Serves at Wright State University's Counseling Center in Ohio, and completed a counseling internship at Miami University's Counseling Center in Ohio. She is also well versed in a variety of active shooter and crises trainings offered on various college campuses.
In 2014, she opened a private practice in Lakeland, where she provides counseling and testing for individuals with learning disabilities and mental health concerns.
Polk State is an Equal Access/Equal Opportunity institution that complies fully with the requirements of the Americans with Disabilities Act of 1990 and other federal and state laws and regulations prohibiting discrimination on the basis of disability or handicap.
The College's goal is to provide services and support that ensure students and employees are able to access and participate in the many opportunities available at Polk State. Students and employees are expected and encouraged to utilize the Office of Disability Services — because, at Polk State, nothing will stand in the way of employment or education.