Determined, Kind and Bright: Polk State Mourns Professor Bane Cheek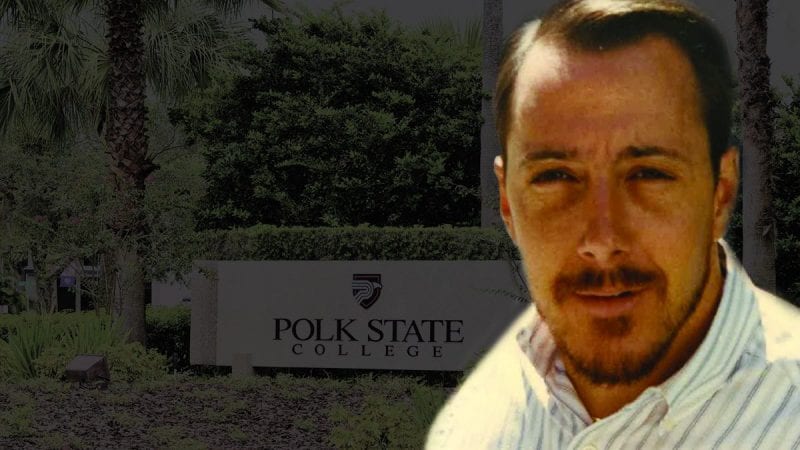 Retired Polk State Biology Professor Bane Cheek, who spent over 20 years challenging his students and instilling in them respect for the environment, died Friday. He was 55.
According to his obituary in The Ledger, Cheek was a native of El Paso, Texas, who moved to Florida in 1970. When he was 15, Cheek became a quadriplegic after a trampoline accident at Haines City High School. The incident forever changed Cheek's life, but he refused to be limited by it.
He would go on to graduate from high school, earn his Associate in Arts degree from Polk State in 1980, and his bachelor's degree in Botany and master's degree in Teaching Botany from the University of Florida. He taught at Polk State from 1986 to 2008, and in 1990 he received Polk State's Distinguished Alumnus Award.
"You work with what you've got to work with. I felt from the actual time of the injury I knew I had a serious injury and I was ready to go on and deal with it. You can feel sorry for yourself all you want. It's still not going to change anything."
Part of Cheek's way of "dealing with" his injury was to not discuss it. His students were curious about his paralysis, he acknowledged in the same Ledger article, but as far as he was concerned, it was irrelevant.
"My injury has no bearing. It doesn't affect my abilities to teach," he said.
Instead, Cheek preferred to share with his students his love for the natural world, particularly its plants and trees. Always inspired and intrigued by the environment, Cheek ran a nursery in Davenport and was especially knowledgeable about cycads, cone-producing plants that date back more than 200 million years.
Biology Professor Alice Hollis recalled that Cheek led a 1980s restoration of Lake Gem, located on the northern edge of Polk State's Winter Haven campus. Cheek supplied native trees, including red maples, slash pines and oaks, to the project.
"He was an environmentalist. He clearly had a love of plant life. He didn't want the wrong things being planted. He wanted true, native varieties," she said.
As part of the Lake Gem project, a path made of railroad ties and mulch was installed. Cheek could traverse the path in his motorized wheelchair and would do so often, conducting his classes outdoors, Hollis said.
Cheek's determination to enjoy the outdoors taught his students a lesson that they couldn't find in their textbooks, said Testing & Tutoring Center Manager Gerry Hubbs. Hubbs studied under Cheek and when she started working at the College, they became friends.
"I remember as his student going out to Lake Kissimmee State Park for a lab assignment. He didn't let being in a wheelchair stop him at all. He didn't consider it a disability. He did whatever he wanted to do. He just put his mind to it and did it," she said.
Hubbs added:
"He made me and others say, 'I can't let little things stop me from doing big things.'"
Another former student, Amanda Granger-Epps, who earned her Associate in Arts degree from Polk State in 1992 and now owns Epps Memorial Funeral Home in Lake Wales, said it was Cheek's mental and emotional resiliency that most impressed her.
"He could have been bitter, but it wasn't an issue. He wasn't defined by being paralyzed," she said.
Students weren't the only ones Cheek inspired. His colleagues are remembering a dedicated and innovative professor.
"He was a big evangelist for using technology in the classroom," said Mathematics Professor Jim Rhodes. "He soaked up technology and wanted to learn everything he could."
Cheek was one of the first at the College to use computers to create multimedia presentations for his classes, friend and former colleague Tom Dowling wrote in an email to the College.
"Technology made things a lot easier for him and his students loved it," Rhodes said. "He could present a lot of ideas visually that he couldn't otherwise because he couldn't draw or write."
English Professor Rebecca Heintz had known Cheek since middle school and was his biology lab partner at Polk State in 1979. Today, she is remembering Cheek for the decades of friendship they shared.
"He was one of the kindest and brightest people I've ever known," she said, "and his sarcasm and sense of wit was surpassed by none."
Condolences may be sent to the family at P.O. Box 4062, Winter Haven, Fla., 33885. Those wishing to share a memory or sentiment may also do so at the Polk State Facebook page. Polk State provides counseling to students, faculty and staff in need.