College's First Artist-In-Residence 'Grows Next Big Oaks of Art'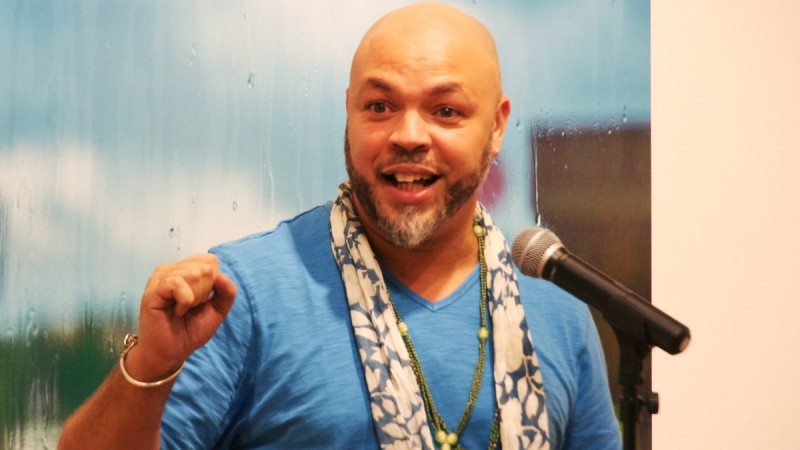 Polk State College's first artist-in-residence wrapped up his stay in Lake Wales on Friday, using the last moments before his departure to remind locals that they are surrounded by immense beauty.
Saddi Khali, a photographer, writer and performance artist, arrived in Polk County in mid-September. For three weeks, he gave lectures and performances, and led workshops for students at the College and Lake Wales High School.
He also spent part of his time photographing scenes around Polk County, compiling a new collection that was on display Friday evening at the Polk State College Lake Wales Arts Center.
While addressing the audience of about 70, Khali said he hopes his work will help residents see Polk County from a new perspective.
"When you live some place and see it every day, you grow tired of it," he said. "But it was fascinating to see your indigenous culture and what makes life rich here."
Khali, who was raised in New Orleans and whose work has him traveling constantly, said he was struck by the simple joys of life in Polk County.
"There is a certain amount of love that just goes into people doing things together," he said. "On Friday night, the whole city is at the game. Families are in the park in the evening."
Among those who attended Khali's farewell event were several of the students he'd worked with during his stay.
Allison Milian, one of two LWHS students who recited an original poem at the event, said Khali helped her find new sources of inspiration for her writing.
"He came to our school and told us to put ourselves in the shoes of someone else and write from their point of view," said Milian, a junior at LWHS. "Just in doing that, I got to know my fellow classmates better. We had to really put ourselves out there. We sat in a room and got to know each other — and we might not have done that otherwise.
"Doing that gave me more confidence in my poetry. I felt like I belonged because I was with people who all like to write poetry, too."
Lake Wales resident Sara Pruitt, an aspiring photographer, also worked with Khali, taking away useful advice and invaluable encouragement. Pruitt had one of her photographs on display at the Arts Center, as did several other local photography students.
"He told me to not rely too much on editing, to try to take photos that can stand on their own," she said. "He gave me hope that I can really do something with photography if I keep trying."
Tampa resident William Sanders drove to Lake Wales just for the Khali event, and it was well worth the trip, he said.
"I'm always impressed when I see young people working in the arts," he said. "It was worth the drive to see the photos of the young people hanging next to the work of a professional photographer. It shows you that there really is beauty all around us, in our neighborhoods."
Polk State Lake Wales Arts Center Director Osubi Craig described Khali's visit as a decided success.
"The Polk State students and members of the community have come away feeling like they have experienced art in a new and meaningful way," he said. "That's what we're trying to do with the artist-in-residence program. We want to plant the seeds that will grow the next big oaks of art in our community."
Polk State operates the Polk State Lake Wales Arts Center, 1099 State Road 60 East, and the Polk State JD Alexander Center, 152 E. Central Ave., in Lake Wales.