Clear Springs Advanced Technology Center Plans Unveiled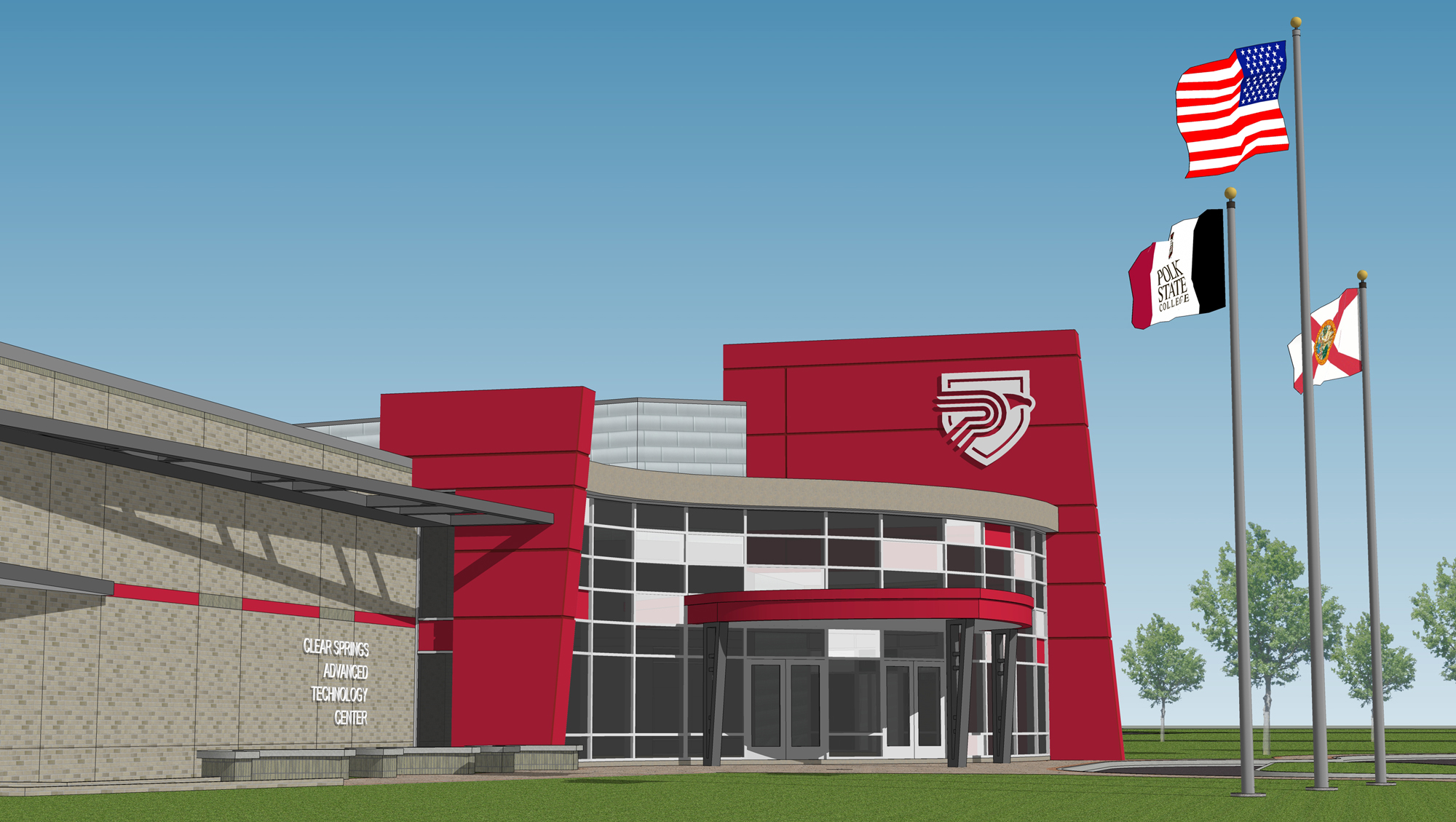 A transformational gift, the unwavering support of Polk County's business and government leaders, and strategic collaboration have combined for the physical embodiment of Polk State College's commitment to advancing the area's work force: the Clear Springs Advanced Technology Center.
The Clear Springs Advanced Technology Center, to be located just east of downtown Bartow and just north of State Road 60, will open in December 2013, and in so many ways will symbolize the bright future Polk State is helping to create for Polk County.
Its bold, compelling design will come to life through cutting-edge materials, representing Polk State's dedication to delivering innovative curriculum and programs. The numerous community partnerships that helped bring the idea to fruition are an extension of the collaboration that has shaped Polk State for nearly 50 years. And the buzz the building has generated — even from the very first artistic rendering — is but a taste of the everyday excitement at Polk State, as it grows and evolves to better serve Polk County.
"This facility is going to be visually remarkable — but, more important, it is going to be remarkable to experience. The tens of thousands of students and working men and women who utilize this space will know that they have encountered an extraordinary institution. And, because of that, they will know that they have encountered an extraordinary community. We are a reflection of the region we serve. We are Polk," said Polk State President Dr. Eileen Holden.
The Clear Springs Advanced Technology Center is possible thanks to the donation of $12 million and 20 acres to Polk State from Clear Springs, led by owner and chairman Stan Phelps. Clear Springs' gift is the largest single donation in the history of Florida's state and community colleges.
"When Mr. Phelps came to us with his vision for this center, he changed the landscape of higher education in Polk County and sent ripples throughout the state of Florida. Words don't begin to convey our gratitude to him and to Clear Springs for the trust they have placed in Polk State College," said Tracy Porter, Polk State's district vice president of institutional advancement and executive director of the Polk State Foundation.
The Polk County Board of County Commissioners also lent its generous support, in the form of $2.5 million for site access and infrastructure.
Polk State holds dear its relationships with local businesses, and exists solely for the betterment of Polk County. To that end, it selected local talent — Polk-based Furr & Wegman Architects, P.A., and Rodda Construction — to design and build the Clear Springs Advanced Technology Center.
"Economic development involves packaging our region's assets in the best way possible. I'm thrilled that Polk State's new facility will be added to our community's mix of resources. It sends exactly the right sort of message about our region: we invest in talent; we think globally; we plan for the future — and we do it the right way," said Steve Scruggs, executive director of the Lakeland Economic Development Council.
As earth-moving equipment turns renderings into reality, a true landmark and gem of architecture will emerge, said Phil Wegman, principal architect at Furr & Wegman.
"From the moment you approach the building and drive around it to the entry, there will be a buildup of excitement and interest in the things that are happening there," he said. "When your feet are on the ground, this building will help you soar."
Polk County Commissioner Melony Bell said the building design is certainly breathtaking.
"The design of the Clear Springs Advanced Technology Center for Polk State College is absolutely on the cutting edge of modern architecture.  I am quite excited and pleased to know that the Corporate College will be breaking ground soon and before long offering additional educational opportunities to our citizens.  Educational opportunities for our citizens are the key to unlocking the door for future economic development for our county," Bell said.
Indeed, just as impressive as the building's architecture is the new chapter it will begin for work force development at Polk State, said County Manager Jim Freeman.
"Polk State has been an invaluable education asset for almost 50 years. With the exciting announcement of the Clear Springs Advanced Technology Center, the College will play an even larger role in providing the skilled work force Polk County will need for the future growth and diversification of our economy," he said.
Central Florida Development Council Director Rodney Carson agreed.
"Polk State College is the front door of Polk County's workforce development.  This beautiful new center is a clear reflection of Polk State's continuous commitment to ensuring our County and the surrounding region's work force can and will meet the needs and desires of employers in both the near- and long-term future," he said.
The Clear Springs Advanced Technology Center will serve more than 12,000 students annually at the time of its opening, according to Polk State Lakeland Provost Stephen Hull.
The Clear Springs Advanced Technology Center will house the Polk State Corporate College's Supply Chain Management Institute, Advanced Manufacturing Institute, Design Construction and Sustainability Institute, Workforce Safety Institute, and Information Technology Institute.
The Corporate College was formed in 2002. Through workforce training provided by its various institutes, it supports existing industries in Polk County and attracts companies to the area.
In addition to the Corporate College, the Clear Springs Advanced Technology Center will house several high-tech degree programs, including Engineering Technology, Supply Chain Management and Computer Network Technology; and the Employ Florida Banner Center for Advanced Manufacturing.
All of the programs that will relocate to the Clear Springs Advanced Technology Center are currently operating out of Polk State's Airside Center in Lakeland.
Rob Clancey, director of the Polk State Corporate College, said this state-of-the-art building will go a long way toward building a state-of-the-art work force in Polk County.
"The Corporate College has been thriving for years, but this new facility, at such an ideal location, positions us to truly transform the region's work force. Our success has always been a reflection of the partnerships that sustain us, and this project is yet another example," he said.
Polk State alumnus E.S. "Ernie" Pinner, who is also a member of the Polk State District Board of Trustees, said he is proud to watch his alma mater grow in such a remarkable way, and he cannot wait for Polk County to reap the benefits of the Clear Springs Advanced Technology Center.
"When it comes to historic moments, it is often said that 'the eagle has landed.' With the Clear Springs Advanced Technology Center, we can say that the Polk State Eagle is truly soaring," said Pinner, chairman, president and CEO of CenterState Banks of Florida Inc.
As the opening of the Clear Springs Advanced Technology Center approaches, excitement grows daily.
"Bartow is excited to have Polk State College begin construction in our city! This will truly be an economic boost in the southern part of Polk County. We are pleased by the selection of local architects and contractors in the design and construction process. We look forward with anticipation to opening day," said Brian Hinton, president of Bartow Consulting Group Inc., former mayor of Bartow, current chairman of the Bartow Committee of 100 and executive director of Bartow Community Healthcare Foundation.
Jeff Clark, executive director of the Greater Bartow Chamber of Commerce, agreed.
"This project is the result of years of planning and vision by Clear Springs, Polk State College, the County and the Bartow community. Bartow is proud to be where Polk State College was founded almost 50 years ago. The college is a part of Bartow history, and we're excited that history will be repeated with this exciting new project," he said.
Polk State alumnus Gregory Littleton said he is not only excited, but also inspired by the progress of the project and the College.
"Seeing years of planning come together and realizing the impact it will have on the lives of our students, as well as the businesses of our county, is truly inspiring.  This is a great time in the history of Polk State!" said Littleton, also president and chief executive officer of Citizens Bank & Trust, member of Polk State's District Board of Trustees, and past chairman of Polk Vision and the Central Florida Development Council.
Polk State College was established in 1964 and serves more than 20,000 students each year at campuses and centers in Lake Wales, Winter Haven, and Lakeland — and by the end of 2013, Bartow.