Classes To Resume Monday, Sept. 18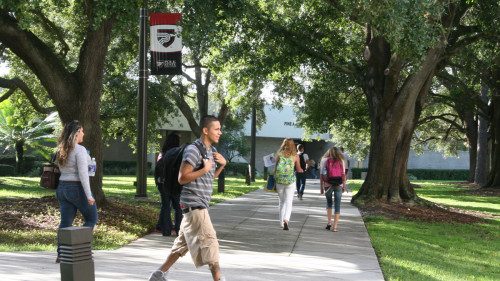 Polk State College and the collegiate high schools will resume classes Monday, Sept. 18.
To ensure a safe and comfortable return to classes following Hurricane Irma, the College asks that students continue to check polk.edu, College email, and the College's social media accounts for updates, as well as PAL to receive instructions from professors.
Students, faculty, and staff should plan extra travel time while commuting to and from campuses next week as parts of Polk County continue to experience power outages. It is also important to note that intersections where traffic lights are out should be treated with caution. Flashing red lights at intersections should be treated as four-way stops. Flashing yellow lights mean proceed with caution.
Citrus Connection buses will return to a complete weekday schedule Monday.
While on campus, students, faculty, and staff should be aware that work crews are still cleaning up and repairing damages from the storm. Work areas will be roped off with caution tape and construction fencing, and caution should be used while moving through these areas.
Students in need of food can visit the My Brother's Keeper in modular 1 on the Winter Haven campus or the food pantry on the Lakeland campus, located in the SALO offices on the second floor of the Student Center.
Students also have 24-hour access to mental health counseling through the BayCare Student Assistance Program. Students can call 1.800.878.5470 to speak to a licensed counselor or make an appointment for face-to-face counseling.
BayCare counselors are also available on the Winter Haven campus Wednesdays from 1 p.m. to 5 p.m. in WAD 159 and on the Lakeland campus Tuesdays from 9 a.m. to 1 p.m. in LTB 1274. To schedule an appointment, call 863.669.2309. Walk-ins are also welcome. All services are free and confidential.
To find available local resources, use United Way's 2-1-1 Community Resource Directory available here, by phone at 888.370.7188, or text at 898.211.
Polk State has also prepared a list of local resources to assist students, faculty, and staff in their storm recovery on and off campus.
Information on canceled and rescheduled events can be found here.