City of Bartow Honors College with Proclamation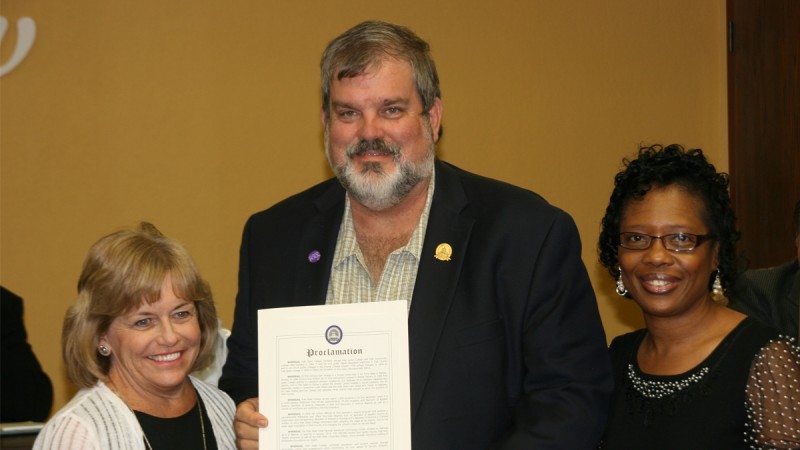 In a fitting start to its 50th anniversary year, Polk State on Monday received a proclamation from the City of Bartow — the very place where five decades ago the College first opened its doors.
The proclamation was read during Monday's city commission meeting at Bartow City Hall. Mayor James Clements presented the proclamation to Polk State President Eileen Holden and Director of Equity and Diversity Valparisa Baker.
"We are so proud to be partners with Bartow," Holden said in thanking the commission for the proclamation.
The proclamation recognized the College's growth. In 1964, it opened at the former site of the Bartow Air Base, serving more than 1,100 students in its first semester. Today, it has multiple locations across the county and serves nearly 25,000 students annually.
The proclamation also recognized the College's addition of bachelor's degrees, three charter high schools and workforce training programs to better serve Polk County.
In a nod to the College's future, and inextricable ties to the Bartow area, the proclamation also highlighted the Polk State Clear Springs Advanced Technology Center, which will open Jan. 8 just east of Bartow. The cutting-edge facility will house the Polk State Corporate College and high-tech degree programs.
City Manager George Long added just after the proclamation was presented:
"A facility like the Polk State Clear Springs Advanced Technology Center is not something that Bartow hopes for anymore, it's something that Bartow has. The impact on the region will mean a lot for the future of Bartow."
In addition to marking the ribbon cutting of the new building in Bartow this month, the College will hold its annual MLK event in the city, as way of paying homage to the College's roots in the community.
Polk State College, an open-access institution, was established in 1964, and serves more than 24,000 students annually. Its offerings include the Associate in Arts, which is parallel and fully transferrable to the State University System, and the Associate in Science, which is designed to lead directly to the workforce. The College also offers the Bachelor of Applied Science in Supervision and Management, Bachelor of Science in Nursing, Bachelor of Science in Criminal Justice, and a variety of continuing education and certificate programs. For more information, visit polk.edu.