Chain of Lakes Collegiate Students to Compete at State HOSA Conference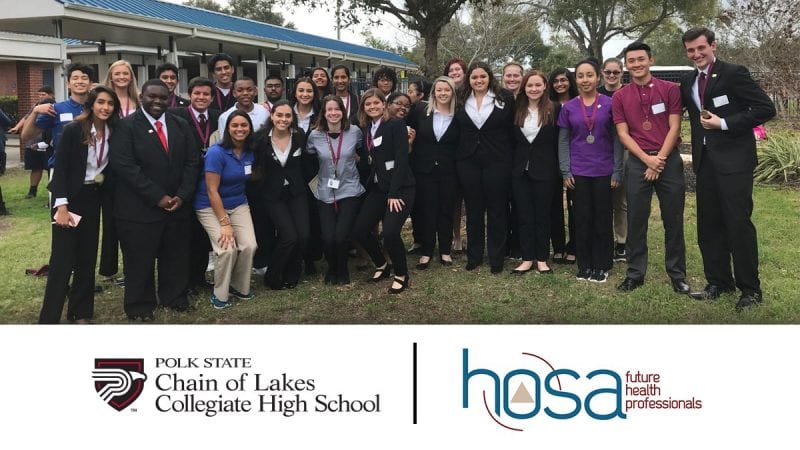 Polk State Chain of Lakes Collegiate High School had a fair share of winners at the Florida HOSA Region IV East Competitive Event in January, and many are heading to the Florida HOSA State Leadership Conference in April.
The conference will take place at the Gaylord Palms Resort & Convention Center in Kissimmee, where nine Chain of Lakes Collegiate students will participate in rigorous competitive events amongst 3,200 HOSA members from all over the state. These are students who first, second, or third in their categories at the regional event.
HOSA – Future Health Professionals is the premier organization for student leaders interested in pursuing careers in the healthcare industry. Its mission is to promote career opportunities in the industry and to enhance the delivery of quality health care to all people.
"Many of our students are interested in pursuing careers in health care fields and they take their participation in HOSA very seriously," Anatomy and Physiology Professor Suzy Halverson said. She is the Allied Health Science Coordinator and oversees HOSA at Chain of Lakes Collegiate. "We give the students the tools and guidance they need to succeed in HOSA, but they deserve the credit for investing their time to study independently and prepare for the competitions, which are phenomenal opportunities for our students."
HOSA events and conferences allow students to develop their leadership skills, hone in on areas of health care that they are interested in, and connect with representatives from educational institutions and the health care industry.
Chain of Lakes Collegiate state competitors will include:
Ziyad Baksh – Placed first in Sports Medicine at the Region IV East Competitive Event.
Aksah Shah and Jessica Luongo – Placed first with Matthew Saag in Medical Innovation at the. Saag also qualified to compete, but is unable to attend the event.
Sera Thompson – Placed first in Transcultural Health.
Lauren Eubanks and Sydney Jarchow – Placed first in Forensics Medicine.
Rehana Koilpillai – Placed second in Medical Math.
Noelle Taylor – Placed second in Sports.
Gabriel Bonet – Placed third in Veterinary Science.
Sujena Koilpillai – Placed third in Medical Spelling.
Chain of Lakes Collegiate regional winners also include:
Christopher Sampath – First place in Medical Terminology.
Jasmine Morgan – Second place in Veterinary Science.
John-Michael Liontas – Second place in Medical Law and Ethics.
Melissa Jean-Baptiste – Second place in Transcultural Health.
Malik Bowman – Fourth place in Sports Medicine.
Gabby Figueroa and Alicia Taylor – Fourth place in Forensics Medicine.
Kaylee Yost – Fourth place in Human Growth and Development.
Lorena Ervin – Fifth place in Epidemiology.