Black History Month celebrations are underway at Polk State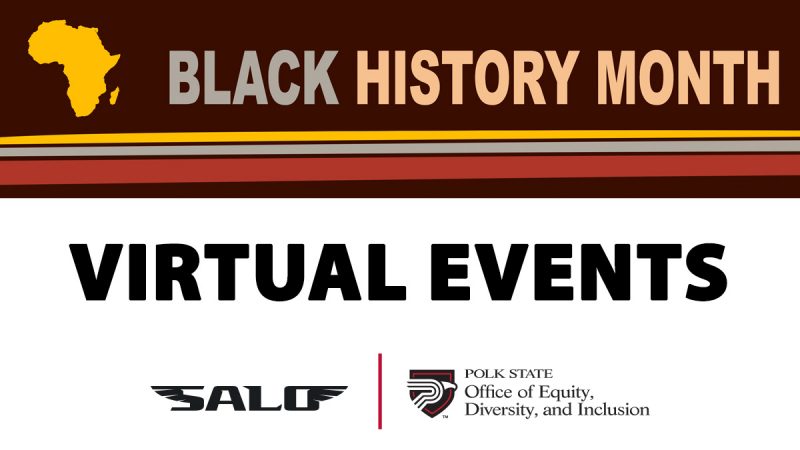 Polk State College is hosting a variety of virtual events in honor of Black History Month.
The series of events kicked off in January with the College's 18th annual Dr. Martin Luther King, Jr. Virtual Celebration, where students, faculty, staff, and members of the greater community heard an inspiring message from keynote speaker LaQuitta Ghent, Vice President of Operations for Duke Energy, as well as from students awarded Dream the Dream scholarships.
Polk State's Office of Equity, Diversity & Inclusion and Student Activities & Leadership Office (SALO) curated a robust schedule of February events to keep the College community engaged in Black History Month, including virtual museum tours, social media activities, and Polk State's signature Voices of the People series.
Events planned for the month include:
Saturday, February 12 | 12 p.m. – 1:30 p.m.
Fruit of the Earth: Using Deed Records to Uncover Your Ancestors with Robyn Smith
Sponsor: African American History and Culture Museum
Deed records are one of the best collections for researching family history, but their legal language can intimidate even seasoned researchers. In this session, genealogist Robyn Smith describes how deed records can identify multiple generations of a family and reveal the social history of a community. This program will also include a discussion with Ebonie Alexander, Director of the Black Family Land Trust. Robyn has been researching her family and others for over 25 years. An engineer by day, Robyn specializes in Maryland, court records, and slavery research and has lectured widely at regional and national conferences. She writes extensively and for more than 10 years has authored a popular genealogy teaching blog called Reclaiming Kin.
https://www.si.edu/events/online?trumbaEmbed=date%3D20220212 (scroll down until you see the event)
Wednesday, February 16 | All-day event | Students only
Post a video!
Select an African American personality that interests you. Then make a short video of 60 seconds or less and include the personality's name, picture, and a description of the contributions that this person has made. Entry should be posted on social media or Canvas as "public" and tag SALO on Facebook, Canvas, or Instagram: @polksalolk or @pscwhsalo and include #PSCBHM2022 SALO. A random student will be selected to win a $25 gift card!
Friday, February 18 | All-day event
Movie night!
Watch a Black History Month-related movie via Netflix with friends and enjoy chatting at the same time. www.netflixparty.com
Tuesday, February 22 | 7 p.m. – 8 p.m.
Historically Speaking: A Great Moral and Social Force—Conversation with Timothy Todd
In A Great Moral and Social Force: A History of Black Banks, writer Timothy Todd of the Federal Reserve Bank of Kansas City discusses the emergence of African American financial institutions and how they fostered economic independence and wealth-building within African American communities during Reconstruction and beyond. In a discussion moderated by Michael Fletcher, of ESPN's Undefeated, Mr. Todd will provide the social and historic contexts for the establishment of black bank ownership by focusing on their emergence in the cities of Richmond, Virginia; Boley, Oklahoma; Chicago, Illinois; Memphis, Tennessee; and Detroit, Michigan.
https://www.si.edu/events/online?trumbaEmbed=date%3D20220222 (scroll down until you see the event)
Wednesday, February 23 | All-day event | Students only
SALO and SGA present: Who Am I?
Use clues to identify famous people. The event will be held on Instagram: @PSC.WHSGA.