Polk State Dream the Dream Scholarship recipients honor MLK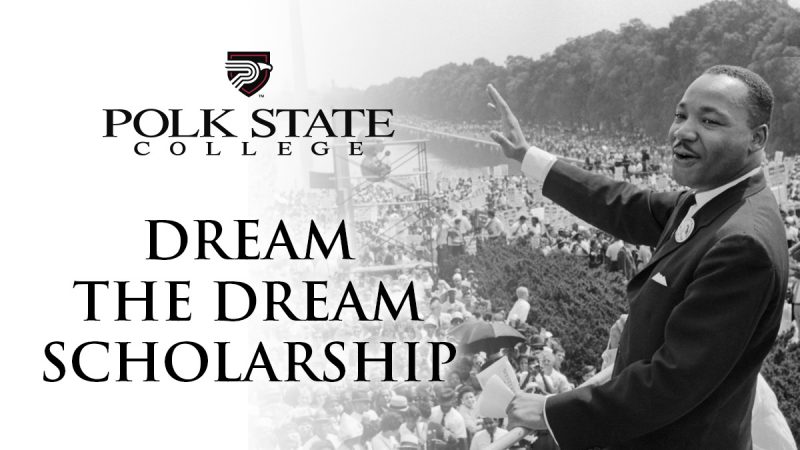 Polk State College students Catherine Derival, Laura Florestal, and Madisyn Ortiz received Dream the Dream Scholarship awards for their academic achievements and service to the community. They also inspired with their essays in honor of Martin Luther King, Jr. as well as with their words of appreciation during the College's 18th annual virtual MLK Celebration.
Each student received scholarships worth up to $500. Dream the Dream Scholarship applicants must have an overall college grade-point average of 3.0 or greater and submit an essay about their academic and career goals, service to the community, and perspective on how the civil rights movement influenced the culture of the U.S. Additionally, they must explain what the phrase "dream the dream" means to them.
"While some may think of dreaming as solely indulging yourself in fantasies, I think of it as creating a vision for the future. Achieving something you dream of means wanting to have something that resonates within your soul with such passionate effervescence, it rivals a church choir," wrote Derival, an Associate in Arts student.
"To this day, the name Dr. Martin Luther King, Jr., rings throughout both school and city halls with admiration," she added. "I feel a joyous buzz in my veins, and it is music to my ears when Dr. King's song of equality, his speech, is played with an effervescence that rivals a church choir."
Florestal, a Polk State Nursing student, echoed a similar sentiment in both her essay and her remarks during the College's MLK Celebration.
"I am overwhelmed with gratitude. Due to Martin Luther King, Jr.'s ability to dream the dream, I have been able to experience a quality education. I have been able to sit in classrooms which encompass diverse cultural demographics of students and through those experiences, I have grown an appreciation and understanding of so many different cultures," she shared. "So many students have been able to reap the outcomes of the dream Martin Luther King, Jr. had regarding social and racial equality in America. Anyone discouraged with their academic journey, keep the dream alive."
Ortiz, too, is committed to keeping the dream alive as an aspiring educator and student in the Polk State Bachelor of Science in Elementary Education Program.
"I am honored and very grateful for being awarded this scholarship. By awarding me this scholarship, you have lightened my financial burden which allows me to focus more on the most important aspect of my education – learning. This award gets me just that much closer to achieving my dream of becoming a teacher," Ortiz said. "I hope that one day I will be able to help students reach their goals in education by assisting them in the same way you have helped me."
The Dream the Dream Scholarship is made possible by the Polk State College Foundation's generous donors and is awarded annually during Polk State's Office of Equity, Diversity, and Inclusions MLK Celebration, which honors Dr. King's work to empower individuals, strengthen communities, bridge barriers, and create solutions to social problems. Donations in support of this scholarship and Polk State's students can be made online at foundation.polk.edu.