Bandit Market serves as exposure & learning experience for Polk State Art students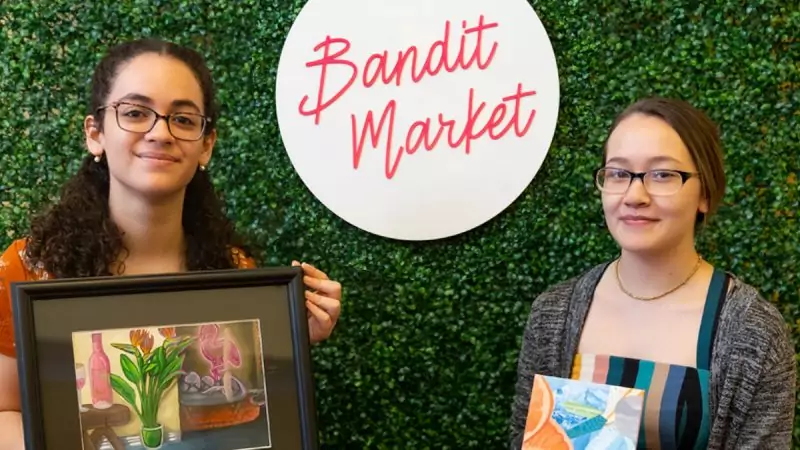 Polk State College prides itself on providing quality higher education that is affordable, flexible, and accessible, including world-class instruction in the arts and experiential learning experiences such as the opportunity for students to showcase their work throughout the community.
Polk State Visual Arts students enjoyed sharing and selling their artwork at the Bandit Market in Winter Haven at the Ritz Theatre, where hundreds perused and purchased the works of artisans from across Central Florida at a market deemed "not your grandmother's craft fair" – "where the cool kids shop."
Polk State students Lillian Argueta, Paula Joglar, and Ivan Ramos were accompanied by Professor of Ceramics Andrew Coombs and Professor of Art Holly Scoggins at the market, which was the first large-scale community event the Visual Arts Program has participated in since the onset of the pandemic.
"It is important for students and young artists to get this type of experience and exposure in the community, and we are happy to be able to connect them to opportunities like this," Scoggins shared. "The students have expressed interest in signing up for events like this in the future and that's great to hear, whether they participate with the College again or if they sign up independently."
Joglar was thrilled when her painting titled Birds of Paradise sold early into the event.
"What inspired my work was the idea that a lot of artists don't know how to do backgrounds, so I wanted to focus on just doing the backgrounds, not having a subject, and playing with the lighting," she explained.
She credited Professor Scoggins with not only guiding her inspiration but also encouraging her to enroll in The Arts Program.
"Polk State is more affordable than other colleges… and has its own opportunities [being] really close to the community," Joglar shared. "At a large college, your work may not be noticeable, whereas at Polk State, you can participate in opportunities like this – a community event where you can get your name out there and start to do something for yourself."
Argueta echoed this enthusiasm. She joined Polk State as a dual enrollment student in the 11th grade.
"I have been making art since I was little, but professionally, I started at Polk State. I took my first art class and fell in love," she said. "Personally, I fell in love with painting when I took that class, but Polk State offers a multitude of classes that are all beneficial to an art student. I enjoy working with all the professors – they are all great and have something special that they teach."
The students, encouraged by working alongside other artisans who have accomplished successful careers through their art and opportunities like the Bandit Market, offered some motivation for others interested in the arts and pursuing higher education.
"Having a love of art, and if you really put work into it, you can become really successful, especially once you get your education and degree," Argueta said. "It's a good career choice."
Polk State provides a seamless pathway to an Associate in Arts degree with a concentration in art that leads to bachelor's degree programs at four-year universities. The College also offers many scholarship opportunities specific to The Arts. Committed and talented faculty guide students every step of the way.
"The professors are really dedicated to helping us find our future in the art world," Joglar said. "I'm thankful for the opportunities Polk State has given me."
More information about The Arts at Polk State College is available online at www.polk.edu/the-arts. The next Bandit Market will be held on December 3 at the Ritz Theatre.