Athletes, Polk State Team Up to Benefit Cancer Campaign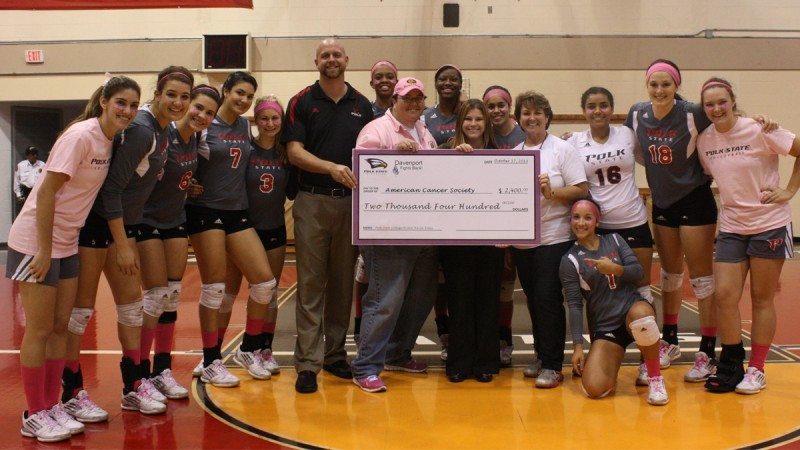 In an example of teamwork taken to a whole new level, Polk State's athletes and a local business with College ties recently worked together to raise $2,400 for Winter Haven Relay for Life.
Last week, Polk State Athletics staged its first Breast Cancer Awareness Night, built around a key volleyball matchup against St. Petersburg College. Prior to the game, representatives of the College presented the $2,400 donation to Caellan Curtis, American Cancer Society community representative for Winter Haven.
Relay for Life is the signature fundraising event for the American Cancer Society, with communities across the globe organizing relay events to raise money, honor cancer survivors and remember those who have lost their lives to the disease.
Polk State athletes raised $1,200 to benefit Winter Haven Relay for Life by selling specially designed Polk State T-shirts that featured the College's Athletics mark and the breast cancer campaign's iconic pink ribbon. October is National Breast Cancer Awareness Month.
Students sold 120 of the T-shirts for $10 each.
When Donna Fellows, chief financial officer of Davenport-based Fellows Trucking Group, heard about the athletes' efforts, she and her company eagerly agreed to match the amount they raised.
Fellows is a 1998 graduate of Polk State, having earned her Associate in Arts before continuing her education at the University of South Florida and University of Florida. She also legally married Polk State Sports Information Coordinator Lisa Coffey in a ceremony in Washington, D.C., earlier this year.
The American Cancer Society is a cause close to Fellows' heart. Both her mother and sister are cancer survivors. Fellows Trucking Group, in addition to owning and operating a fleet of semi-trucks and a truck brokerage unit, also operates the nonprofit organization Davenport Fights Back, solely dedicated to fundraising for the ACS. Davenport Fights Back organizes annual fishing and golf tournaments to benefit the ACS.
Fellows and Coffey are also both members of this year's Winter Haven Relay for Life Executive Committee.
Any chance to give to the ACS piques Fellows' interest, but the chance to do it alongside her alma mater was especially appealing.
"To be able to give back to a college that gave so much to me, that certainly made it a little sweeter," she said. "I graduated from there, as did our marketing director, and my nephew is a current student. For many of us at Fellows Trucking Group, our first degree is from Polk State. I'm a proud alumna."
Also serving on the Winter Haven Relay for Life executive committee this year is administrative assistant Melissa LaRock, whose involvement with the campaign dates back a decade.
"I liked seeing the students get involved. I'm constantly hearing about new friends who have been diagnosed with cancer. People are being touched by it all the time," she said. "It means a lot to me that the College is so involved, and that now the students are getting more involved, too."
The College has long been an active participant and supporter of Winter Haven Relay for Life.
Curtis added that it is encouraging to know a new generation is being readied to run the Winter Haven Relay for Life.
"It's great to see, in this case, two teams working together to fundraise for the Relay event and the American Cancer Society as a whole," she said. "These students are our future, the ones we really want to get involved."
Ashley Toth, a sophomore from Orlando who plays as a setter on Polk State's volleyball team, said it felt good to be part of a cause much bigger than winning or losing the game.
"It felt really special. It was nice to do something for a good cause, and to do it together, as a team and as a school," she said.
As part of its ongoing support of Winter Haven Relay for Life, the College will host an information session at 6:30 p.m. on Nov. 21 at the Winter Haven Student Center. Anyone interested in getting involved is invited to attend. RSVP to Curtis at caellan.curtis@cancer.org.