After 17 years in the kitchen, Polk State grad finds career at the College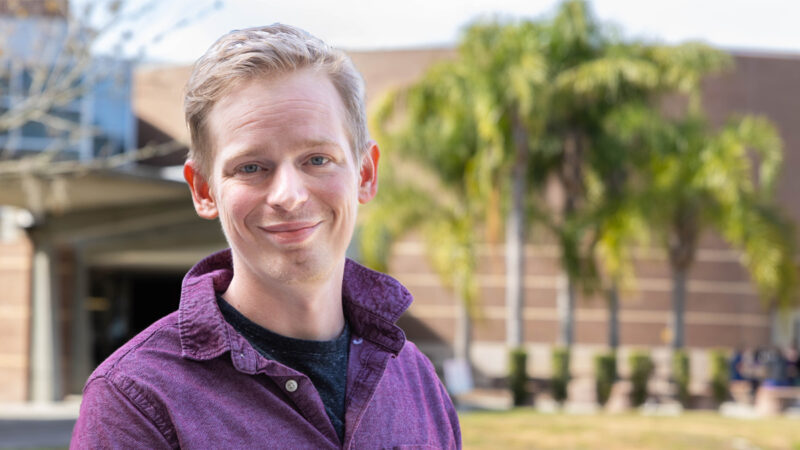 For Solomon Neas, it has been a long journey to work in his desired field, but after more than 17 years in the culinary industry, he has returned to his alma mater.
Neas, 34, began working at Polk State College as a user support specialist in May. Neas was hired shortly after earning his Associate in Science from Polk State in Network Systems Engineering.
"Sometimes I'll have moments where I walk by the auditorium and think about the classes I took there," Neas said. "It's been an amazing journey and it feels like an amazing opportunity."
Neas' first experience at Polk State came as a high school student when he attended Polk State Lakeland Collegiate High School. With an interest in the arts, Neas attended Harrison School for the Arts and Rochelle School of the Arts before attending the Polk State charter high school. As a youngster Neas played the cello, but by middle school, he had taken an interest in visual arts.
Although Institutional Technology was his passion, Neas worked in kitchens from 2005 to 2022. By the age of 22, Neas served as sous chef for Jonjie Sibayan – the head chef for Corporate Caterers and later owner of Filipino food truck-turned-restaurant Pao Café. Neas still serves as head chef for Corporate Caterers and as Sibayan's sous chef at Pao Café, but only as a part-time side job.
"I was always into IT," Neas said. "I only got into the kitchen because it happened to be what I was doing when I started working."
Neas' original plan was simply to work in the kitchen while he attended Polk State. After graduating from Lakeland Collegiate in 2007, Neas continued to attend Polk State, but ended up losing his Florida Bright Future Scholarship as result of a paperwork error. Neas took college IT courses as a student at Lakeland Collegiate and Polk State. Financial hardships forced Neas to quit college, and he never gave serious consideration to returning until after the COVID-19 pandemic began.
"2020 happened and I lost one of my jobs," he recalled. "It was kind of a blessing. I looked into going back to school and I learned that FAFSA (Free Application for Federal Student Aid) would pay for everything. All of my IT credits were already at Polk."
Upon his return to Polk State, Neas joined the IT Department as a work study participant in August 2021. Nine months later, he was hired full-time.
"Everyone is down to earth and just here to help," Neas said about Polk State. "Coming from the kitchen, everything was just so black and white. Everyone has been so flexible and understanding here."
"He is just so friendly," said Meesha Downing-Townsend, principal at Polk State Lakeland Gateway to College Collegiate High School. "He's always smiling and just extremely helpful. If there is something he doesn't know, he goes above and beyond to learn and find out all about it."
Neas is currently working on a Bachelor of Applied Science in Supervision and Management with a focus on Business Information Technology at Polk State. The work, he said, is rewarding and the benefits are many, including more time at home with his 5-year-old son, Alistair.
"I've never been able to work a job before with benefits like healthcare," Neas remarked. "It feels like I'm finally an adult. I feel like I get to use my brain more. This job has also given me an opportunity to spend more time with my family and to better provide for them. It's been amazing."