30 Polk State students named to FCSAA All-Academic Team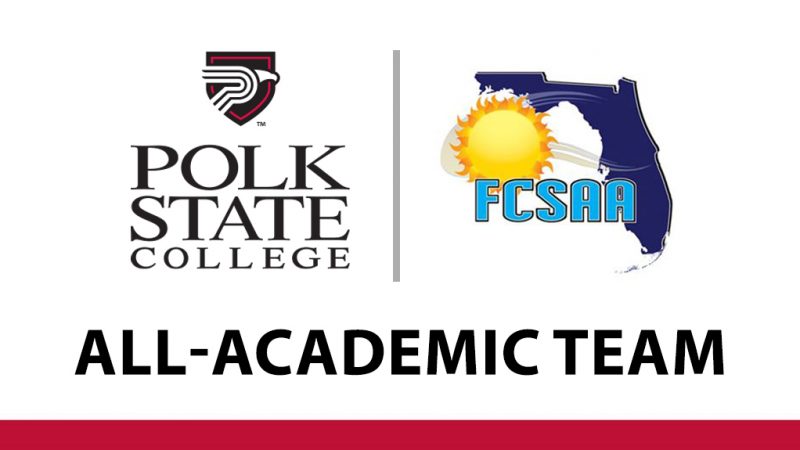 A 2021-22 Academic Year that saw Polk State College accomplish many things has culminated in 26 student-athletes and four Student Government Association (SGA) members earning FCSAA All-Academic honors.
To qualify for the FCSAA All-Academic Team, students must have been an active member of their organizations for the entire academic year or athletic season and must have a cumulative grade-point average (GPA) of at least 3.3 through accumulation of all credits over multiple academic years, or accumulation of credits for the current academic year. The student must have taken a minimum of 18 semester hours during the academic year.
Below are the Polk State students to earn All-Academic recognition for the 2021-22 year:
• Cate Bako, soccer
• Maria Luiza Barreis, volleyball
• Joanna Bolvin, soccer
• Jennie Brogdon, softball
• Cimi Chapman, SGA
• Nick Collins, baseball
• Aitza Cruz, volleyball
• Andrea Da Silva, volleyball
• Jack Duffy, baseball
• Kyle Ericson, baseball
• Logan Fernandez, soccer
• Carter Geier, baseball
• Alex Gonzalez, SGA
• Cole Griffith, baseball
• Jacob Heath, baseball
• Maddie Leake, soccer
• Jenna Lester, softball
• Sabrina Long, softball
• Raisa Lugo, soccer
• Eli McCormack, baseball
• Ray Mercer, baseball
• Maria Munoz, volleyball
• A'lysha Neloms, SGA
• Cooper Nelson, baseball
• Divya Patel, SGA
• Samantha Raynor, softball
• Luke Ridley, baseball
• Rohsean Riley, baseball
• Ethan Stephens, baseball
• Greg Vaughn, basketball