3 Polk State students named to All-Florida Academic Team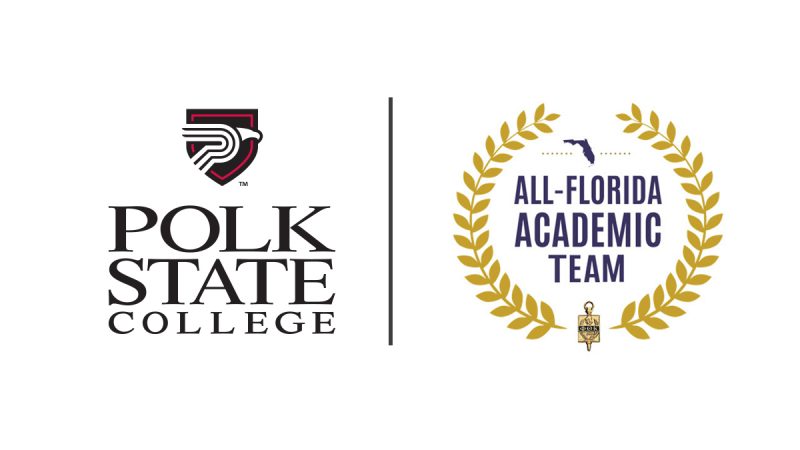 A trio of Polk State College students were recognized as members of the 2022 All-Florida Academic Team.
Jhon Mendoza Paredes, David Umanzor, and Mallory Anderson are the three recipients from Polk State. Statewide, 144 Florida College System students earned the distinction.
A Prestigious Honor
"It means a lot," Mendoza Paredes said. "As an immigrant, it has been a rough path. I never thought I'd get here, but with the help of my advisors, my professors, my family and God honestly, here I am."
Mendoza Paredes and his family came to the United States from Ecuador on vacation in February 2020. Shortly after, the COVID-19 pandemic began and his flight back to Ecuador was canceled. Mendoza Paredes believes it was fate that kept him in the U.S.
"It's been a process," he said. "Everything has just opened up for us."
Mendoza Paredes graduated with an Associate in Arts degree and a 3.83 grade-point average from Polk State this month. He'll be attending Florida State University in August, where he'll be majoring in Biology. Mendoza Paredes plans on attending medical school and becoming a doctor when all is said and done.
The All-Florida Academic Team honorees were announced at Valencia College in early April. Sponsored by the Phi Theta Kappa International Honor Society, the distinction recognizes students for their academic achievement, leadership, and commitment to community service.
"It really was eye-opening to receive," Umanzor said. "It shows people recognize what I'm doing and that it really matters."
Umanzor graduated with a Polk State Associate in Arts in December and is now enrolled at the University of Central Florida. He's majoring in Computer Science and plans to go into software engineering. At Polk State, Umanzor was a member of the STEM Club and Phi Theta Kappa's Beta Upsilon Upsilon chapter.
"STEM Club helped push me with my research," he said. "Phi Theta Kappa was there to support me. Both organizations really helped me a lot."
The All-Florida Academic Team recognition opens scholarship opportunities for the students at Florida universities. It is also a prestigious distinction on their resumes.
"It is nice to be recognized for my hard work," Anderson said. "I'm thankful for the opportunity."
Anderson is currently pursuing an Associate in Arts. A member of the Xi Pi chapter of Phi Theta Kappa, she expects to graduate in May 2023. From there, she hopes to attend UCF.
Anderson would like to major in Studio Art. She hopes to one day go into teaching or work in the movie industry.
"I've always been real interested in art," she said. "My family is all very artistic."
Polk State and PTK Make a Difference
Anderson also appreciates the inspiration she's received from her professors like Andrew Coombs, Kristina Stafford, and HD Childree.
"(Childree) has been a really great professor," she said. "I've learned a lot from her. My art professors have all been really great."
Mendoza Paredes said his mother encouraged him to join Phi Theta Kappa's Beta Upsilon Upsilon chapter in May 2021. He said that advisors Penny Morris and Paula Celestey have been very influential. They taught him how to apply to four-year schools and for scholarships.
"Throughout this journey, they taught me so much," Mendoza Paredes said. "PTK has been one of the best things in my life since I got here. I've become a better leader and all-around person. I can't describe what it's meant to me."
Umanzor said he's happy to have attended Polk State rather than going straight to a four-year school. He appreciated how closely he was able to work with his professors and the relationships they have.
"Polk State has been a great catalyst for me," he said. "It was a great place to learn and grow. I had a great time, I made great connections, and I'm really thankful for Polk State."