Polk State Winter Haven to Host Breast Cancer Event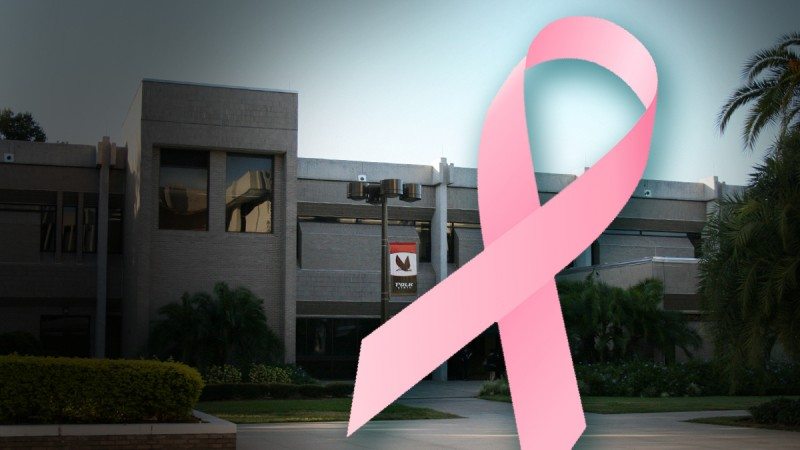 Polk State Winter Haven will host a Breast Cancer Awareness Fair from 9 a.m. to 2 p.m. on Thursday at the WST Lawn, complete with games, prizes, free food and guest speakers.
It's all aimed at getting students, no matter their gender or age, to be more diligent about the disease, and it's a cause close to the heart of organizer Pat Furnish, also vice president of Polk State Winter Haven's Student Government Association.
"My mom got breast cancer when she was in her mid-30s," said Furnish. "She fought it for about 14 years before it killed her."
For 20 years, Furnish has been haunted by the memories of her mother's decline as the cancer spread. When Furnish was elected to the SGA last year, she learned that as an officer she had to organize events on the campus.
What better way to finally honor her mom, Furnish decided, than to possibly save others from breast cancer.
"It was the worst feeling in the world to see my mom suffer like she did," Furnish said. "I saw her go from a vibrant, busy mom to losing all her hair and barely being able to get out of her recliner. It makes me want to cry just thinking about it. I wish I could have done something to ease her pain."
Of course, there's nothing Furnish can do now for her mother, but for her fellow students,  breast cancer education could make all the difference.
"It's just about making them aware. Anyone can get breast cancer, men, women, old and young. They need to check themselves, and they need to encourage their loved ones to get checked, too."
During Thursday's event, students will hear from Jean Burgess, a breast cancer survivor and volunteer for the Florida Breast Cancer Foundation, and also view a traveling bra dress.
The event also has personal meaning for Allison Walker, coordinator of Student Activities and Leadership at Polk State Winter Haven; Burgess is her mom.
"I am excited about this event not only because of the personal connection it has to myself and Pat, but also because it's going to bring awareness to an issue that affects so many of our students and staff, whether they're survivors themselves, been diagnosed with breast cancer, or have a loved one facing the disease," she said.
October is National Breast Cancer Awareness Month. According to the American Cancer Society, about one in eight women will be diagnosed with breast cancer in their lifetime.