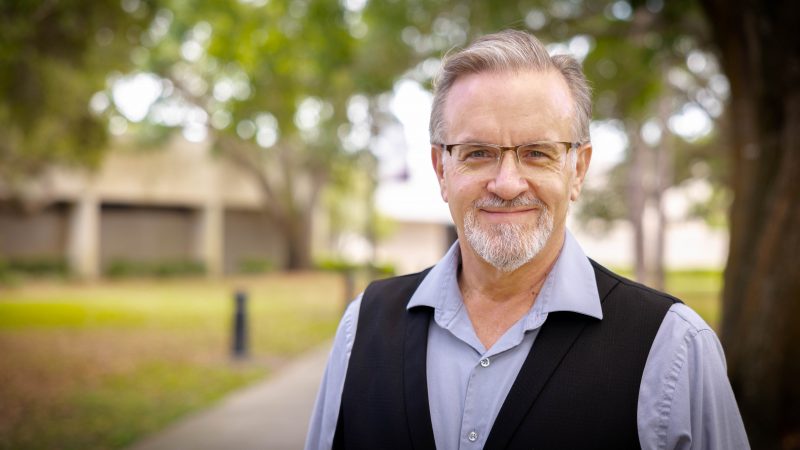 Phone: 863.297.1010
Internal Extension: 5540
Email: mhartfield@polk.edu
Office: WFA 138, Winter Haven
Station: 8

Mark Hartfield is a member of the theatre faculty at Polk State College teaching a variety of theatre performance classes and lecturing for the Humanities department.  Mr. Hartfield holds the highest degree in the practical field of theatre, a Master of Fine Arts from Brandeis University in Boston where he studied under Theodore "Ted" Kazanoff.  Since arriving at Polk State in 2011, Mr. Hartfield has directed The Taming of the Shrew, Barefoot in the Park, All Shook Up, and The Fantasticks for the Polk State Theatre's main stage.  He has taught at Wheaton College, Brandeis University, Mount Hope Productions, Harrison School for the Arts, Universal Studios, and Theatre Winter Haven.  As an actor, he has performed in more than 150 plays in theatres throughout the eastern U.S. including roles as diverse as John Merrick in The Elephant Man, Doc Gibbs in Our Town and the Baker in Into the Woods.  Locally, Mr. Hartfield is seen regularly on stage at Theatre Winter Haven, most recently in productions of Nine to Five, Hairspray and Evita.  He spent several seasons as the Artistic Director of Mount Hope Productions and the Pennsylvania Renaissance Faire and worked as Company Manager for the Batman Stunt Show at Six Flags Great Adventure.  Since coming to Florida in 1995, he has worked as General Manager of Theatre Winter Haven and spent five years as a Show Director for Universal Studios Resort in Orlando where he was on the opening team for the Islands of Adventure theme park.  Mr. Hartfield has also directed locally, helming To Kill a Mockingbird, Cheaper by the Dozen and It's a Wonderful Life at Theatre Winter Haven, Cat on a Hot Tin Roof at Lakeland Community Theatre and Children of Eden for the New Tampa Players among others.  Mr. Hartfield is also an experienced stage combat instructor and fight director having studied with some of the original Fight Masters of the Society of American Fight Directors including David Leong, Chris Villa and Drew Fracher.  For 25 years he has kept actors and audiences safe while presenting exciting theatrical action on stage.  In addition to his responsibilities at Polk State, he continues to work in the central Florida theatre community and is working on a book on acting tentatively titled, "'Act Better' – Believing and Being".