Wise & Witty Women and Many Magnificent Men Event Inspires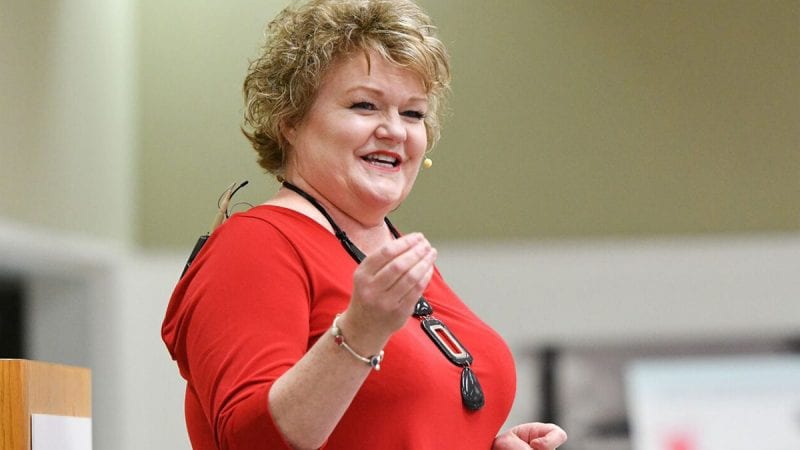 The Polk State College Foundation's 12th annual Wise & Witty Women and Many Magnificent Men events this week entertained and inspired more than 400 guests who came together in celebration of Women's History Month and in support of Polk State's students.
The luncheon takes place at the Winter Haven and Lakeland campuses, and is just one of several events the Foundation organizes each year to raise funds for student scholarships.
The Foundation awards $1.5 million in student scholarships each year.
At Wise & Witty, guests enjoyed the wisdom and wit of motivational speaker Amy Dee, who delivered an inspirational message through powerful words, melodic song, and a lot of comedic relief.
"When you change the way you look at things, the things you look at change," she reminded the audience throughout her presentation.
She opened with her rendition of Walt Disney's "When You Wish Upon A Star," ending with a wish to "lose 15 lbs. by Friday night, because dear Lord, these Spanks are tight!" This foreshadowed a story about her battle with a dress that was a few sizes too small. She has learned to laugh at herself and similar situations.
Her presentation encouraged guests to maintain positive outlooks on life.
"It's not the events that elicit your emotions, it's your thoughts that create your emotions," Dee explained. "Changing the way you think is a powerful thing. A problem becomes a challenge. A mistake becomes a learning experience."
Polk State President Angela Garcia Falconetti called Dee's message a powerful one.
"That is exactly what we do for our students – we help them see that the glass is half full and we show them that obtaining their education is possible," Falconetti said.
"This is my first Wise & Witty Women event, and it was a memorable experience," she added. "I am grateful for your generosity. Thank you for supporting our students."
Guests also enjoyed musical performance by student groups the Pips, Burgundy, and Melangé, and remarks from students who have benefited from the generosity of the Foundation's donors.
BreAsia Barnes, one of three student speakers, received the Fancelli Family Future Leaders Scholarship in fifth grade and told the crowd of supporters that, thanks to their donations, she is able to pursue her higher education.
"I strive so hard because donors like you see the potential in students like me," she said. "My dream is to become a physical therapist and help children so they are not limited in achieving their dreams either."
To donate to the Polk State College Foundation, go online to foundation.polk.edu or call 863.297.1071.