Winter Haven Unveils Water Tower, Eagle Pride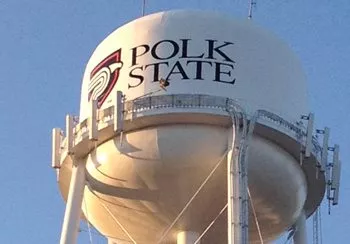 Today the City of Winter Haven unveiled the newly painted Third Street water tower, which now bears the Polk State College logo.
More than 100 gathered outside the Chain of Lakes Complex to watch as city workers lifted a large drape from the water tower across the street, revealing the logo that symbolizes the partnership long shared by the College and city.
"I can honestly tell you that Polk State wouldn't be what we are today, were it not for this special relationship," Polk State President Eileen Holden told the assembled crowd. "And, if I can be so bold as to say it, I don't think Winter Haven would be the same without Polk State…We know that we can depend on each other, we know that our pasts as well as our futures are significantly linked."
Holden added that the water tower's location near the busy intersection of U.S. 17 and Cypress Gardens Boulevard will serve as a — very — visible reminder to passersby of the connection between College and City.
"We do not take your partnership and affection for granted, and I know that every single day, thousands of Polk State Eagles and Eagle boosters will drive by this busy intersection or within sight of that tower and know, beyond a shadow of a doubt, that this is Polk State Eagle Country,"  Holden said
"Soar, Eagles!" cheered Winter Haven Mayor J.P. Powell, to the crowd's delight.