What's available on campus and remotely?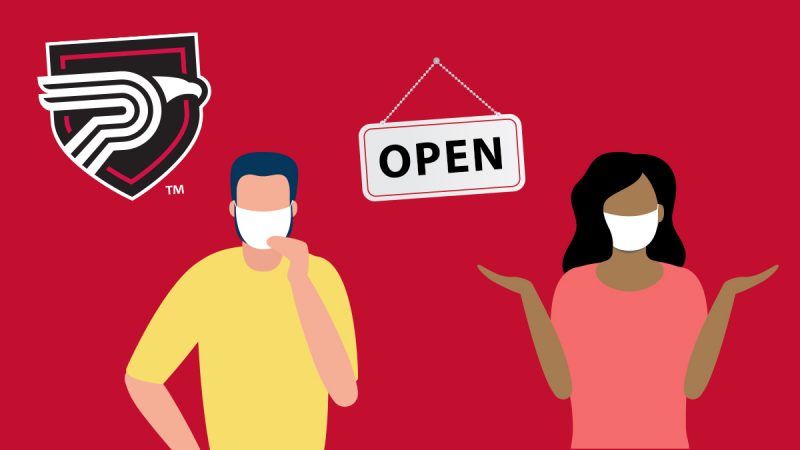 Polk State College entered Phase II of its Return to Campus Plan on August 17 with some functions returning to the Winter Haven and Lakeland campuses and most operations continuing to take place remotely.
The Winter Haven Administration (WAD) Building and Lakeland Technology Building (LTB) are open to students and visitors to access services including advising, registration, and financial aid. The College encourages students to access these services remotely and to only come to campus if necessary.
Before visiting campus, it is important that students review Be the Solution: Polk State College's Return to Campus Plan and monitor their health. Anyone who is sick or experiencing COVID-19 symptoms is instructed to stay home and call a healthcare provider. When on campus, cloth face coverings are required.
So, what's available on campus and remotely?
Remotely
On-campus
Admissions & Advising
Monday – Friday
8 a.m. – 5 p.m.

863.297.1000, registrar@polk.edu, and the webchat on the www.polk.edu/admission-aid page
Starting in Phase II on August 17:

Winter Haven Administration Building
Monday – Friday
8 a.m. – 5 p.m.

Lakeland Technology Building
Monday – Friday
8 a.m. – 5 p.m.
Financial Aid
Monday – Friday
8 a.m. – 5 p.m.

863.297.1004, financialaid@polk.edu, and the webchat on the www.polk.edu/admission-aid page
Starting in Phase II on August 17:

Winter Haven Administration Building
Monday – Friday
8 a.m. – 5 p.m.

Lakeland Technology Building
Monday – Friday
8 a.m. – 5 p.m.
Cash Management Department
Winter Haven Cashier 863.297.1010 x5536 and whcashmgmt@polk.edu

Lakeland Cashier 863.297.1010 x6146 and lkcashmgmt@polk.edu
Not available
Collegiate high schools
Polk State Chain of Lakes Collegiate High School: 863.298.6800 or kbonney@polk.edu

Polk State Lakeland Collegiate High School: 863.669.2322 or rjeffries@polk.edu

Polk State Lakeland Gateway to College Collegiate High School: 863.669.2923 or cbarnes@polk.edu
Starting in Phase II on August 17, administrators and office staff are available at all collegiate high schools:

Monday – Friday
7 a.m. – 4 p.m.

Please note that doors to the collegiate high schools will be locked and students and visitors should call the respective school to gain access.
Bookstores
polk.bncollege.com

Winter Haven Campus Bookstore 863.299.3325 and sm8126@bncollege.com

Lakeland Campus Bookstore 863.665.8431 and sm8125@bncollege.com
Textbook returns can be dropped off and online purchases can be picked up with curbside service:

Monday – Friday
10 a.m. – 4 p.m.

More information on the bookstore page.
Libraries
Winter Haven Campus Library 863.297.1040

Lakeland Campus Library 863.297.1042

Polk State Virtual Library: canvas.polk.edu/courses/15942

Online library resources : libguides.polk.edu/covid19

Ask A Librarian: www.askalibrarian.org/psc
Not available
Teaching Learning Computing Centers (TLCC)
Online TLCC resources: libguides.polk.edu/covid19

Online tutoring:canvas.polk.edu/enroll/ENYJRB

Tutoring

Winter Haven 863.297.1033

Lakeland 863.297.1044

Testing

Winter Haven 863.292.3674 and whtlcctesting@polk.edu

Lakeland 863.297.1044 and lakelandtlcc@polk.edu
Not available
Student Activities and Leadership Office (SALO)
Enroll in the Virtual Student Center on Canvas at canvas.polk.edu/enroll/M3NAHT
salo@polk.edu
863.297.1000
Not available
Metz food and vending services
Not available
Not available
Gyms and weight rooms
Not available
Only available for student athletes in organized workouts.
Security
863.297.1059
Winter Haven Campus WMS 134 and Lakeland Campus LME 102

Monday – Friday
8 a.m. – 5 p.m. in WMS 134 on the Winter Haven Campus and LME 102 on the Lakeland Campus