Weigh career options at Criminal Justice Teach-In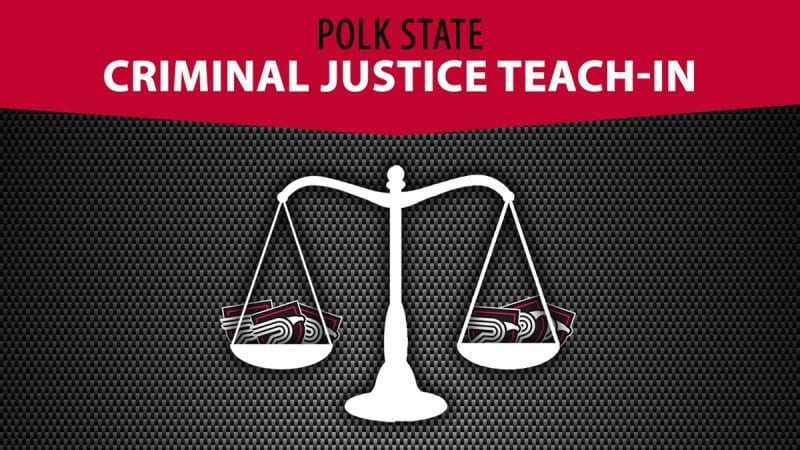 Polk State College's Criminal Justice Teach-In is an annual event in which Criminal Justice professionals speak to students about their careers and experiences.
The public is invited to attend this free event, which will include lunch; however, reservations are required by emailing criminaljustice@polk.edu. The event is scheduled for Friday, April 27, from 8 a.m. to 2 p.m. at the Polk State Center for Public Safety, 1251 Jim Keene Boulevard, Winter Haven.
The event mimics the Great American Teach-In hosted at elementary schools, where members of the community are invited to speak to students about their careers, travels, and hobbies.
This is the fifth year Polk State's Criminal Justice Program has hosted the day-long event. This year's teach-in is titled "Weigh Your Career Options in Criminal Justice" and speakers from the fields of investigations, K-9, courts, corrections, probation, and human trafficking will be present to give students a taste of what it means to work in each of these specialized areas within the criminal justice system. There will be a local job fair with Criminal Justice employers present to recruit participants, as well as discuss how and what they require to be hired at their agency.
Polk State is a one-stop shop for Criminal Justice education, offering an Associate in Science degree, Bachelor of Science degree, as well as the Kenneth C. Thompson Institute of Public Safety. Course are offered in both traditional and nontraditional formats to meet the needs of working adults. More information about Polk State's Criminal Justice Program is available here.