Upcoming Performance at Polk State Makes Statement With Poetry, Music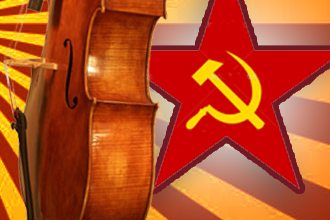 An upcoming performance at Polk State will use both poetry and music to illuminate the power creativity has to thrive even in the most oppressive of circumstances.
Presented by the College's Philosophy Club and SALO (Student Activities and Leadership Office), the performance — dubbed "An Affair for the Common Man" — will take place at 7 p.m. on Nov. 28 at Polk State's Winter Haven Fine Arts Theatre, 999 Ave. H N.E.
Students are free with a College ID; tickets for the general public are $5. Tickets will be available at the box office beginning an hour and a half before the event or may be purchased in advance by calling 863.669.2928. Proceeds benefit the Philosophy Club.
"An Affair for the Common Man" will feature the music of Dmitry Shostakovich performed by Polk State Humanities Professor Derek Menchan, also an accomplished cellist, Laurent Boukobza, a pianist and Chair of Piano Studies at the University of Central Florida, and Francisco Salazar Vara, a New York-based violinist who has toured several continents.
Students will add their voices to the evening by reading the works of poet Aleksandr Solzhenitsyn. Both Shostakovich and Solzhenitsyn were artists who persisted even in the face of Soviet-era persecution.
"They were each colossal geniuses who were able to create art that celebrated the resilient human spirit and drive. They were able to do this, and also represent the common working class in their creations, despite working under the debilitating and inhumane reign of Joseph Stalin," said Menchan, an adviser of the Polk State Philosophy Club.
Menchan added that the night will be a moving one, even for those with no prior knowledge of the works of Shostakovich and Solzhenitsyn.
"Their works convey the universal story of the stripping away of personhood and oppression," Menchan said. "Whether we're talking about misogyny or racial discrimination, so many of us can relate to what these artists were talking about."
The title — "An Affair for the Common Man" — is a play on composer Aaron Copland's famous work, "Fanfare for the Common Man," and is meant to express the inspiration for the event: To bring audiences together for a night of unity and enlightenment.
"We're celebrating unity, solidarity and commonality, all while exposing concertgoers — for essentially the lowest price anywhere — to world-class artists. These musicians have been trained by some of the world's greatest teachers, have performed in the world's most renowned concert halls, and have been educated at some of the most famous schools. Now, they're bringing their talents to us in Polk County," Menchan said.