U.S. Rep. Daniel Webster Meets With Polk Student Government Association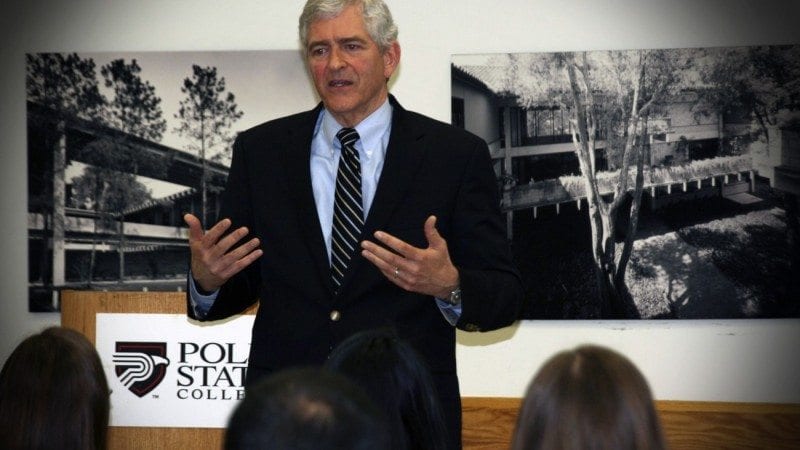 U.S. Rep. Daniel Webster visited Polk State College on Thursday to share with members of the Student Government Association his keys to life and leadership.
Webster, R-Orlando, represents Florida's 10th congressional district, which in Polk County includes Auburndale, Davenport, Haines City, Polk City and Winter Haven.
Though he now serves at the federal level, Webster's 30-year political career had humble beginnings. As he recounted for students gathered in the Polk State Winter Haven Student Center, he was serving on his church's building committee, seeking a zoning change for a new project.
That request was denied, he recalled, because it was "adverse to public policy."
Webster asked the code officials who set "public policy," the answer was the Florida legislature, and he made up his mind then and there to run for office. He won his first election by so narrow a margin the Orlando Sentinel ran a story that he'd lost — a story he said was never recanted.
Webster's been winning elections ever since, by margins that can't be questioned, all while staying true to a handful of guiding principles and the insistence that his life be as simple as possible.
"Life is too complex and too short," he said. "Just keep it simple.
Webster urged the students to do three things in their own lives, beginning with learn the value of time.
"Time and gold are both measured in units of 24," the congressman said the two-dozen students who gathered for the special Student Government Association meeting.
"Twenty-four carat gold is the most precious and we only have 24 hours in a day. Treat your time like gold. You will never get your time back."
Next, Webster said, the students should learn the value of reading.
"Read for enjoyment, read for enrichment," he said. "Reading is your gateway to success and to being a great leader. Read about people who were great leaders."
Webster recommended the students start learning about leadership with one of his own favorite books, Lincoln on Leadership.
"What I learned from (President Abraham Lincoln) through that book was the value of observing others," he said. "That's how I've attained the leadership positions I've had by observing others."
Lastly, Webster encouraged the students to learn how to be good listeners.
"Some people demand to be heard. You can become a leader that way, but please don't," he said. "Listen to people. Gain their respect. They'll become your followers. If you push people around, they'll become your followers, but they'll hate following you."
Webster's visit to campus was the first installment in a series of events — Congressional Conversations — organized by Polk's Student Government Association. The events are open to all students.
During Congressional Conversations, political leaders at all levels will come to campus to speak with students about leadership, the political process, their own careers or important issues of interest to the students.
Polk State Winter Haven Student Government Association President Pat Furnish said she enjoyed Webster's talk, and she'll incorporate his advice into her own leadership style.
"I really liked what he said about listening effectively. There is always room for improvement," she said.
Polk State Winter Haven SGA Secretary Kimberly Myers said she was inspired by Webster's personal story. He has an engineering background, making his turn to politics somewhat unusual.
"You always hear that if you want to be in politics, you have to study political science," she said. "I plan on studying biomedical science, but am still interested in politics. I liked what he said about not having to take a traditional route."
During his visit to campus, Webster also presented the College with a congressional recognition honoring its 50-year anniversary.
Polk State has Student Government Associations at both its Lakeland and Winter Haven campuses.