Two Years in a Row: Polk State Alumnus Named Manatee County EMS Rookie of the Year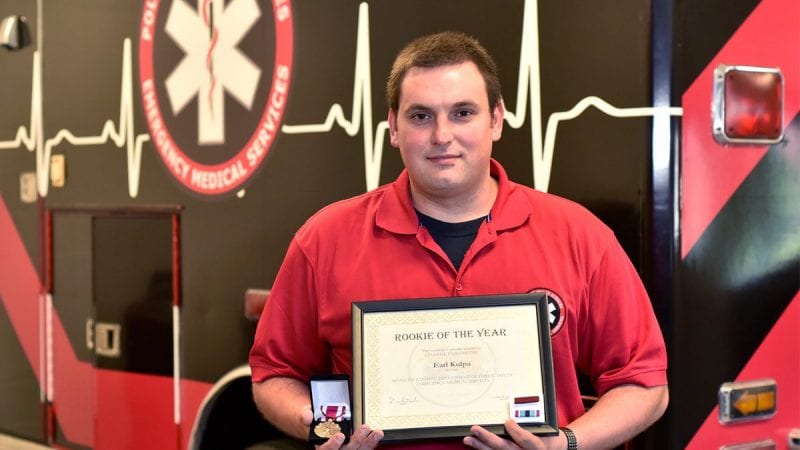 For the second consecutive year, a Polk State alumnus has been named Manatee County Emergency Medical Services' Rookie of the Year.
Earl Kulpa completed his paramedic certification at Polk State in 2014. In May, he received Manatee's Rookie of the Year Award, which according to the agency's website, is given to an individual who has shown "excellent learning skills, superior performance and a desire for gaining the skills, knowledge, and education to be a successful and valuable asset."
The award is an affirmation of a career choice that Kulpa made, admittedly, only after many twists and turns.
When he was in middle school, Kulpa said, he saw a public service announcement about drunk driving and was fascinated by the sight of first responders airlifting victims from the accident scene. In 2006, while still enrolled at Bartow High School, he dual enrolled at Polk State, where he earned his emergency medical technician (EMT) certification.
EMS has three tiers: emergency medical responders deliver the initial and most basic response, including first aid and transport; EMTs provide basic life support, such as CPR and immobilization; paramedics administer advanced life support measures, such as intravenous therapy, intubation, and defibrillation.
While he had reached the EMT level, Kulpa decided to take his education in a completely different direction, enrolling at the University of South Florida with the aim of becoming a history teacher.
Eventually, Kulpa returned to his childhood interest in emergency medicine — and to Polk State, where he now works as an adjunct instructor for the EMS program.
Kulpa said the Polk State EMS program, known as one of the region's most rigorous, helped him prepare for a career in which he helps people every day. For that, he is proud to represent the program both as an award-winning alumnus and instructor.
"Education is the foundation of everything," Kulpa said. "If a student retains just half of what they are taught in the EMS program at Polk State, they will be a cut above the rest in the field."
In 2015, another Polk State EMS alumnus, Jesse Stine, also received Manatee's Rookie of the Year Award.
The field of EMS has three tiers, with paramedics at the top, above emergency medical technicians and emergency medical responders. Polk State EMS offers training options for those seeking to work at any level of the EMS ladder, and an associate's degree in EMS for paramedics interested in career advancement. In addition to EMS, Polk State Public Safety offers associate's and bachelor's degrees in Criminal Justice, and an associate's degree in Fire Science. In addition to EMS, Polk State Health Sciences programs include Cardiovascular Technology, Diagnostic Medical Sonography, Nursing, Occupational Therapy Assistant, Physical Therapist Assistant, Radiography and Respiratory Care.