Polk State EMS Alumnus Named Rookie of the Year by Manatee County EMS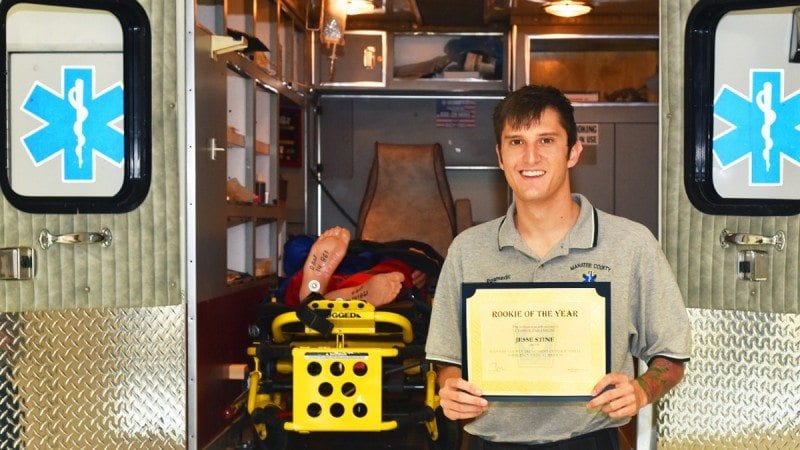 A Polk State College alumnus has been named Manatee County Emergency Medical Services' Rookie of the Year.
Jesse Stine completed his paramedic certification at Polk State College in late 2013. Last month, he received the Rookie of the Year Award from Manatee County EMS.
According to Manatee County's official website, the Rookie of the Year Award is bestowed upon a first-year employee who has shown "excellent learning skills, superior performance and a desire for gaining the skills, knowledge and education to be a successful and valuable asset" to the agency.
In addition, Stine, a resident of New Port Richey, received the agency's Genesis Award, for successfully delivering a baby in the field.
Stine received the awards during a ceremony in late May.
Also during his first year on the job, Stine was promoted to charge paramedic, the highest-level paramedic at the agency.
Reflecting on the success he's achieved, Stine said he owes much of it to Polk State College.
"At the time, when I was a student, I was not necessarily happy with all the requirements of Polk State College's EMS Program," Stine said. "But now I see how it all pays off in the end."
Stine said Polk State EMS required more clinical hours than other programs. Additionally, paramedic students are required to perform at least 15 intubations on live patients, either in the field or in local operating rooms. The program's accrediting body requires only five intubations, but Polk State sets a higher standard to assure students are ready to perform the procedure in the field.
Intense as it is, Polk State EMS also instills a level of competence and confidence that other programs do not, Stine said.
"I don't know if I would have the same confidence level that I have," Stine said. "I can definitely tell a difference between myself and people who didn't go to Polk State."
Polk State EMS Program Director Don Guillette extended his congratulations to Stine:
"It's very rewarding to have students who have virtually no experience go through paramedic school and then be able to become Rookie of the Year. I think it says a lot about the program Jesse attended, but also about him as a person."
The field of EMS has three tiers, with paramedics at the top, above emergency medical technicians and emergency medical responders. Polk State EMS offers training options for those seeking to work at any level of the EMS ladder, and an associate's degree in EMS for paramedics interested in career advancement. In addition to EMS, Polk State Public Safety offers associate's and bachelor's degrees in Criminal Justice, and an associate's degree in Fire Science. In addition to EMS, Polk State Health Sciences programs include Cardiovascular Technology, Diagnostic Medical Sonography, Nursing, Occupational Therapy Assistant, Physical Therapist Assistant, Radiography and Respiratory Care.