Twanna Dewdney, Two-Time Polk Grad, Uses Salon as AIDS Test Site, Place of Hope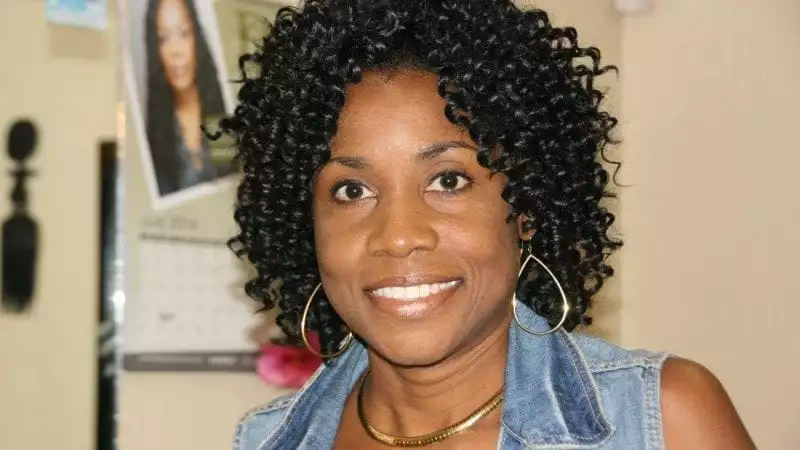 Yes, she cuts hair and does makeup for a living, but the words "stylist" or "cosmetologist" don't come close to describing Twanna "T-Fay" Dewdney's work.
"Advocate" is much more accurate.
Dewdney, a two-time Polk State graduate, owns Salon Ashanti, located in Winter Haven's Florence Villa community. There, aside from the usual trims and fill-ins, she administers free HIV/AIDS tests, promotes education, and runs a host of charitable initiatives.
It's not the work that she gets paid to do, but it is the work that gives her the greatest reward.
"My salon is a place of refuge, where people can go for help, or when they need someone to talk to," Dewdney said. "I thought all I was going to do here was hair, but I'm doing so much more."
Dewdney grew up not far from her salon. Her mother was a retail buyer who began as a stockroom clerk. Her stepfather worked as an inspector for the USDA for 30 years before enrolling in law school.
She was an average student at Winter Haven High School, but talented on the volleyball and basketball courts, so much so that she earned an athletic scholarship to what was then Polk Community College.
Around the time she was building her college transcript, however, Dewdney was also acquiring a criminal record. A search for her name on the Polk County Sheriff's Office website returns a disorderly conduct arrest in 2001, but she says there is more in her past. Drug trafficking, assault, traffic violations.
"I think I was angry," Dewdney said. "I had a family that cared and provided for me, but I made that choice to act out and get into trouble."
Before she could graduate with her Associate in Arts degree, Dewdney dropped out of college. At the time, she was selling makeup and perfume at a local department store, bringing home $1,800 a month. With her criminal record, she knew her opportunities would be limited.
"I figured, 'what's the point,'" she said. "I was making that much without a college degree, so what did I need a degree for?"
In time, however, Dewdney's job at the department store came to an end. She began working temporary jobs, bouncing from employer to employer, all of them willing to give her a few weeks of work, but not take her on permanently.
When she got a job as a receptionist at a local trucking company, she figured the same pattern would play out yet again. Instead, that temporary job became a permanent position, one that came with a schedule that would still allow her to complete cosmetology courses at Ridge Career Center.
It was the break Dewdney needed, the break that changed everything.
In 1994, Dewdney, who began doing hair in her mother's kitchen as a way to make extra money, graduated from Ridge as a licensed cosmetologist. Her dark days — the crime, a rare brain tumor that nearly took her life, and depression — were behind her.
For years, she worked at various salons, putting food on the table for herself and her daughter, Ashanti.
Then, in 2004, with the help of her family, she opened her own salon. It was her space, and she was determined to have it mean more than just hair and nails.
Dewdney had a cousin who died of AIDS in the 1980s. When her cousin went to California for treatment, no one from the family ever visited him. They didn't understand the disease and they were afraid to go near him. The cousin died alone. Dewdney has never forgotten how lonely he must have been.
"Ignorance played a big part in us rejecting him," said Dewdney.
Several years ago, Dewdney became licensed by the state to administer HIV/AIDS tests. In a back room of her salon, she swabs cheeks and pricks fingers. Recently, she held a testing event under a tent set up along First Street in Florence Villa. She's also been known to meet people in parking lots or at fast-food restaurants, wherever they need her.
"People in the community know they can go there and get free condoms and free tests and it will all be done in a dignified, confidential manner," said Evonne Cobbett, health services representative and HIV/AIDS community outreach coordinator for the Polk County Health Department.
Salon Ashanti administers about 40 tests a month and is the only such testing site in the county, Cobbett said. Dewdney's work is also helping to shape statewide intervention strategies.
"We need more people from the business community to step up and take her example," Cobbett said.
Most of the time, Dewdney delivers good news, but every now and then, a test comes back positive.
"I try to give them hope. At first, they are devastated and fearful, but over time, they become hopeful," she said. "I want to give hope to others who have HIV/AIDS, to let them know that they can either die of the disease or live with it — and that choice is totally up to them."
From her salon — sleek with its rows of shiny, black washbasins and styling chairs — Dewdney also collects school supplies for needy children, hygiene items for female inmates, food and clothing for the homeless.
With her business and charitable work, Dewdney had reached a successful place in life, but she still lacked a college education. By 2011, when her daughter was registering for classes at Polk State, Dewdney figured finishing college was out of the question. She might have gone on thinking that way if not for a fateful meeting with Terrance Hays, now a senior program specialist at the College.
"Terrance was helping Ashanti get registered, but then he turned to me and said, 'What about you, do you have your degree?'" Dewdney said. "I explained to him what had happened, that I'd dropped out, and he said, 'No, we can't have that.' Next thing I knew, I was registered for classes too."
In the next three years, Hays was relentless in his encouragement, Dewdney said. He would often email or text her, reminding her to register for classes or fill out paperwork.
"The goal is always to motivate students, to help them see themselves at Polk State and to encourage them to keep going until they get their degree," said Hays, who at the time he registered Dewdney was an academic adviser.
"I could see so much potential in Twanna. She was so passionate about her daughter, but it ended up being a two-for-one deal, with her getting registered, too."
With Hays' support, Dewdney not only finished her AA, but also earned her Bachelor of Applied Science in Supervision and Management degree, graduating in 2013.
"I couldn't have done it at any other college," Dewdney said. "At Polk, I was a person, not a number. I found people at Polk that believed I could do it. That was the most important thing — I associated with people who told me all the time, 'You can do this.'"
Dewdney is now attending seminary in Orlando, working toward her master's degree in Christian Ministries. Dewdney is already a preacher at her church,
Hurst Chapel AME Church in Winter Haven, but a master's will help her take her work — her real work — to an even higher level.
"I never thought I'd be at this place in life, as a college graduate and a business owner," she said. "My purpose is to encourage others, to be the light for them in their own times of darkness."
Polk State College's history is rich with stories of alumni who have gone on to make impacts, whether in the classrooms and laboratories of prestigious universities, the rough and tumble of commerce, or the halls of political power. Over the years, thousands of Polk State graduates have leveraged their education and experiences at Polk to transform their own lives and the lives of others. This transformation is the essence of what it means to "be Polk." Whether in big ways or small ways, Polk State alumni embrace the challenge of living lives that matter. News@polk regularly profiles these alumni. Their story is the story of Polk. They are The Pride of Polk.