To Help Students Succeed, Polk State Offering SOAR Sessions on Lakeland, Winter Haven Campuses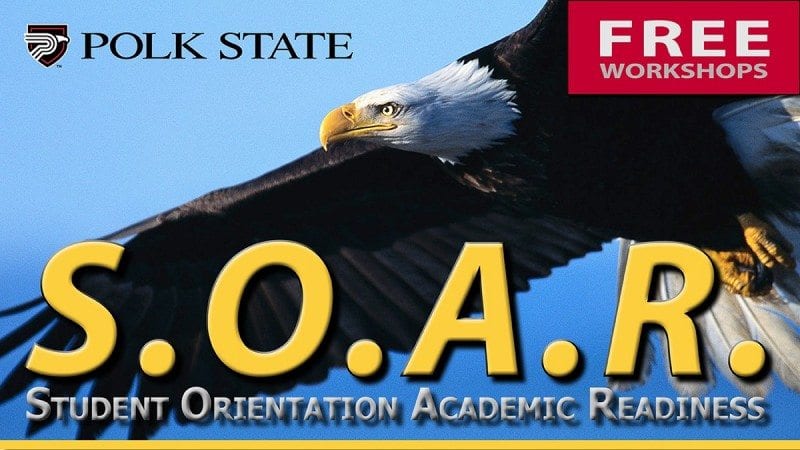 Polk State faculty members at both the Lakeland and Winter Haven campuses will be leading a series of workshops this fall, all aimed at helping students succeed in college.
"Transitioning from high school to college can be difficult," said Humanities Professor Aaron Morgan, one of the organizers of SOAR, or Student Orientation for Academic Readiness.
"These workshops are designed to teach students the skills they need to succeed here. They may not have used these skills in high school, or weren't expected to, but they're in college now, and we're going to teach them what they need to know to succeed at this level."
Another benefit for students who attend SOAR sessions, Morgan said, is that they will meet and get to know professors and members of the College staff who can help them as they progress through their college careers.
"These sessions are fun and low-pressure, and a great way to get started in college," Morgan said.
SOAR sessions have taken place on the Lakeland campus for the past few years, but this is the first year that they will also be offered in Winter Haven.
"We believe in educating the whole person," said Reading Professor and Winter Haven SOAR organizer Kim Thomas.
"We want students to become part of the Polk State family. When they come to these sessions, they are going to learn a lot of things they wouldn't necessarily learn in classroom, and they will also meet students, faculty and staff."
All SOAR sessions are free to attend and open to all Polk State students.
SOAR sessions are scheduled as follows:
Lakeland campus sessions:
Understanding PAL
PAL, short for Polk Access to Learning, is the web-based system through which students access online and hybrid courses, as well as supplemental information for traditional, face-to-face classes. This course will provide a technical overview of PAL, an explanation for effectively using PAL, and tips on meeting instructors' expectations.
Sept. 2 and 10
Noon to 12:45 p.m.
LLC 2160
Tech Tools for School
Attend this session for tips on using technology to succeed in school, a technical overview of mobile solutions, the Atomic Learning video database and other resources Polk State offers.
Sept. 3
Noon to 12:45 p.m.
LLC 2160
Top Teamwork Tactics
Learn how to get the most out of group assignments while also minimizing frustration.
Sept. 9
Noon to 12:45 p.m.
LAC 1133
Hitting All the Right Notes: Effective Note-Taking & Study Skills in Your Mathematics Class
Come to this session to learn tried and tested methods for note-taking that will help maximize study time.
Sept. 11
12:30 to 1:15 p.m.
LLC 2290
Honors Program: Who, What, Why?
Attend this session to learn about WHO should take Polk State Honors Program classes, WHAT those classes involve, and WHY students benefit from the Honors Program.
Sept. 14
9 to 9:45 a.m.
LAC 1133
Success in Science
Attendees will learn strategies for succeeding in their science courses and best practices for maximizing the laboratory experience.
Sept. 14
3 to 3:45 p.m.
LAC 1133
Business Etiquette Prep
Learn key etiquette skills to make a positive impact and impression in your business-related functions. Topics will include professional decorum in meetings and business communication.
Sept. 15
Noon to 12:45 p.m.
LAC 1133
Let's Make This Perfectly Clear: Effective Campus Communication
This session will explore how to navigate campus relationships, including managing interactions, talking to students, professors and staff members, learning who's who on campus, and avoiding communication mistakes.
Sept. 16
9 to 9:45 a.m.
,LAC 1133
Study Abroad and Global Certificate
At this session, attendees will learn about Polk State's study-abroad and global studies programs, both of which help students gain international qualifications and global awareness.
Sept. 21
Noon to 12:45 p.m.
LAC 1133
How to Succeed Online
Learn tips, tricks, strategies and resources that will help you succeed in online courses
Sept. 23
9 to 9:45 a.m.
LAC 1133
Winter Haven campus sessions:
All Winter Haven SOAR sessions will take place in WST 127.
Personal & Campus Safety
Presented by Polk State Security Coordinator Lt. Bobby Neil
Sept. 1
3 p.m.
Tips for Conquering Math
Presented by Professor Catherine Frank
Sept. 8
3 p.m.
BYOB (Bring Your Own Book): A Reading Strategy Used by the U.S. Military
Presented by Professors Von McGriff and Kim Thomas
Sept. 15
3 p.m.
Communication & Public Speaking
Presented by English Professor CR Junkins
Oct. 7
3 p.m.
Becoming a Global Citizen: Global Initiatives at Polk State College
Presented by Polk State Associate Vice President of Strategic Initiatives and Innovation/CIO and Biology Professor Logan Randolph
Oct. 21
3 p.m.
Health and Wellness
Presented by Professor Laurel Smith
Oct. 28
3 p.m.