Three Years After She Spoke on Campus, Polk State Mourns Maya Angelou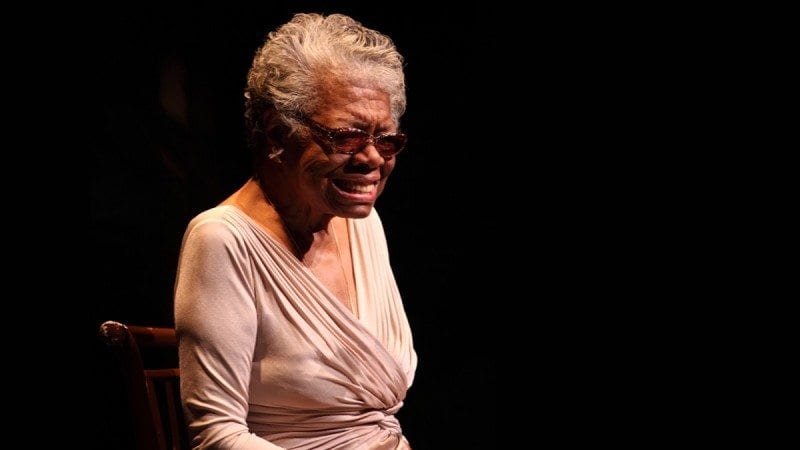 Three years after she spoke to a sold-out audience at Polk State Winter Haven's Fine Arts Theatre, famed poet, author, actress, playwright and civil-rights activist Maya Angelou has died.
News reports early Wednesday said Angelou passed at her North Carolina home. She was 86.
Angelou was the author of the bestselling autobiography I Know Why the Caged Bird Sings. She was also a Tony Award-nominated actress and recipient of the Medal of Freedom, the nation's highest civilian honor.
In Jan. 2011, she led a thought-provoking conversation at the Winter Haven campus. More than 600 audience members attended the event, which was a fundraiser for the Women's Resource Center.
The news of Angelou's passing was especially troubling for those who had the opportunity to interact with her during her Winter Haven visit.
"It's a total shock," said Valparisa Baker, director of equity and diversity. "What still resonates with me was how she touched my hand when we spoke. We were face-to-face and she told me, 'Continue to do what you do. You have the heart for it.'
"I believe I became more open-minded after meeting her. My eyes, mind and heart were opened. I will always be thankful for having had the opportunity to be in the presence of someone as brilliant as Dr. Maya Angelou."
Administrative Assistant Deb Tyus, who helped arrange Angelou's Winter Haven engagement, was impressed by Angelou's humbleness.
Prior to going on stage at the Fine Arts Theatre, an Angelou assistant called Tyus into the author's dressing room.
"She pulled my face close to hers and asked me my name," Tyus said. "It was like she was looking into my brain, like we were soul-to-soul. I was very touched by that connection she made with me because it was so personal."
Angelou so admired one of the plants in her dressing room that Tyus told her to take it as a gift. Angelou attempted to pay for the plant — which cost about $25 — and only relented after Tyus insisted she accept it as a token of the College's gratitude.
Moments later, Angelou's necklace broke, Tyus said. Whereas others of her stature might have been flustered by a last-minute wardrobe snafu, Angelou shrugged it off and kept on with the evening as planned.
"There was something almost magical about her," Tyus said.
Lucille Hadley, who coordinates special events for the College and assisted with Angelou's visit, added:
"Maya was truly the 'phenomenal woman,'" she said, referencing the famous Angelou poem.
"Being in her presence reaffirmed for me that we can be and do anything. If we fail, guess what … we have the opportunity to try again, and in the end, it wasn't a failure at all but a lesson learned."
Also among those reflecting on their Angelou memories Wednesday was Ally Ketchum, administrative clerk for healthcare and workforce programs.
Angelou was ill when she came to Winter Haven, but insisted her audience not see her in a wheelchair.
"I respected that she didn't want people to think of her as ill or feel sorry for her," Ketchum said.
Assistant Registrar Yulonda Bell was in the audience when Angelou spoke.
"She told the audience to not let others dictate who we are and what we can be," she said.
"It was obvious to me that she was frail. I admired that she was still dedicated and committed to coming and speaking for the benefit of the Women's Resource Center."
Angelou's family has posted a statement about her death on her Facebook page, facebook.com/MayaAngelou, where those who would like to express their condolences may comment.