TALON Students Learn Sky, Literally, Is the Limit for Their Engineering, Programming Skills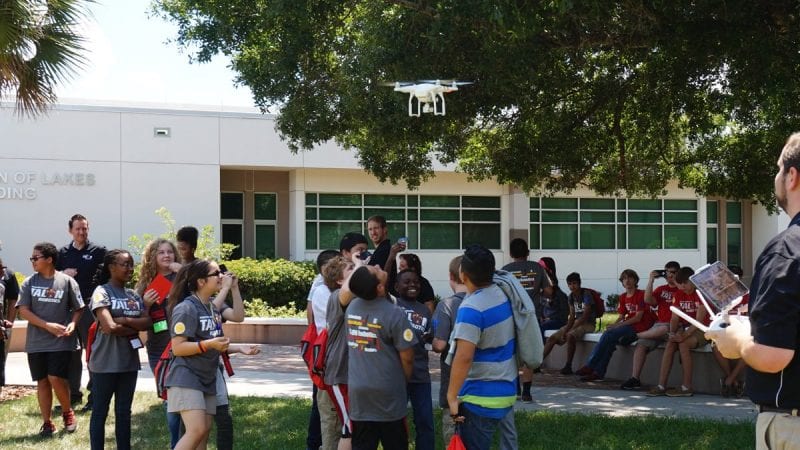 Eight days into their TALON experience, middle school students from across Polk County have built, programmed and refined their own machines using LEGO Robotics kits.
On Friday, during a drone presentation, they learned that when it comes to what they can do with their newfound skills, the sky, literally, is the limit.
"We're helping these students learn to think for themselves, and we're preparing them for jobs that haven't even been created yet," said Nikki Jordan, Winter Haven campus site administrator for TALON and Cambridge coordinator for Winter Haven High School.
Polk State Aerospace Program Director Eric Crump conducted drone presentations at both the Lakeland and Winter Haven campuses. He shared with the students features of the College's DJI Phantom 3 drone, as well as examples of how drones are being used in a wide variety of industries, such as agriculture to assess crops and real estate to survey property.  Applications are likely to become even more prevalent and varied with the Federal Aviation Administration's newly announced drone regulations.
To give students a feel for the technology they very well could be working with in the future, Crump took them outside to demonstrate the Phantom 3, sending it whizzing over their heads and high into the sky.
During the afternoon demonstration outside the Polk State Chain of Lakes Collegiate High School building, the students exclaimed, "That's so cool," "Amazing," and "I want one for my birthday!"
TALON instructor Michael Schweim said Crump's demonstration helped the students take their learning to a new, airborne, level. For instance, during TALON, the students have used external sensors to guide their machines. The Phantom 3, similarly, relies on sensors to land safely.
Crump said he hoped to spark the kids' interest in unmanned aviation — and by the end of the afternoon he was certain he'd done just that.
"At least half the kids today have asked if they can build one," he said. "Mission accomplished."
Crump's presentation was one of several activities planned for this year's TALON Robotics program to help students make real-life robotics connections. Students have also taken field trips to local businesses, and heard from guest speakers representing Coca-Cola and the Polk County Sheriff's Office. Polk State professors Suzanne Ramjattan Halverson and Joey Maier have also presented to the students about an underwater robot that sciences classes will be using for data collection.
Polk State started TALON in 2012 to give middle- and high-school students the chance to delve into robotics by building and programming their own machines and visiting businesses for a real-world look at robotics in industry. TALON also includes a digital media program in which students study marketing. TALON began June 15 and ends June 29.