Supply Chain Management Leaders Convene at Polk State for Discussion on Aligning Education with Industry Needs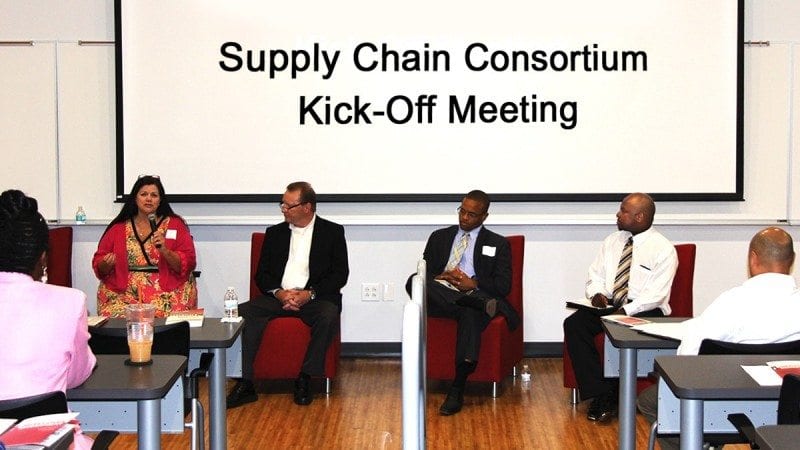 Supply chain management leaders from both academia and industry convened at the Polk State Clear Springs Advanced Technology Center on Friday. Their objective: build connections.
"In forming this consortium, Polk State College is providing people in the field of supply chain management a forum for discussing new ideas and sharing opportunities," said Polk State District Dean of Academic and Student Services Patricia Jones.
"For the students, it means that the colleges involved will be working more closely with one another to create consistency in their programs, and working more closely with industry partners to better prepare students for trends happening in supply chain management."
Representatives from numerous state colleges attended Friday's Supply Chain Management Consortium Kickoff Meeting. They began their day by discussing a wide-ranging variety of curriculum-related issues, including non-credit industry certification offerings and faculty recruitment.
With the academic-side of the conversation underway, symposium attendees then turned their attention to industry issues. Winter Haven Economic Development Council Executive Director Bruce Lyon moderated a discussion among panelists that included Torey Chambliss, manager for foreign-trade zone and business cargo development at Port Tampa Bay; Matt Kane, senior manager of planning for The Mosaic Company; Carla Morgan, director of training for Rooms to Go; and Michael Randolph, manager at a Walmart distribution center in Polk County.
In his opening remarks, Lyon said that while Polk County's roots are in agriculture and phosphate, it is now the second-largest supply chain — also known as logistics — hub in the country, and it is poised for even more growth in the industry.
The new CSX intermodal logistics terminal, just four miles from the Polk State Clear Springs Advanced Technology Center, is surrounded by land that could one day be developed into nearly 30 million square feet of warehousing and manufacturing space, Lyon said.
"That carves out a place for our future in logistics and supply chain management," Lyon said, adding that the Polk State Clear Springs Advanced Technology Center, which houses the College's Supply Chain Management Program, is a huge marketing advantage in attracting new and expanding businesses to the area.
Given that the supply-chain industry is huge — and growing — not only here in Polk County but also across the state, it's imperative that employers and educators work closely with one another to produce the needed workforce. To that end, Lyon's questions centered on emerging trends in the industry and related training needs.
Morgan said that while supply chain management is increasingly automated, there is a "soft skills" side to the industry, and as such, students need training in customer service.
Kane and Chambliss agreed that while supply chain management is becoming more collaborative — indeed the term "supply chain management" is an umbrella term that includes everything from procurement of raw materials to distribution of finished products — the industry is also becoming more specialized. There will continue to be a need for individuals who possess training in specific stages of the supply chain process.
Randolph, meanwhile, said that education has become a bigger factor in the ability to climb the ranks at Walmart, as are skills like adaptability and communication.
The supply chain management industry is also experiencing a huge generational shift, as older workers transition into retirement in large numbers, and younger people are hired to fill their roles. Morgan said that younger workers could benefit from a course in basic work ethics that would teach things like punctuality.
Chambliss added that supply chain management is very much team-based, and students need to be prepared to work in those conditions.
"Make sure that your students work in teams, 100 percent of the time," he said.
In addition to teamwork, graduates need critical-thinking skills to meet the technological and mathematical challenges of the industry, Kane said.
As for industry certifications that should be offered by the state colleges, Morgan and Kane said their organizations prefer the GLA, or the Global Logistics Associate, the entry-level certification offered through the American Society of Transportation and Logistics. Polk State, as well as many of the other colleges in attendance, already offer the GLA.
The certification, Kane said, proves a person's ambition and determination to build a career.
One of Lyon's final questions was about the hiring process and the biggest challenges the panelists face in filling vacancies.
Kane said one of the most persistent challenges is simply finding qualified people who, related to his comment about critical thinking, possess "intellectual curiosity" and want to solve problems.
The kickoff meeting also included an overview of Polk State's supply chain management software program, as well as discussions on industry certifications and grant programs, and best practices for connecting with community and professional organizations, industry partners and traditional students.
The Supply Chain Management Consortium is designed after a similar group Polk State organized for Aerospace. Because of that consortium, which meets three times a year, Polk State's Aerospace Program works more closely with other colleges that offer aerospace programs, as well as employers in the aerospace industry.
Polk State Supply Chain Management Director Jenn Bish hopes the College will have similar success with the Supply Chain Management Consortium:
"This consortium allows program directors to share experiences and ideas. Through this we establish best practices in recruitment and retention, discuss curriculum structures, and share feedback from our local employers on necessary skills for job placement. It's easy to operate in a bubble, which is why it is so important to gain fresh ideas and perspectives from colleagues across the state. This kind of discussion always leads to a stronger program for students."
Supply chain management encompasses all functions related to the movement and storage of materials, including purchasing, inventory management, production planning and scheduling, distribution management and quality management. Polk State College offers a Transportation & Logistics College Credit Certificate and an Associate in Science in Supply Chain Management.