Superstar Art Instructor Fills Gap at Polk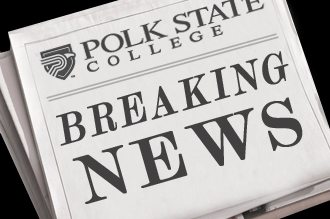 Polk State students will have a rare opportunity this semester to learn from accomplished artist Bob Morrissey, whose storied career at the College spanned more than four decades.
"Bob Morrissey is an awesome font of technique and style, and he is the ultimate instructor," said art professor Gary Baker. "His return to the College, while temporary, offers an incredible opportunity for our students."
Morrissey, 72, is a Winter Haven resident whose artistic creations are included in the private collections of such notables as sports superstars Wade Boggs and Shaquille O'Neal, and former Florida governors Jeb Bush, Bob Martinez and Bob Graham. He has appeared in numerous galleries and outdoor art festivals across the state, and his works have been in publications such as USA Today and Baseball Weekly.
He worked for 42 years at Polk State, beginning his career when the College was located at the Bartow Air Base. Four years ago, he retired from the College, and shifted his attention to giving private lessons and his own art.
However, this semester, as the College searches for a new member to add to its Fine Arts faculty, it needed someone to fill in as an instructor for a few courses.
Morrissey, Baker said, was the first choice.
"We wanted a quality person to fill in the gap, and thankfully Bob agreed," Baker said. "Bob is unbelievably patient and calm. He always emphasizes the positive in his critiques, and he believes that even the students who are not the next Michelangelo have something they can give to art."
Morrissey said he is excited for a temporary return to the College.
"I always enjoyed it when I was there. When you love what you do, it's not like you're working," he said.
Morrissey will teach sections of Drawing and Composition I, II and III on the Lakeland and Winter Haven campuses; Figure Drawing I in Winter Haven; and Painting I and II in Lakeland and Winter Haven. A limited number of seats remain for his courses.
Also returning to teach art courses this semester will be adjuncts Laura Beatty, Carol Conti and Beverly Williams.
For more information or to register for art classes, visit polk.edu.
In addition to its art department, Polk State Fine Arts includes music and theatre, all of which enjoy outstanding statewide reputations.