Students, Staff Remember Shooting Victims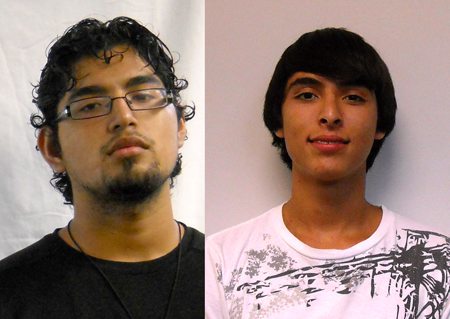 A dozen or so students gathered around a table outside the Winter Haven Student Center on Thursday to laugh, cry, and comfort one another in the shared loss of their friends Joe Palacios and Christian Rodriguez.
Palacios and Rodriguez were killed during a shooting Tuesday evening in Winter Haven. A third victim, Esteban Zavala, also a Polk State College student, was injured in the shooting and remains hospitalized at Lakeland Regional Medical Center.
Palacios and Rodriguez were popular, successful, and active in student life at the College. Palacios, a recipient of the Heart of Florida Educational Foundation scholarship, was completing his freshman year and was pursuing an associate's degree in Liberal Arts. Rodriguez graduated from Polk State Chain of Lakes Collegiate High School in 2011 and was in his freshman year at the College. He was pursuing an associate's degree in Nursing.
The friends gathered Thursday recalled Rodriguez's compliments — "You've got swag today," he would often say — and Palacios' love of peanut butter and Nutella sandwiches. Grape jelly was his second favorite pairing for peanut butter.
One student, Ahmed Jadallah, described a lunchtime dilemma he faced earlier this week — and how Palacios was there to help.
"On Monday, I was so hungry," said Jadallah, who had known Palacios for about a year.  "So he gave me one of his sandwiches. He always brought three with him every day."
Parting with a sandwich was just one of the many ways Palacios showed his affection, his friends said.
Kristina Ponce recalled how Palacios encouraged her to study for upcoming tests. He would text her key points he knew she needed to know before taking an exam — never the answers, just topics she needed to study.
"He'd say 'You've got this. You're going to ace it,'" Ponce said. "He was very motivational."
Hung Nguyen agreed. He remembered Palacios telling him to get off the Internet and focus on his schoolwork. Palacios was determined to succeed and he wanted the same for his friends.
"He really pushed me to do what I needed to do in school," Nguyen said.
Trang Pham became friends with Palacios when he introduced himself to her on campus. From that moment on, he always made her  feel special. He would kiss her forehead and remind her that God loved her. He was eager for her to introduce him to Vietnamese cuisine. He encouraged her to take her studies more seriously.
"I told him that I hate to read and he was just like, 'Why, Trang? Knowledge is power,'" she said. "He always said that, 'knowledge is power.' It's even on his Facebook page. He was very serious about his schoolwork and he always wanted to make sure you were on track. School came first."
That seriousness about his schoolwork was made clear earlier this week, when Jadallah saw Palacios on campus.
Palacios was on his way to class, but Jadallah wanted him to play soccer instead.
"He said no. I've got to go take care of this class," Jadallah said.
Across campus Thursday morning, members of the staff at Polk State Chain of Lakes Collegiate High School remembered Rodriguez for his even temper, approachability and irresistible smile.
Administrative Assistant Rosa DeWitt said Rodriguez could tell a whole story with just the expression on his face.
"His expressions were priceless," she said. "I just keep thinking about his smile."
High school is an experience filled with wild emotions and drama, but Rodriguez stayed above it all, DeWitt said.
"His personality was very calming and soothing. He was a teddy bear — very gentle."
Rodriguez was a particularly grounded student, DeWitt said, and never wavered from his goal of becoming a nurse. Every class, every test, every chapter that he studied was just one more step along the path that would lead him to his dream.
"I remember at graduation we were lining the kids up. Christian had all these Honors cords and pins and he was just glowing. He told me 'I finally did it. I finally made my parents proud,'" DeWitt said.
Polk State Chain of Lakes Collegiate Professor Suzy Halverson said Rodriguez had a bright future ahead.
Clicking through pictures on her computer, she pointed to a shot of Rodriguez with a goofy smile on his face, wearing lab goggles and holding a probe and scalpel. The next shot, taken moments later, showed him concentrating during the dissection of a cat. The next photo is of him collecting canned foods to benefit the needy.
That blend of silliness, seriousness and kindness would have carried him far, Halverson said.
"He was really driven to be a nurse. Some students will change their minds about what they want to do 15 times, but he always knew what his plans were," Halverson said.
On the morning of the day they were killed, Rodriguez and Palacios worked out in the College's Health Center, as was their usual routine on Tuesdays and Thursdays.
On Thursday morning, the weight room was quiet, with only a small handful on the equipment.
If Palacios and Rodriguez had been there, said Vladimir "Big V" Dubois, a member of the weight room staff, they would have been working on their bench-presses and cracking jokes — brightening the days of everyone around them.
Dubois recalled last year's Halloween, when Rodriguez came to campus dressed in a Spiderman costume and sprayed him with Silly String.
"They were really good guys," Dubois said.
Rebeca Rincon, who was friends with both Rodriguez and Palacios, nodded as tears welled in her eyes.
"They didn't deserve to die," she said.