Students Pen Inspiring, Scholarship-Winning Essays On Civil Rights Movement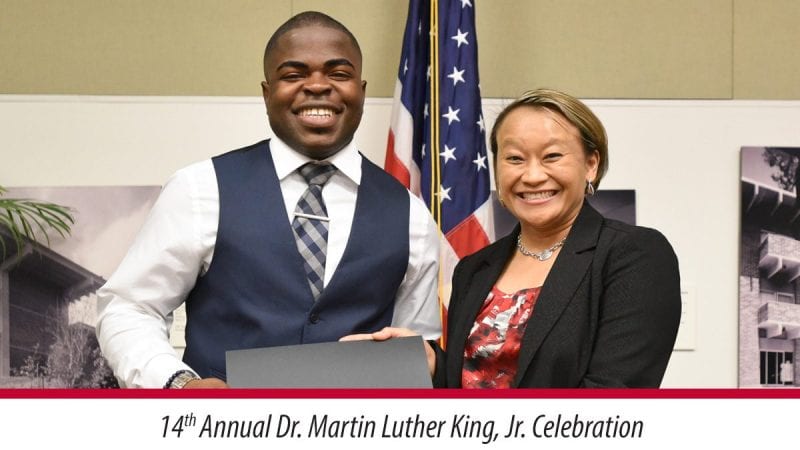 The Polk State College Foundation presented three students with Dr. Martin Luther King, Jr. Dream the Dream Scholarship awards at the 14th Annual MLK Celebration for essays on the Civil Rights Movement and community service.
Serah Alafiatayo, an Associate in Arts student; Jekerria Mathis, a Bachelor of Science in Supervision Management student; and Jean Woody Luxama, an Associate in Arts student, each received scholarships worth up to $500.
"We dream of one day having a scholarship for every student who needs one," said Tracy Porter, Foundation Executive Director and District Vice President of Institutional Advancement. "Every dollar makes a difference."
Luxama wrote in his essay of the events that caused him to realize his life's purpose of becoming a doctor.
He was born on the third floor of an abandon building and Haiti, and was raised by a single mother. In 2010, he survived a magnitude 7.0 earthquake that hit Port-Au-Prince, but witnessed the destruction and suffering of nearly hundreds of thousands of people who were injured in the natural disaster.
"The medical conditions were horrifying," he wrote. "Medical personnel were scarce, and the few hospitals in the area were overflowing with people in need of medical help."
"At that moment, I established my career goals; that was the first step in the pursuit of my dream."
Luxama wrote that there is no greater satisfaction than bringing social change that will affect somebody's life and health for the better, much like Dr. King and the Civil Right Movement did by "influencing the culture of the United States of America for the better."
"This movement helped start many social movements throughout the world," he wrote. "I believe everybody has the responsibility to help further social progress in the community in which he or she lives."

Alafiatayo, an aspiring journalist, wrote of Dr. King's ability to inspire with his words.
"'Intelligence plus character – that is the goal of true education,'" she quoted Dr. King. "These words are those of one of the most celebrated, renowned, and prominent words of one of our most loved heroes of all time."
Alafiatayo is a work-study student with My Brother's Keeper, an Eagle's Ambassador with the Student Government Association, and a mentor with Polk Girls in STEM.
"Although his teachings have affected the entire nation as American citizens, they have also impacted me as an individual and as a minority. His character was dynamic and unparalleled, and his words were powerful and virtuous," she wrote. "He has created a foundation for an aspect of my character and I implement his ideas into my leadership and individuality. His words have made who I am today."
Mathis wrote of her goals of achieving her bachelor's degree and a career in human resources to make a better life for herself and her son.
"When asked, 'What does Dream the Dream mean to you?' I think about how I want my life as well as my son's life to be in order to live comfortably," she wrote.
"I dream of myself as a successful, caring, headstrong,  hardworking African American mother who has made a positive name for herself. I dream of my African American son being anything he wants to be in life and not falling to the statistics held against him in today's society."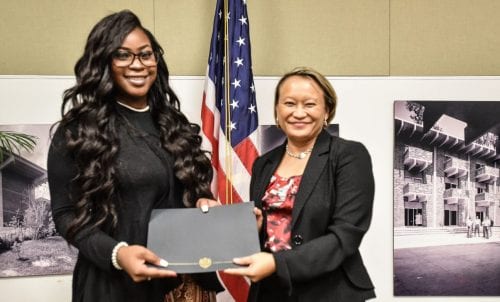 Mathis wrote that she dreams of the ability to travel with her son so that they can learn about different cultures and "not forget what people like Dr. Martin Luther King, Jr. have done."
"(He) stood up for what was right. He stood up for the equality for the people and the youth of tomorrow," she wrote.
"Dr. Martin Luther King, Jr. gave us a voice when we were silenced and that is why honoring him and his legacy is important."