Students: Hispanic Heritage Month Scholarships Will Help Dreams Come True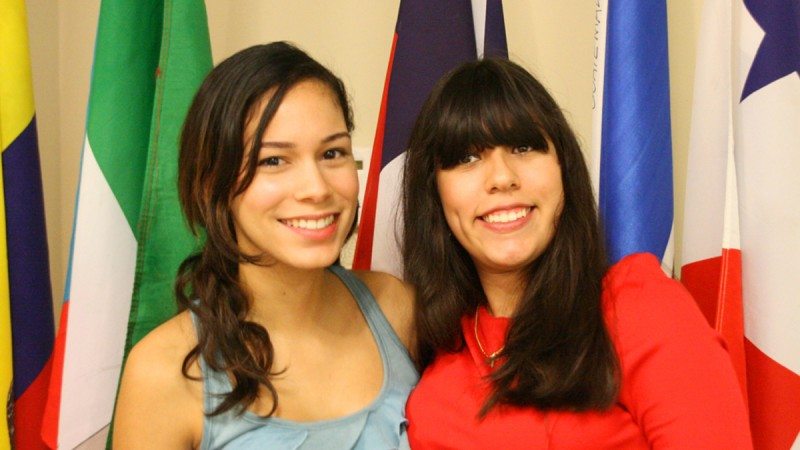 Ketsia Mendez has big dreams for serving the local Hispanic community.
The 22-year-old vice president of Polk State Lakeland's Honors Program Student Council plans to earn a doctorate in physical therapy. Then she'd open a rehabilitation clinic and community resource center, the latter of which would offer everything from tutoring to free meals.
But first she has to get through school — lots of it — and that won't be easy financially.
On Monday, Mendez got a bit of help toward her dream, when she received a $500 Hispanic Heritage Month scholarship from the Polk State College Foundation. It's no small gift; with that money, thanks to the College's low tuition and fees — the lowest in Polk County — Mendez can buy almost two courses.
Mendez was one of three students to receive the award during the College's annual Hispanic Heritage Month Scholarship Fiesta at the Lakeland Student Center.
"It's wonderful to be recognized for what I'm doing now and what I want to do in the future," said Mendez, a resident of Auburndale who is pursuing her Bachelor of Applied Science in Supervision and Management after having already earned her Associate in Arts from the College.
Mendez came to the United States when she was 4, but has never lost touch with her personal Hispanic heritage, which she pays homage to daily, whether it's by listening to Latin music or conversing in Spanish.
"That the College celebrates Hispanic Heritage each year, it gives me a sense of importance. It means a lot that they pay attention to my culture. And being recognized in this way during this month, it's very special to me."
Also receiving a scholarship on Monday was Kiara Rosa, 18, a resident of Lakeland, who also came to the U.S. from Puerto Rico when she was just 5.
Neither of her parents completed high school. Her father is disabled and doesn't work. Her mother works in home healthcare. Her dreams, she said, extend way beyond her parents' ability to pay for them.
"It's really hard to get out of the economic status your family starts out with," she said.
The $500 award from the Polk State College Foundation is huge, and she'll never forget what a windfall like that means to her and her parents.
"One day, I will be successful, and I will come back here and give as many scholarships as possible," she said. "I will be successful and that will be in part because of these funds."
Rosa plans to one day become an orthodontist. Before then, she hopes to start a club, either here at Polk or whatever institution she attends next, that would help students find opportunities to volunteer as translators.
Like Mendez, Rosa said she has never lost touch with her Hispanic heritage, and serving that community is a cause close to her heart.
"I love being Hispanic. Hispanics are very proud of their culture," she said.
Rosa's dad, Ruben Martinez, expressed his gratitude to the Polk State College Foundation on Monday.
"I am very proud of what she has accomplished and what she is trying to do, that she wants to exceed our economic status," Martinez said in Spanish as Rosa translated.
Also receiving a Hispanic Heritage Month award was student Maria Monroy, a resident of Auburndale pursuing her Associate in Arts, who was unable to attend the fiesta.
Each year in October, the College's Hispanic Heritage Month committee organizes a slate of events that for the past three years has culminated with the fiesta. However, the Hispanic Heritage Month scholarship was awarded for several years prior to the fiesta.
All Polk State students are eligible to compete for the Hispanic Heritage Month scholarship. Winners are selected based on essays and their academic performance. This year's essay asked students to discuss their academic and career goals, how they plan to serve Polk County's Hispanic community, and in recognition of the 500th anniversary of Ponce de Leon's arrival in Florida, discuss how the Hispanic community has influenced the state's history and culture.
State Farm Insurance strongly supports the College's Hispanic Heritage festivities, giving the Polk State College Foundation the ability to award the scholarships.