Student Finds Opportunities in Internships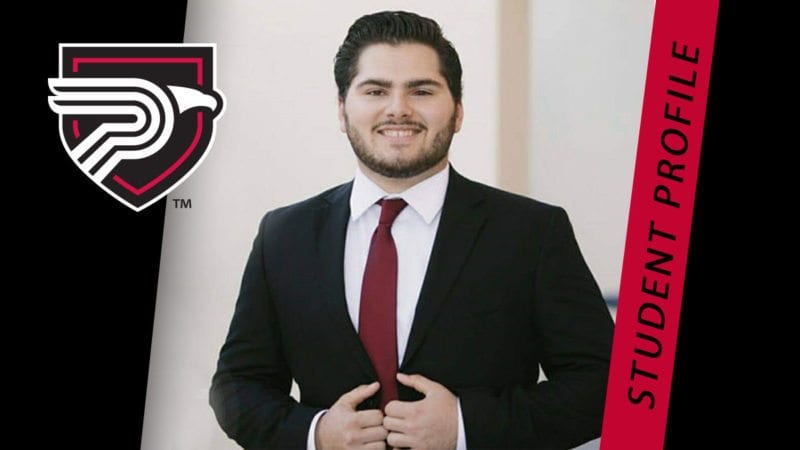 Allan Hall knows how to seize an opportunity.
He's still a year out from receiving his Associate in Science in Supply Chain Management from Polk State College, but already landed a job in the industry he fell in love with when he toured the Polk State Airside Center with his high school robotics team four years ago.
Traeger Brothers & Associates Inc., a leading international distributor of industrial goods, hired Hall as an inside sales associate in August.
Hall will tell you the job "kind of just fell into my lap."
That seems to be a common theme throughout his educational journey, which includes internships that weren't directly related to his area of study or ultimate career goals.
"But my life motto is, 'any experience is good experience,'" he said.
'Life skills make all the difference'
While his internships with the Greater Winter Haven Chamber of Commerce and LEGOLAND Florida Resort didn't directly train him for the business of industrial valves and pipe fittings, they taught him valuable lessons that ultimately made him a good fit for Traeger Brothers.
With the Chamber of Commerce, he helped put together its annual education breakfast – coordinating things from tables and chairs, to a video production.
"I learned quite a bit," Hall said. "I learned not only delegation, but also time management and the importance of planning way in advance."
Then Hall participated in the Eagle Co-Op Internship Project with LEGOLAND, where students have the opportunity to participate in work-specific training. Hall was assigned to food services.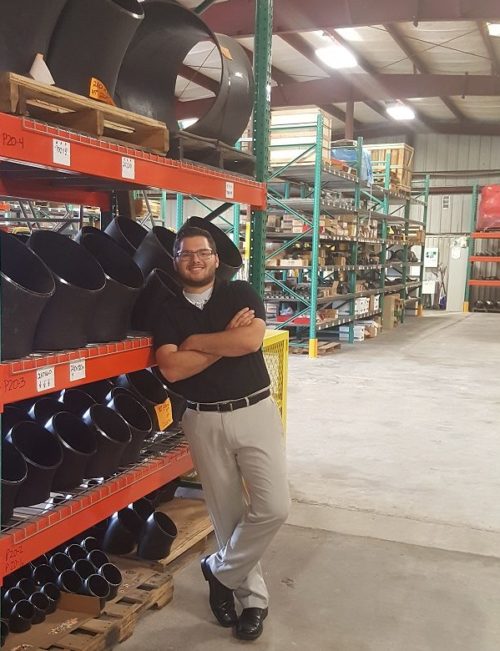 "I knew there was no way I wanted to work at a theme park, especially within food services, but there are many life skills I learned – some that can't be named, but are important and make all the difference," Hall said. "Something as simple as watching your manager handle a situation can help you apply what you observed and learned to other situations."
His observations came in handy for LEGOLAND, too.
Eagle Co-Op interns are tasked with finding a way LEGOLAND can improve and presenting that idea to executive staff of both the theme park and Polk State.
Hall noticed during his time with food services that many park guests had questions about Granny's Apple Fries because the menu was unclear, which was making the wait for the theme park's signature treat longer.
"I even went undercover as a guest and stood in line," Hall said. "When I heard someone say Granny's Apple Fries were great but not worth the wait, I knew we had to improve something."
Hall's recommendations to improve the menu were implemented three days later.
"It was an awesome experience for confidence building," Hall said. "It made me realize that I could have a voice in any position I am in and I can figure out how to communicate to an audience so that my ideas are well received."
Dream jobs and dream degrees
Now Hall is learning to build his voice within Traeger Brothers.
Dale Roberts, who manages sales and inventory control at the company's Mulberry location, reached out to Matina Wagner, Polk State's coordinator of Internship and Experiential Learning, in search of someone to hire who could grow with the company.
"He was saying they were looking for someone who had good interpersonal skills, was polite and respectful, willing to learn,  had positive attitude, was looking to build a career, and to grow with the company," Wagner said. "At this point in the conversation, a light came on in my head and I told Dale that I had the perfect candidate – Allan."
Roberts called Allan young, energetic, neat, and polite.
"He's also taking classes in supply chain management, which runs kind of alongside our business as a major pipe, valve, and fitting distributor to the industrial market," Roberts said. "He is doing really well at learning our business… and I would like to thank Polk State College for recommending Allan to us."
"We feel he will be an important figure in our company for many years to come," he added.
Hall's biggest job right now is learning the company and the industry.
As an inside sales associate, Hall receives requests for quotes, looks at the company's inventory, and reaches out to outside manufacturers to see what they are quoting.
"My job right now is all about learning and gaining experience," Hall said. "It may sound simple – all the pipes and stuff – but there are all different kinds of metals, sizes, and large assortments of products I have to learn."
"I didn't have a dream job, just a dream degree that I knew would lead me to my dream career."
He's excited to apply what he learns in his supply chain management class when he goes to work.
Hall has been a Polk State student for three years.
"My philosophy was always, 'I didn't have a dream job, just a dream degree that I knew would lead me to my dream career,'" Hall said. "I knew the supply chain management program at Polk State would lead me to something great."
Wagner called Hall an example of how students can develop themselves through internships that are not necessarily directly related to their field of interest.
A piece of advice from Hall to other students: it's important to be a life-long learner and to soak in all of the information you can.
"The biggest thing with internships is even if they don't directly correlate to your degree, they start this snowball effect. A body in motion tends to stay in motion," he said. "Internships are resume builders. They're confidence boosters. I recommend students get as many experiences as they can."