Student-Created Mural Now on Display at Polk State Winter Haven Game Room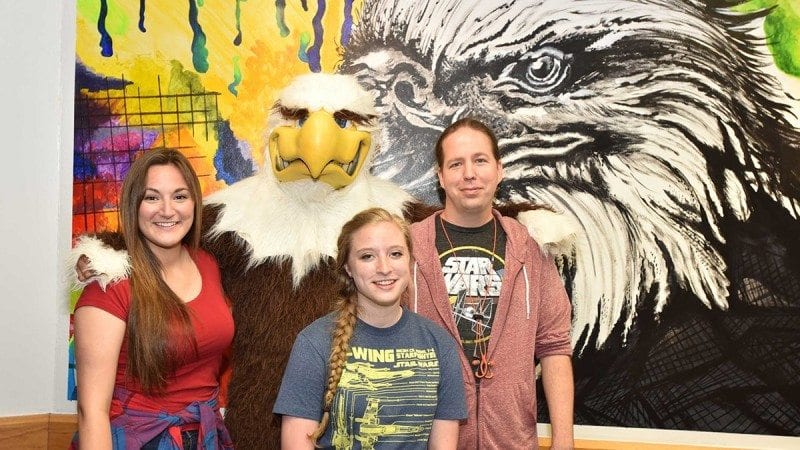 There's a new reason to visit the Polk State Winter Haven game room, and it has nothing to do with ping-pong or PlayStations.
On Wednesday, after months of planning and painting, paper that had covered the windows of the game room was removed to reveal a student-created mural. The Polk State Winter Haven Student Government Association (SGA) hosted the lunchtime unveiling, which drew dozens of onlookers.
"We wanted something that would better represent our students. What better way to achieve that than having our students paint the mural," said Polk State Winter Haven SGA Vice President Natasha Mohamed.
Last fall, the Winter Haven SGA and students in Professor Holly Scoggins' mural painting class teamed up for the game-room project. Specifically, the students wanted to create a more modern and meaningful work of art to replace a mural that featured stars, rainbows and Polk State's old Viking logo.
"We wanted something more diverse, brighter and more welcoming," Mohamed said. "I think they managed to achieve all those things."
Scoggins' students submitted a total of 10 designs. After input from SGA and employees in the College's Office of Communications and Public Affairs,  Amanda Frazier's graffiti-inspired design that features a large black-and-white eagle head was selected.
"I was influenced by urban murals," said Frazier, a resident of Davenport who is pursuing her Associate in Arts degree.
The colorful, abstract background of the painting is intended to represent Polk State's diverse student body, Frazier explained. Meanwhile, the eagle head is meant to convey a sense of unity.
"We're all different but we're all united by Polk State College. We're all here to spread our wings and take off in our career field of choice," Frazier said.
Frazier's winning image was projected on the game room's wall. Then Frazier and her classmates painstakingly traced and painted the design.
For Frazier the mural was another accomplishment in her burgeoning art career. She already has a mural on display at Slyce Pizza Kitchen and Excel Athletics in Winter Haven. Frazier will graduate from Polk State later this year and plans to enroll at the University of Central Florida to study visual art and emergent media management.
"I hope it catches people's eyes, draws them into the space, and helps them feel more comfortable," Frazier said of the mural.
The game room is located in the Student Center and is open Monday-Thursday 10 a.m. to 4 p.m.
Student Government is one of more than 50 clubs and organizations offered by Polk State's SALO (Student Activities and Leadership Office). In addition to Visual Arts, Polk State's arts programs include Music and Theatre, all of which enjoy outstanding statewide reputations.