Strive for Five: Polk State Volleyball's family culture key to success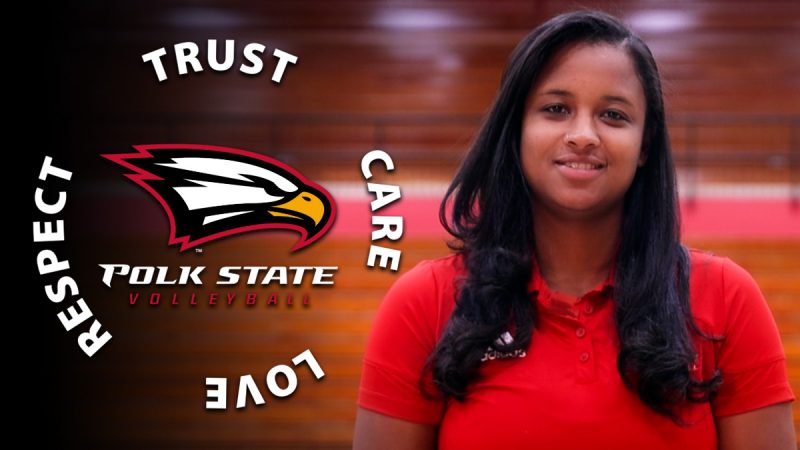 A former player and current assistant coach, Polk State Volleyball's Dayanna Teixeira knows the struggles that student-athletes face.
To assist those athletes through that journey, Polk State Volleyball is turning to those who have been there before – the program's alumni.
"With Polk State alumni, I think they have the same feeling I have – that this is our home," Teixeira said. "We know how much we want to do for these girls and we know how important it is to help them with their apartments, travel, help them to have a better lifestyle, to help them with the eating part which is really big for women."
Entering his 12th season, Head Coach German Del Valle has remained in contact with more than 100 athletes who played for him at Polk State. The program has reached out to those athletes for contributions. Those who give $100 or more will receive a T-shirt with the names of all of Del Valle's former players on the back and the program's core values on the front – "Trust, Love, Care, and Respect."
"It's just a symbolic way to say thank you," Teixeira said. "The main goal is to tell everyone we're still here. We're a family and that's what we're always going to be – no matter how far away you are. Even being in different parts of the world, we are all together."
The outreach is part of the Athletics Department and Polk State College Foundation's "Strive for Five" initiative. Each player with each of the College's five teams will also be asked to reach out to five people capable of supporting Polk State Athletics financially. Teixeira said Polk State Volleyball's goal is to raise $10,000. That would be reached if 100 former players gave an average of $100.
"Being on both sides – as an athlete and a coach – helps you to know exactly what to do with your athletes," Teixeira said. "I treat my athletes the way I was treated here. My two years here as a player were amazing. I learned so much from German."
Entering her fourth season as an assistant, Teixeira helped the Eagles reach the NJCAA National Tournament for the first time under Del Valle in 2014 before earning first-team All-Conference and All-State honors in 2015. A native of Brazil, Teixeira went on to play at Mars Hill University, an NCAA Division II program in North Carolina.
"The experiences some of my friends had in junior college was nothing like mine," she said. "If I went to another junior college, I don't think I would be here right now. I think I would have been back home.
"Polk has something different," Teixeira continued. "Polk makes you feel at home, makes you feel like you have a family. When I saw how we grew as people and how the culture was here, it made me fall in love with this program."
Since 2014, the Eagles have claimed a pair of conference championships and reached the NJCAA Tournament seven times. Polk State tends to have a roster comprised largely of international players. Teixeira said that can make transitioning to college life even tougher.
"I know how difficult it is to come from your home to a different country," she said. "Being here as an athlete, I found that volleyball wasn't just about the court. We're together no matter what."
Although the program is looking for support from past players, it welcomes it from the community as well. Community involvement has also been a staple of the program.
Players are often active with Polk State College events and fundraisers. For the youth this summer, Del Valle hosted a pair of "Eagles Volleyball Camp" events. Community members who donate at least $100 will also receive the commemorative T-shirt.
To donate to the program, visit https://secure.qgiv.com/for/pscfd. Use the dropdown to select "Strive for Five – Volleyball" and select a T-shirt size and preferred color.