May Grad Began College Journey by Overcoming Addiction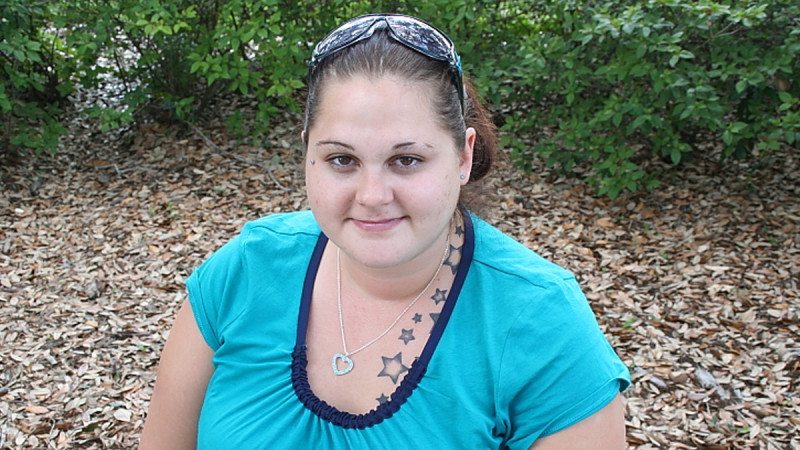 Six years ago, Janine Bryan thought she was going to die.
On May 4, she'll start a new life as a Polk State College graduate.
Bryan became addicted to methamphetamine when she was 14, after her neighbors gave it to her, telling her it would help her lose weight.
Her life quickly entered a tailspin. She dropped out of George Jenkins High School and spent years following a destructive pattern — getting high five days in a row, sleeping for two, and then starting it all over again.
Then one night, when she was 18, she mixed marijuana and methamphetamine, a combination called "speedballing." Her heart, confused by the blend of drugs, started palpitating wildly. Her head pounded and she was out of breath.
"It was around Christmastime. I grabbed the angel off the tree and prayed to it that I wouldn't die," she said.
She called 911. Paramedics arrived and put her on oxygen. Her heart rate slowed.
It was a night that started a change in her life. In the months that followed, she cut down on her use of meth, and she never attempted speedballing again.
Then she met her boyfriend, Chris.
"I called a telephone dating service one night and he came to my house. He drove me to a gas station so I could buy some cigarettes, and he opened the car door for me," Bryan said. "I decided I wanted to date someone nice. I'd never had a man be nice to me."
Her new relationship came with a big condition: She had to stop using drugs.
"So at 19, I got clean," she said.
She severed all her friendships, since she knew being around those who use drugs would create constant temptation. She earned her GED and signed up for one class at Polk State College — a math placement course.
"I just kept coming back, and now I'm going to graduate," she said.
Bryan will earn her Associate in Arts degree and plans to continue her education at the University of South Florida. She wants to become a forensic specialist, helping law enforcement officials to investigate crime scenes.
Her mother, Brenda Bryan, will experience a mixture of pride, gratitude and relief when she sees her daughter graduate.
"It's wonderful. I was really worried about her for a while. But I always knew she could do this. I'm so thrilled at how she's matured. She's got a lot going for her," Brenda Bryan said.
The turnaround her life has taken still amazes Janine, and she hopes it can serve as an inspiration to others.
"You don't have to be a full-time student. You don't have to be like every other student. Just start slow and eventually you'll be able to take on more. You'd be amazed at how much is possible once you start trying," she said.
Janine will graduate during Polk State College's largest commencement ever at 6:30 p.m. on May 4 at The Lakeland Center.
Approximately 840 students qualify to march during the 106th commencement ceremony, the largest number ever for a single term at the College. Two-thirds of graduates will receive Associate in Arts degrees. The College will also bestow approximately 160 Associate in Science degrees; 30 Associate in Applied Science degrees; and 40 Bachelor of Applied Science degrees. The remaining students will receive various certificates that lead directly to employment opportunities.